In last couple of years E-Commerce has become one of the most prominent and accelerated tool for business. No matter what type of business you own, E-Commerce is ready with suitable tool for you. Adoption of e-commerce brings inherited business communications over Email and that's exactly is a point where one can get caught in the net of Billion Dollar Fraud.
There are many articles, talks and posts which educate people about keeping their Email ID password secret or using tools by which you can decide much more complex password for your email ID. One can take the maximum precaution over his important Email ID privacy but what if despite of all those precautions his email ID get compromised without using his password?
Yes, that is True. In the ever spreading tools on Internet, using which one can send email to any one in this world from any one's email id without using his password. To understand this in a simple way, you can even send an email from Bill Gates Email ID with a Job Offer or an Invitation with a promise of thousands of Dollar as pay check or VIP gesture respectively.
No, there is no rocket science or technology behind this. It is just a matter of using few lines of codes, available free on Internet. Just copy and paste aprox 50 lines codes in an ASP file and then you can send email from any email ID form your own laptop. Here is a screen shot of one similar fake email, which I got access :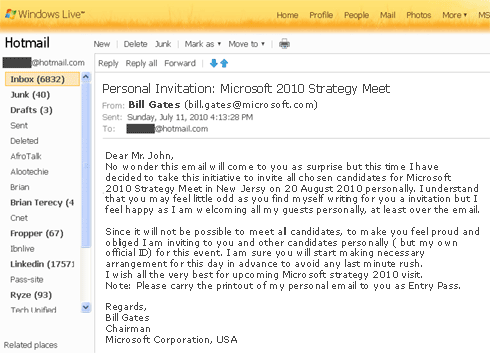 At the same time there are ways to check the authenticity of these type of email but that's not possible for a general tech guy like me. There is no ready tool available which can auto select fake email IDs and inform to receivers. You need to digg the detail code of suspected email to check the authenticity. Unfortunately most of the people, who are using emails, are not well versed with such a deep tech info and it would be difficult for them to find out the authenticity easily.
Using such codes and forms any one can write any type of email from any email ID. Infact it can prove a very resourceful tools for the Fraud mailers who sends fake emails to Banking customers. This way, they can now even send an email form bank's email ID with a link of similar looking "fishing website". That way it would be difficult for customers to ignore such emails and most of them would follow the instructions and may loose their hard earn money.
Email is a good tool of effective and instant communication but not upto the level of business transactions information or any serious discussion which have significant impact on your professional or personal life. No decision or act should happen based on any email confirmation or communication. Currently this is only way out to protect your self from growing Internet Fraud. Remember " Prevention is better than Cure".