Why trust the machines when you can trust your own eyes, your own brain, your own basic sense of survival? This philosophical question comes to mind after reading the tragic tale of a woman, her eyes, her brain, her BlackBerry, and her Google Maps.
According to an exhaustive analysis presented by Search Engine Land, Lauren Rosenberg decided to take a walk in Park City, Utah, on January 19, 2009.
I will try and ignore just how fundamentally un-American this act was in order to focus on some of the ensuing action. Rosenberg fingered her trusted BlackBerry and asked it to tell her just how she might walk between 96 Daly Street and 1710 Prospector Avenue. Her BlackBerry turned to the world's great walking resource, Google Maps. Google Maps suggested that she should, as part of her journey, amble along Deer Valley Drive.
For all of you who have not had the pleasure of strolling there, might I quote papers filed by Rosenberg's lawyers with the Utah courts. These papers describe Deer Valley Drive as "a.k.a. State Route 224, a rural highway with no sidewalks, and a roadway that exhibits motor vehicles traveling at high speeds, that is not reasonably safe for pedestrians."
There is perhaps nothing finer than a roadway that bothers to exhibit motor vehicles. Yet this was not quite the exhibition that Rosenberg had in mind. For during her stroll along State Route 224 aka Deer Valley Drive she was allegedly struck by a car driven by Patrick Harwood.
She's suing Harwood. And she is also suing Google.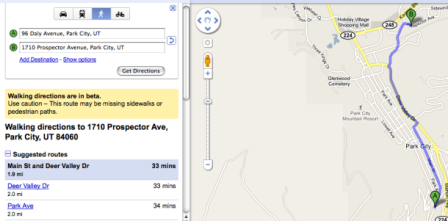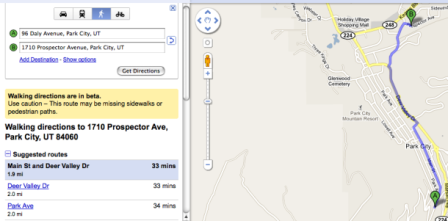 The contentious route. Note the warning. But that's on the laptop version.(Credit: Screenshot: Chris Matyszczyk)
Perhaps some of you might think of Rosenberg as just a perambulating chaser. Yet she and her lawyers reason that Google's walking directions were "careless, reckless, and negligent providing of unsafe directions."
Now this is the point at which your complex minds become engaged and my rather simpler version becomes divorced. You see, if you ask Google Maps for walking directions on your laptop you get a very clear warning–yes, on one of those lovely beigey-yellow backgrounds–that reads: "Walking Direction are in Beta. Use caution–This route may be missing sidewalks or pedestrian paths."
The question is, does this warning appear when you go to Google Maps on your BlackBerry? Or, even more importantly, on Rosenberg's BlackBerry? It does not appear to appear on the iPhone. Which might suggest the same situation holds with the RIM phone.
What I cannot ascertain from the court papers is why Rosenberg would want to walk this route in Utah. She is, it appears, from Los Angeles, which means that she might not have been used to walking at all.
Equally puzzling is the first part part of the court papers where it is says that Rosenberg suffered mental, physical and emotional injuries that caused her to incur medical expenses "in an amount yet to be determined." And yet when it comes to the part about suing Google, medical expenses are said to exceed $100,000.
Courts have not always been sympathetic to those who claim that they were merely following the orders of enlightened machines. There was the man in England who ordered his BMW down an unpaved cliffside lane, got stuck, and then claimed that his GPS made him do it. The court decided it was the driver's own brain that made him do so.
Can Rosenberg expect Utah courts to be more sympathetic? In our world of increasingly diminished responsibility, might someone actually be in a position to prove that we are all now subjects of the Googleplex? Those Googlies have filmed our streets, made records of our Wi-Fi data, followed us around the Web until they could offer us ads that are "good" for us. Shouldn't we admit whose the supreme power truly is?
Or might the judge emit a cough and declaim in the finest Latin: "Caveat walker"?