Last week, we showed off why Apple decided to dump Google Map from its iOS 6 version. Both the companies (Google and Apple) had disagreement on several points including turn-by-turn navigation, in-app branding and more. At present, Apple's new Map is considered as one of the biggest drawbacks on iPhone 5. On the other side, Google has little improvised its solid-map app for Android devices, which includes ability to sync mobile map searches with those made on desktop, routing for bicyclists and an ability to save map for offline use in future. Undoubtedly, Google Map for Android devices is currently one of the richest, versatile and most reliable maps app.
We have already discussed why Google wants to have maps app on iPhone and iPad and how much the platform (iOS) is important for its services and ads. At present, 45% of mobile traffic for Google Map is coming from iOS devices and that's why, Google can't ignore the platform. It's speculated that Google might provide a limited version of Google Map to iOS users via their mobile Phone browser.  However, Google is planning to announce an improvised version of Google Maps app for Android OS this Thursday that will include its popular Street View feature—it comprises a display of 360-degree street views photographic of selected locations and interior photographic view of specific businesses.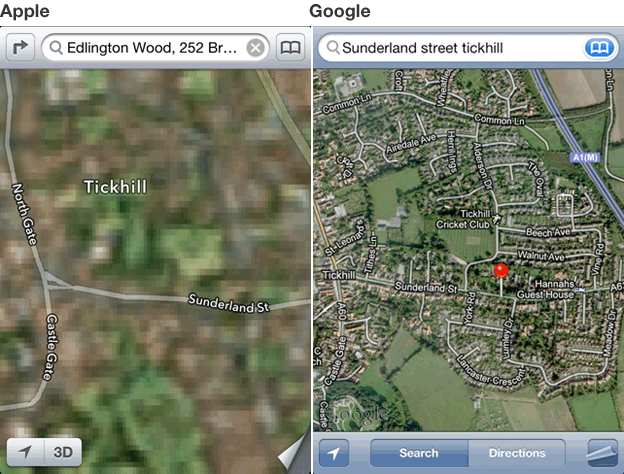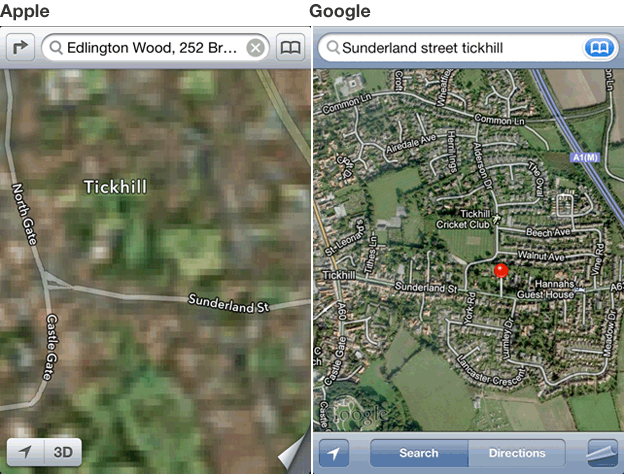 How much truth in the rumor is still unclear that Google is working on Maps app for Apple platform (would be offered as an optional download) ? Google offers voice prompting turn-by-tun navigation to Android users for a few years now, but it did not provide such navigation features to Apple devices.
Apple's navigation screen is easier to read at a glance, despite Android navigation screen is better due to more informativeness; Android navigation screen shows more surrounding streets. In fact, Google Map on Android is better than Apple Map also in terms of streets and more points of interests. Apple Map is occupied with bundles of errors including misplacement of several hospitals, absence of several police stations, in-accurate navigation and more.
Apparently, 'Google Map' is also not impeccable, though it's in the process of fixing these errors. However, Google has been working on its mapping apps since last seven years, but Apple is quite nascent in this space. Despite of all these, Google Map is more trustworthy and friendly, and also ahead of Apple Map in terms voice-prompted turn-by-turn navigation and sync mobile map searches.