In the age of digitalization, where businesses heavily depend on technology, the critical need for cybersecurity has become more apparent than ever before. With the continuous rise in hackers and cybercriminals, safeguarding valuable data has become a top priority. As a result, the demand for cybersecurity professionals in tech companies has skyrocketed alongside the surge in cybercrime incidents. However, India's cybersecurity industry is grappling with a critical challenge – an ongoing shortage of skilled professionals. According to a recent report by TeamLease Digital, India's cybersecurity industry has around 40,000 open job opportunities as of May 2023.
The employee base in the cyber security industry in India has grown from 0.1 million in 2021 to 0.21 million in 2022, expecting to reach 0.3 million in 2023. However, this represents only 6% of the global cybersecurity job market.
Despite the strong demand and increasing salaries for cyber security roles, there remains a significant demand-supply gap of nearly 30% in the industry by the end of 2023.
Even on a global scale, where the cybersecurity workforce reached an impressive 4.7 million in 2023, the workforce gap continues to widen. In fact, the gap expanded by a whopping 26.2% year-on-year in 2022, leaving us with a pressing need to bridge this divide.
In the first quarter of 2023, Indian organizations experienced a significant increase in cyberattacks, with the number surpassing 2000 attacks on a weekly basis. This marked an alarming rise of approximately 18% compared to the previous year.
These statistics reveal a compelling tale of the cybersecurity industry at a crossroads. With digital threats on the rise and organizations in desperate need of protection, the need for skilled cybersecurity professionals has never been greater. It's time to address the talent crunch, attract new talent, and nurture the next generation of cyber defenders.
Cybersecurity jobs and salaries by experience
The field of cybersecurity offers a range of job opportunities, including entry-level positions for individuals starting their career journey. To qualify for these roles, candidates typically need a bachelor's degree with a minimum of 3 years of relevant experience, or a master's degree with 1-2 years of experience. However, for those who have completed their 12th grade, a graduation degree followed by 4-7 years of experience is required to be eligible.
To enhance their qualifications, job seekers can pursue certification or executive programs from renowned institutions like IIT Delhi, IIT Kanpur, IIT Bangalore, or opt for M.Tech or PG programs from BITS Pilani (WILP). These programs provide valuable knowledge and skills necessary to excel in the field of cybersecurity.
Proficiency in programming languages is also essential for cybersecurity professionals. Mastery of languages such as Python, HTML, C++, and Java, along with coding skills, enables professionals to tackle complex challenges and develop effective security solutions.
Some of the top in-demand skills that professionals should acquire to stay ahead in the cybersecurity industry are Networking & System Administration, Cloud Security, Blockchain Security, Intrusion Detection, Threat Intelligence Skills, Penetration Testing Skills, Risk Identification and Management, DevOps Skills, Computer Forensics Skills, and Ethical Hacking.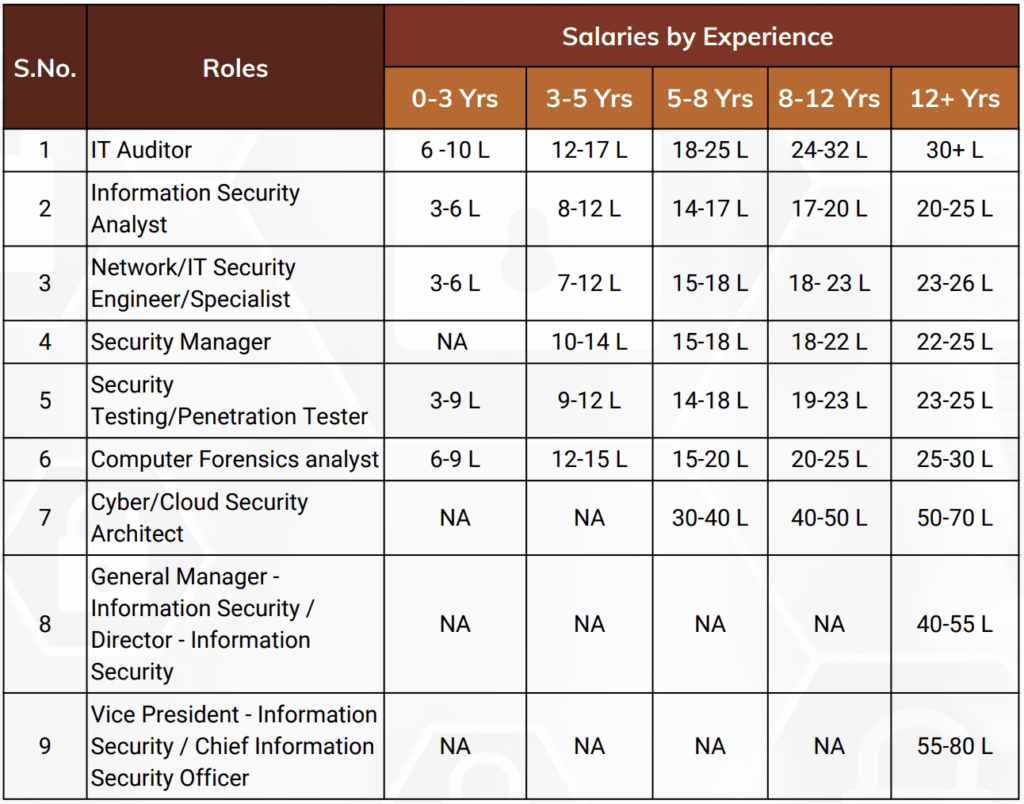 Upskilling is a continuous process in the ever-evolving field of cybersecurity. Numerous short-term courses are available online and offline, allowing professionals to stay updated with the latest trends and technologies. These courses provide opportunities to acquire new skills, expand knowledge, and specialize in specific areas of cybersecurity.
"While upskilling and reskilling are parts of most job profiles, the rate at which it happens vis-a-vis the nature and speed of evolution of cyber attacks do not match. Many companies have to fill open cybersecurity roles with regular candidates, as a result — those with a degree in a related field or previous cybersecurity work experience," said Prateek Bhajanka, CISO and director, APJ at US-based cyber security firm, SentinelOne.
Importance of cybersecurity in organization
The survey findings by TeamLease Digital have shed light on the undeniable importance of cybersecurity in organizations. An overwhelming majority of 73% of the surveyed organizations recognize the sheer significance of cybersecurity in today's landscape.
When asked about the most critical security risk to their organization, the results were eye-opening. A staggering 42% of organizations pointed to targeted cyber attacks as a major concern, highlighting the ever-looming threat of malicious hackers. Not far behind, 26% expressed worry about compromised personal information, emphasizing the need for stringent data protection measures.
Furthermore, 21% of organizations view hacking of cloud-based services as a significant security risk, while 11% identify third-party security flaws as a crucial concern.
In addition to their employer survey, TeamLease Digital also delved into the fascinating perspectives of employees working in the cybersecurity space.
When asked about the most interesting area of cybersecurity, a significant 68% of employees found network security to be the most captivating. This underscores the fascination and importance attached to securing and safeguarding organizational networks. Meanwhile, 22% of employees expressed their intrigue in risk assessment, emphasizing the critical role of identifying and mitigating potential risks in the cybersecurity landscape. Additionally, 5% of respondents found the dynamic field of penetration testing captivating, while another 5% found incident response to be their area of interest.
When it comes to their main inspiration for pursuing a career in this dynamic field, 41% of employees attribute it to their keen interest in new technologies.
In a nutshell
According to Sandip Kumar Panda, co-founder and CEO of Instasafe, a Delhi-based cybersecurity firm, the lack of widespread adoption of open-source standards poses a significant challenge to upskilling cybersecurity talent. He emphasized the importance of open-source culture, which allows for freedom and flexibility in fixing errors through bug bounty programs and security hackathons. This culture encourages the development of indigenous security solutions and helps bridge the skills gap.
Panda's viewpoint is supported by industry experts Bhajanka and Chemmankotil, who also highlight high attrition levels as a contributing factor to the talent supply gap. Cybersecurity professionals often face immense job pressures and struggle with new frameworks and models, such as the zero-trust approach. These challenges can lead to professionals leaving their jobs prematurely, further exacerbating the skills shortage in the industry.
India's rapid expansion in digital services and digitization has made it more vulnerable to cyber threats, such as data theft and financial losses. However, one of the major challenges faced by India in addressing these threats is the significant gap between the demand and supply of skilled cybersecurity professionals.
To tackle this issue, it is essential to focus on initiatives aimed at bridging the skills gap in cybersecurity. This includes investing in robust training programs, educational courses, and upskilling opportunities to equip individuals with the necessary knowledge and expertise. Additionally, fostering collaborations between academia, industry, and government can help create a pipeline of skilled cybersecurity professionals.