Smartphone companies are leaving no stone unturned to introduce new cutting-edge innovations and technological advancements to their devices, such as more powerful chipsets, triple cameras, 5g technology, and sleek & foldable designs. In 2016, rumours circulated that Samsung Electronics was developing its first foldable smartphone. However, Samsung's first-ever foldable phone, the Galaxy Fold, was released in September 2019. Since then, the company has released numerous flip and foldable devices, revolutionizing the global mobile industry. According to a Canalys report, in 2022, Samsung accounted for more than 77% of all foldable smartphones shipped worldwide.
Top foldable smartphone brands by shipments
Globally, a record 14.2 million units of foldable smartphones were shipped in 2022, with Samsung shipping over 11 million of those.
It's also important to note that as more companies implement policies allowing employees to work remotely, foldable smartphones are becoming increasingly popular among business users. According to the Korean giant, the number of Samsung foldable smartphones sold to enterprise customers increased 105% YoY between January and October 2022.
Chinese smartphone OEMs are going all out to give Samsung a run for its money in the international market (the United States) by launching their foldable devices.
Interestingly, Huawei emerged as the second largest player in the global foldable phone market, shipping just under 2 million units in 2022. This was followed by other Chinese OEMs such as Oppo, Vivo, Xiaomi, and Honor. Motorola shipped roughly 40,000 units of Moto Razr worldwide.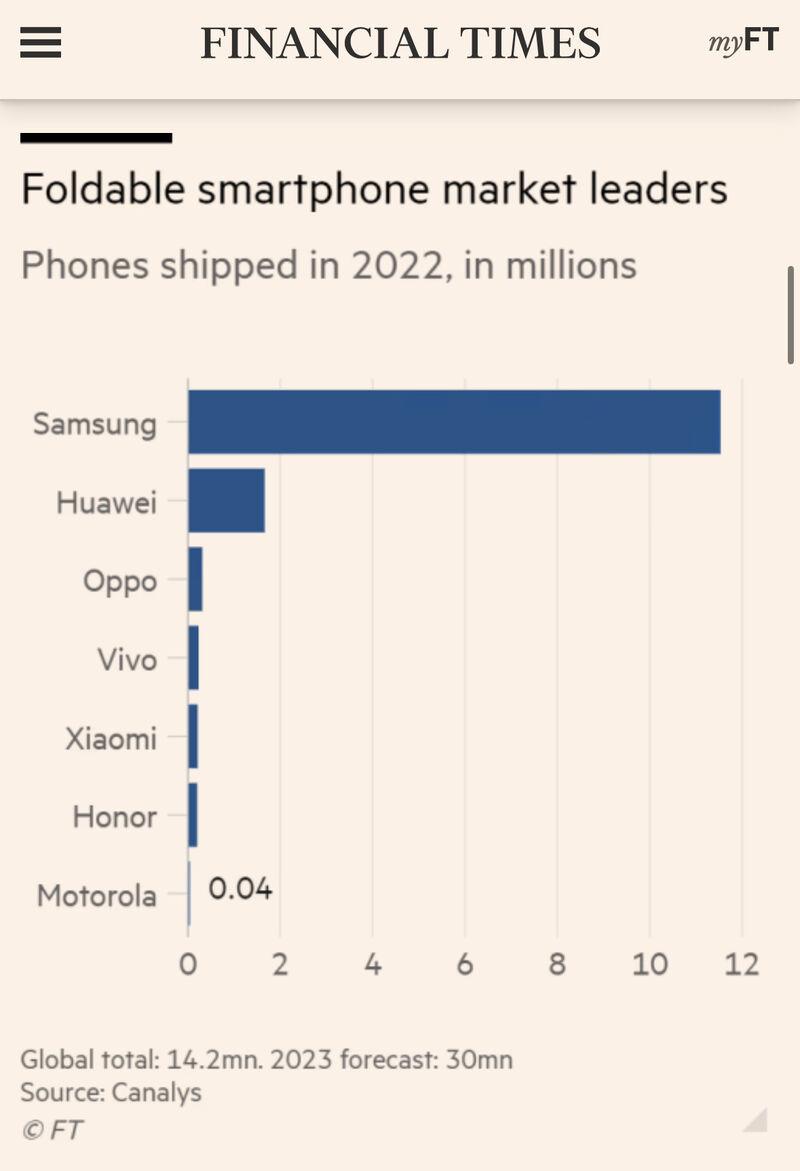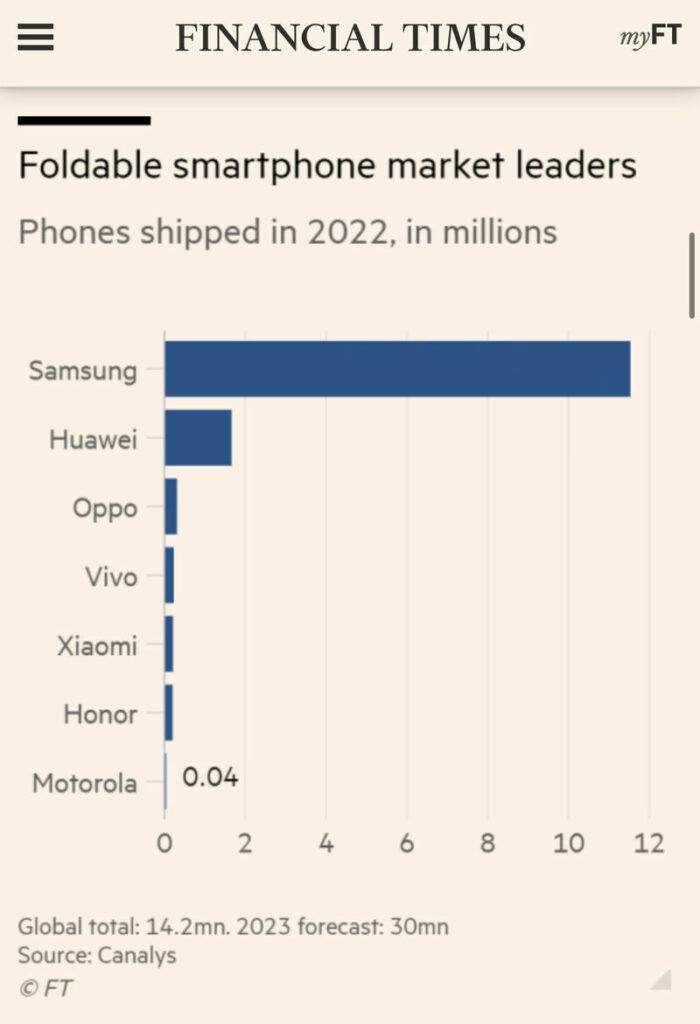 It would be interesting to see how the whole foldable smartphone market equation will change once Apple launches its first foldable iPhone or iPad.
Foldable smartphone market: History
Another report from Counterpoint Research reveals that worldwide foldable smartphone shipments grew a mind-blogging 1700% in just two years, from just 0.5 million in 2019 to 9 million in 2021.
However, 2022 has not been a great year for foldable devices in terms of consumer demand, according to DSCC data. The worldwide foldable smartphone shipments declined a strong 48% QoQ and 26% YoY for the first time in Q4 2022. Only 3.1 million units were shipped during the holiday quarter, bringing the year's total to 12.9 million. Samsung continued to enjoy the dominant position, with an 83% market share.
This sudden decline in the foldable phone market in Q4 2022 does not come as a big surprise for analysts, given that it was the worst quarter for all industries, owing to the impending recession, rising inflation, and other economic uncertainties. As a result, the worldwide smartphone market declined 11.3% YoY in 2022, with the lowest annual shipments of smartphones since 2013.
In a nutshell
The foldable smartphone market is one of the world's fast-growing growing segments as more and more brands are launching devices to get a piece of the pie. Samsung foldable smartphones undeniably offer the most refined experience to Android users. While other OEMs will catch up eventually, the Korean conglomerate will continue to dominate the market by shipping more foldable phones in the coming years than all other OEMs combined.
Last year, Samsung had set a target to ship roughly 15 million units of its high-end foldable devices, the Galaxy Z Fold 4 and Galaxy Z Flip 4, combined. Even if the company didn't succeed in its endeavour, customers continued to be drawn to it. Two new devices, Galaxy Z Fold 5 and Z Flip 5, are expected to unveil somewhere in August 2023.