The demand for electric vehicles (EVs) has been increasing at a rapid pace worldwide. Companies are leaving no stone unturned to gain a sizable share of the EV market. Interestingly, global EV sales hit an all-time high of 10.2 million in 2022, with a strong 65% YoY growth. On a quarterly basis, the industry recorded a robust year-on-year growth in EV sales, with 53% in Q4, 71% in Q3, and 61% in Q2 2022.
Segment-wise, Battery EVs (BEV) accounted for almost 72% of all passenger EV sales during Q4 2022, while plug-in hybrid EVs (PHEVs) accounted for the rest.
The top 10 EV automotive groups, which hold more than 39 passenger car brands, contributed to almost 72% of all EV sales in Q4 2022.
The top three fast-growing markets driving the sales of four-wheeler electric vehicles are China, Germany and the US. India is fast catching up, though. In 2022, sales of electric vehicles in India reached the million-unit mark, accounting for 4.7% of overall automobile sales.
By the end of 2023, worldwide EV sales are estimated to reach approximately 17 million units. The United States will be driving the growth. It is worth noting that the sales of electric vehicles in the US are most likely to increase this year as the $7,500 tax credit will make EV cars slightly more affordable for consumers.
However, the end of the financial subsidies for purchasing new electric vehicles in China on January 1, 2023, will affect the sales of EVs. Unfortunately, Chinese automotive leader BYD has already hiked the prices of its electric cars in January. However, these price hikes are unlikely to have a significant impact on EV sales, given that China is the world's most mature EV market.
Top 10 EV models: Tesla is winning the hearts
The top 10 EV models accounted for one-third of all passenger EV sales in Q4 2022. Tesla's Model Y continues to emerge as the best-selling EV model globally, followed by BYD's Song. The Model Y also became the top-selling EV model in Europe for two consecutive months during the fourth quarter.
Interestingly, two of the top five EV models worldwide in terms of sales came from Elon Musk-owned Telsa. BYD, on the other hand, controlled six of the top 10 best-selling EV models during the holiday quarter of 2022. The remaining two models belonged to Wuling and Volkswagen.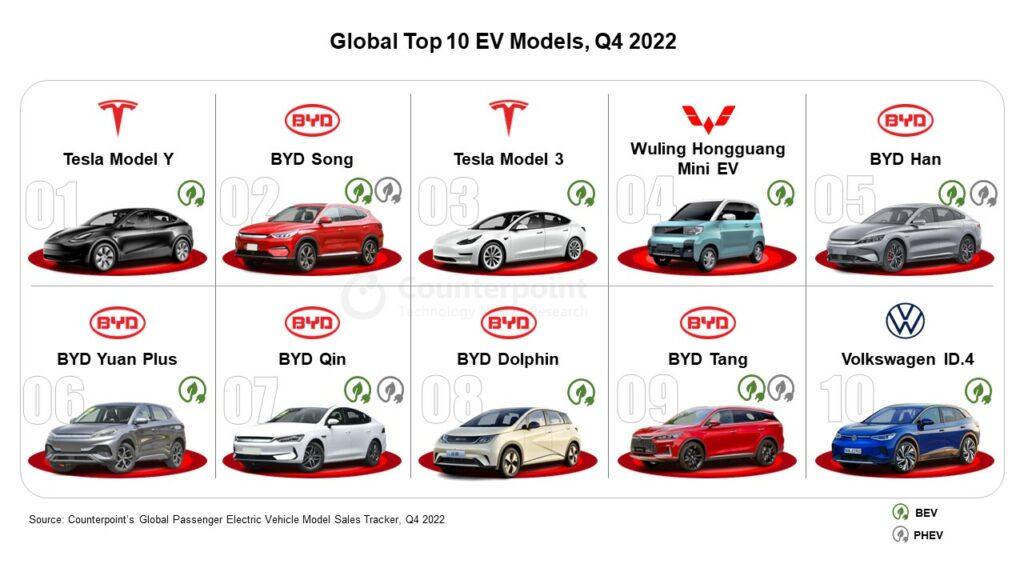 Global Top EV brands by sales share Q4 2022
The world's top 2 passenger EV manufacturers controlled a 31.9% share of the total EV market as of Q4 2022.
BYD Auto BYD Auto maintained its market dominance in the electric vehicle space with a 19.8% sales share in Q4 2022. That represents a substantial increase from Q4 2021, when the EV manufacturer's global market share was only 12%.
Tesla had an approximately 12.1% sales share in Q4 2022, making it the second-largest EV manufacturer in the world. But, unexpectedly, despite owning the top-selling EV model, "Model Y", Tesla's market share in the global EV market has declined compared to the previous quarter and year.
The holiday quarter experienced lower year-over-year growth in electric vehicle sales than the previous three quarters of 2022. Research Analyst Abhik Mukherjee believes that the COVID-19 infections in China during November and December 2022 had affected automotive production and sales, as well as hampered the component supply chain.
However, despite these headwinds, Chinese EV brands experienced rapid growth last year. In fact, many Chinese brands began to expand in international markets such as Europe, Southeast Asia and Latin America. It would be interesting to see how the market equation will change in the next two years.