The excitement of owning a new iPhone is just unparalleled. And, why not, it's the world's most valuable brand that fascinates millions of smartphone users worldwide. Within a day of Apple announcing three new iPhones – iPhone 11, iPhone 11 Pro and iPhone 11 Pro Max, iPhone users have started exploring the trade-in value of their devices in a bid to enjoy latest features, specs and an amazing camera that Apple has showcased in the launch event.
Popular smartphone trading website BankMyCell recently conducted a study to identify the changing trend in trade-in excitement of the iPhones of 2,490 consumers. The data collected one day after the launch of iPhone 11 is compared with the iPhone trade-in trends a week back. This has not only given us insight into the number of people wanting to trade-in their old iPhones for new ones, but also an average idea of the total consumer interest generated by the recent announcement.
Let us look at it in a little more detail.
iPhone 11 Upgrade: Fear Of Falling Value
The below graph point towards the number of people who might be interested in exchanging their old phone for a new one. It shows the respective amount of people that came to know the value of each of their Apple devices.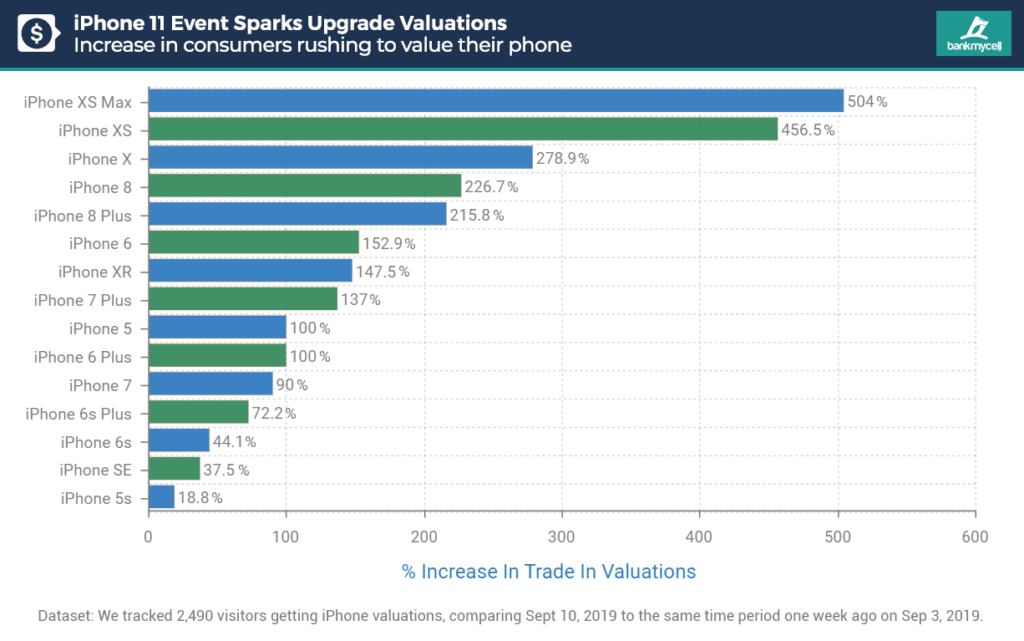 It would be interesting to note that the most excited iPhone users that tried valuing their device after the iPhone 11 announcement were the ones owning iPhone XS Max and iPhone XS, models that were launched just a year back. There is a huge 504% jump into the number of iPhone XS Max users who explored trade-in value after the announcement of the new iPhone 11 series.
Surprisingly, the third model of the last year lineup, iPhone XR, was down the pecking order, behind the likes of iPhone X and iPhone 8 which were launched before two years or more. This means that the people who valued their iPhone XR after the announcement are planning to hang on with their devices for a longer duration as compared to iPhone XS and iPhone XS Max. This also means that people are relatively satisfied with the iPhone XR, with no real intention to sell it away at this point in time.
On average, there was a 189% increase in the number of iPhone users who are looking to trade-in their device within a week.
What's even more surprising is the fact that people owning five-generation-old iPhone 6S have given cold shoulders to upgrade possibilities. The model still accounts for a sizeable 9.8% of total active iPhone user base.
One of the main reasons behind the huge spike in the percentage of iPhone XS Max, iPhone XS and iPhone X users exploring trade-in value could be Apple's decision to discontinue the models. All the three models, ranked at the top in the trade-in chart have been discontinued after the announcement of iPhone 11. Apple stopped selling iPhone X last year itself. Such decisions have a direct impact on the resale value of any smartphone and the iPhone is no exception. Hence, people owning discontinued iPhone models are, apparently, trying to gain the best possible trade-in value for their devices.
People might be interested to buy the newly released iPhone 11 just like any other time, but these reports show that not everyone is happy with their iPhones. It is also an indication of how successful a particular model is and how it has aged over time.