If you don't invest your money wisely then you're at risk of throwing cash away. It's this scenario that big data endeavours to prevent. With deep and rich levels of insight accompanied by strategic tools, a business can go from failing to identify a high-performing campaign to hit the conversion and traffic rates that they're craving.
Where in the past we relied on more generalised levels of digestible data and focus group input, today content marketing benefits from analytics and the automated services designed to interpret masses of consumer trends and buying habits in order to whittle down exactly where businesses can find new customers. But this leads us to a few head-scratching questions:
In what ways can big data help to drive sales?
How influential are the insights that businesses gain into their target market?
Let's explore the deep importance of big data within content and data visualisation.
1. X-Ray insights
Big data is big. Really big. Did you know that 90% of data in existence today was created within the last two years? Or that we're collectively outputting 2.5 quintillion bytes of data each day? It turns out that our definition of big data is expanding day-on-day.
As a result, the level of information that's capable of driving our insights is expanding each day, too. Fundamentally, the right kind of big data isn't so much an insightful tool but a dedicated pair of X-Ray goggles to see into the heart of what your target audience wants and needs from a company.
Big data has the potential to tell us everything we need to know about our audience's consumption behaviours, preferences and habits. This level of knowledge that helps us to understand customers' needs, what they respond to and what they ignore enables us to gain unprecedented levels of insight – like how to segment prospects intelligently, customise interaction through each stage of the client/customer journey and optimising a marketing budget so no money is wasted through catering to underresearched markets.
2. The art of added value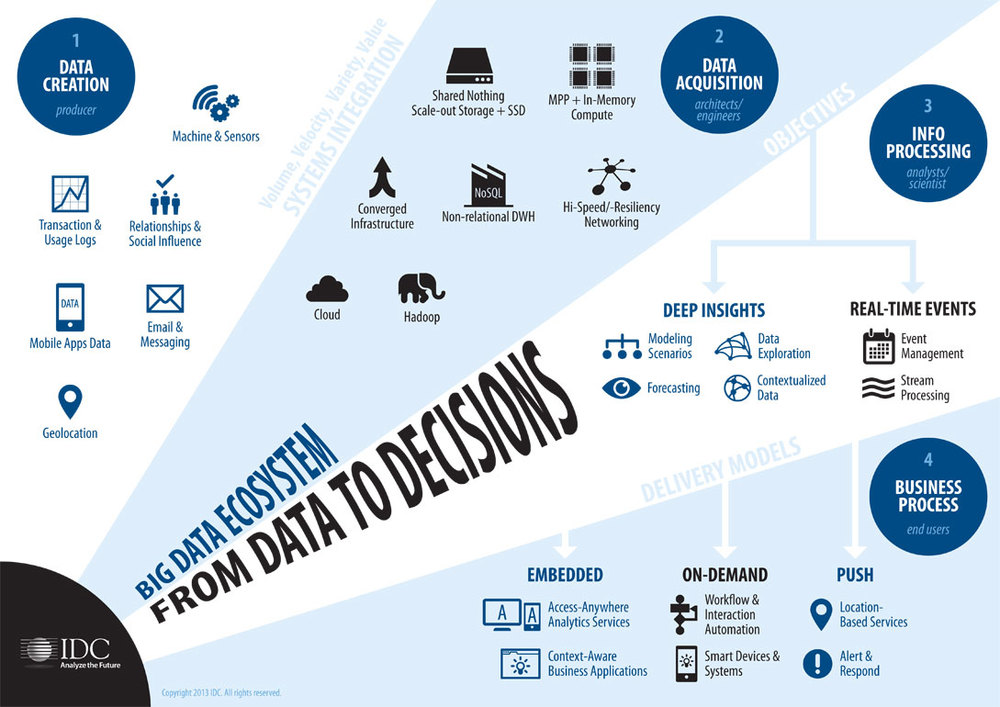 Big data carries big potential for many company processes. Marketers may crave the level of insight available, and just as IDC's chart (above) illustrates, consumers are often keen on getting to grips with deeper insights within the content that they read.
From infographics and presentations to richly detailed content, the world craves digestible knowledge, and if your business is capable of supplying deeper insights than your competitors then you'll reap the benefits amidst Google's results pages.
Creating visual content isn't as hard as it may seem. There are various tools that you can use to create a decent visual in a matter of a few minutes. Here're a few:
Piktochart: a tool to make eye-catching infographics, presentations and visuals
PoweredTemplate: a platform with pre-made presentation templates and charts
Canva: create engaging infographics, charts, slides and more
Whether it's content or marketing insight, we're forever looking to find value in big data. When it's purposed for consumers, big data can not only act as a draw for visitors to your pages, but for prolonged spells of browsing. With a wealth of information to read and the unique levels of insight included, the chances of short-stays of browsers jumping on and off your website is limited. Furthermore, users will be encouraged to spend longer browsing more of your pages in a bid to further quantify the information on display.
I-Scoop, a European digital business and transformation hub, summarised the value-adding potential of big data: "With the Internet of Things happening and the ongoing digitization in many areas of society, science and business, the collection, processing and analysis of data sets and the RIGHT data is a challenge and opportunity for many years to come."
3. Marketing whatever the weather
There are few better examples of big data in action than at The Weather Channel. Co-owned by IBM, The Weather Channel taps into big data to observe and understand customer behaviour in certain weather conditions.
Writing for Analytics India, Sunu Philips explains the influential power of The Weather Channel's data: "with the help of Big Data, TWC has fabricated a WeatherFX marketplace where sellers can advertise their products that have higher chances of selling in a given weather scenario. Presently, TWC is estimated to earn at least half of its advertising revenue with the help of big data analytics."
The example of The Weather Channel's compiled data would've seemed extraordinary to the marketers of yesteryear. Just a decade ago such information was seen as impossible to interpret, but today advancements in AI and machine learning mean that these levels of insight are possible just so long as the company has the resources available to them.
Thanks to an increasingly mobile audience coupled with better 4G and the upcoming 5G connectivity, it's become much easier to supply value-adding content both internally and externally, for both finding consumers and appealing directly to them.
4. Acting on interest
Being in possession of such rich levels of data is one thing, but utilising it in a way that helps your business to grow is an entirely different proposition.
Content marketing certainly plays a considerable role in driving conversions during the purchase cycle of a user. Big data has a significant role to play in deducing and mapping the length of time a prospective customer stays in the purchase cycle and what type of content is most likely to convert them. By utilising this information, brands are capable of figuring out the behaviour of the user, paving the way for easier conversions.
Big data not only enables businesses to act on interest but ensure the retention of customers, too. Through available metrics, businesses can analyse the number of subscribers, click through rates, average time spent on their website and overall customer satisfaction to determine the best approaches to take to ensure that customers and clients keep coming back for more.
Through the analysis and interpretation of big data, we're capable of making more informed decisions while driving the decision-making process of customers. In many cases, the X-Ray focus of deeper data can make all the difference in providing the levels of insight necessary to take a company to the next level.