When "facts" don't work and people don't trust the internet anymore, that's when you know that the digital dominoes are falling!
Past few years have been a blatant display of what one may call a litany of mishaps that reflect really bad on the digital media. For an instance, Facebook's confession of the inglorious "breach of trust" scandal wherein it compromised personal data of about 50 million users for Cambridge Analytica. As a repercussion, not many people trust the internet with their personal information anymore. And justifiably so!
This fact is further validated by a survey conducted by Facebook's Inclusive Internet Index 2019, in close collaboration with the Economist Intelligence Unit. This survey observed about 5,069 respondents globally, seeking views about their personal "online slice".
Astonishingly, it was found that about more than half of those respondents, roughly 52.2% weren't that upbeat regarding their privacy over the internet. One may consider it as the slightest dot of one whole silver lining, given that there has been a marginal increase on the 51.5 per cent respondents, who said the same previously.
Bad News for Big-Wigs!
People being online, and sharing less content is surely bad news for tech titans like Facebook and Google. These firms bank on users using their platform to share and communicate. The revelation now will surely try to hamper the revenue, since the co-relation of trust and profits have clearly been established.
In a digitalized age, where every platform is demarcated in its own specification, Facebook since it's inception, has been the disruptive force. Not many people recommend having Facebook on their tabs, as compared to Amazon, Apple, Microsoft or Google. In fact, amidst the big-five, Facebook with its scandalous history has invoked great distrust.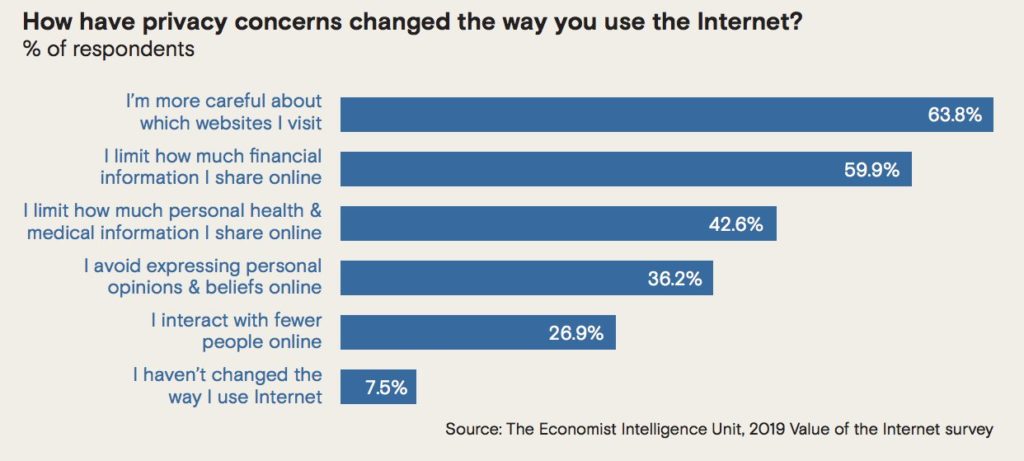 The recent findings may also have contributed towards the recent case for stronger regulation for protecting people's data. According to the study,
"In Europe, the share of respondents confident about their online privacy increased by 8 percentage points from the 2018 survey, probably because of the General Data Protection Regulation (GDPR), the EU's comprehensive data privacy rules that came into force in May 2018."
In the U.S., Facebook, Google, Apple, and others have been quite vocal about how they are open to federal privacy law. And apparently, the belief remains that new regulations will be introduced to bolster user trust.
The Fate of Online Trust:
For the digital arena, trust hasn't really been in shape, taking recent years in consideration. There is a considerable concern that the way people have used the internet over these years has somehow acted as a catalyst for the problem.
"We didn't focus on how you could wreck this system intentionally." – Vinton Cerf, one of the creators of IP.
To add up to the woes, stories about how Facebook has been used as a platform to spread hoaxes or in the malicious intent of meddling in elections somehow has hit vulnerable spots of the common users. This acted as a double wham – One wham, being unaware users and another being, sceptical users.
In consonance with yet another research conducted by Forum research, 31% of US digital media users have stopped using a service altogether given the privacy concerns that arose from them. In another survey, by KPMG, 55% of people decide against buying online which somehow threatened their control over private data.
Here's the catch: Although several study claim that people are concerned about their data, and don't trust the internet, why do billions of us still incorporate digital media in our daily lives, at all? A cogitative head-scratch may be a quicker reaction to this question!