Global tablet shipments have gone down yet again in Q3 2018, due to the increasing demand for large screen flagship smartphones, a.k.a Phablets, such as Samsung Galaxy Note 9, Apple iPhone XS Max, OnePlus 6T, etc. Surprisingly, this is the 16th quarter in a row when the global tablet market witnessed a YoY decline in terms of shipments. According to IDC's recent report, tablet vendors shipped a total of 36.4 million units in Q3 2018, globally. That's a massive 8.6% YoY decline.
But, not everything is over for the global tablet market. There is a sigh of relief as in Q3 2018, the overall tablet industry witnessed a single-digit YoY decline in shipments, in contrast to the double-digit decline in both Q1 and Q2 of this year.
Let's have a look at what the report has to say.
Worldwide Tablet Market Q3 2018: Main Highlights
The worldwide tablet market witnessed a massive 8.6% YoY decline in Q3 2018, as the shipments fell to 36.4 million units.
The slate tablets accounted for nearly 87% of the total global tablet market, 31.6 million units were shipped in Q3 2018.
Only 4.8 million units of detachable tablets were shipped, depicting a decline of 13.1% YoY.
Apple is the undisputed leader in the global tablet market, with shipments amounting to about two times that of its nearest competitor.
Apple shipped nearly 9.7 million iPads in Q3 2018, globally.
Samsung maintained its position as the second largest tablet manufacturer in the global market, despite witnessing a notable 11.4% YoY decline in its tablet shipments in Q3 2018.
Amazon.com surpassed Huawei and Lenovo to become the third largest tablet manufacturer in Q3 2018, with a minimal 0.4% YoY decline.
Amazon.com shipped 4.4 million tablets in Q3 2018, registering a whopping 175% growth compared to Q2 2018, where it shipped only 1.6 million units. 
Surprisingly, Huawei was the only tablet company among the top 5 who registered some Y-o-Y growth in its shipments in Q3 2018. However, it slipped down to the fourth spot compared to last quarter.
Huawei shipped 3.2 million units of tablets in Q3 2018, globally, with an impressive 7.1% YoY growth.
Lenovo (including Fujitsu) shipped only 2.3 million units in Q3 2018, with a massive 24.5% YoY decline.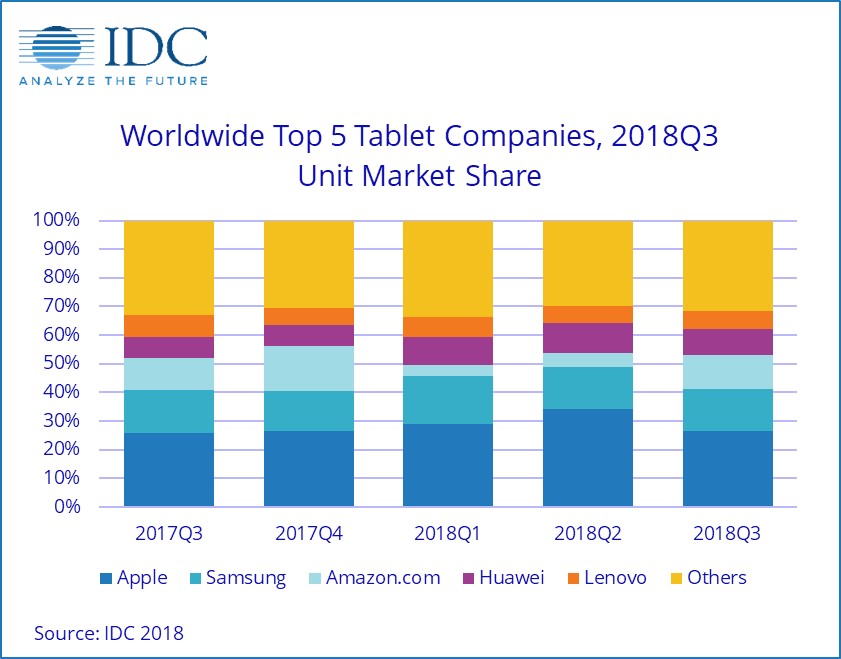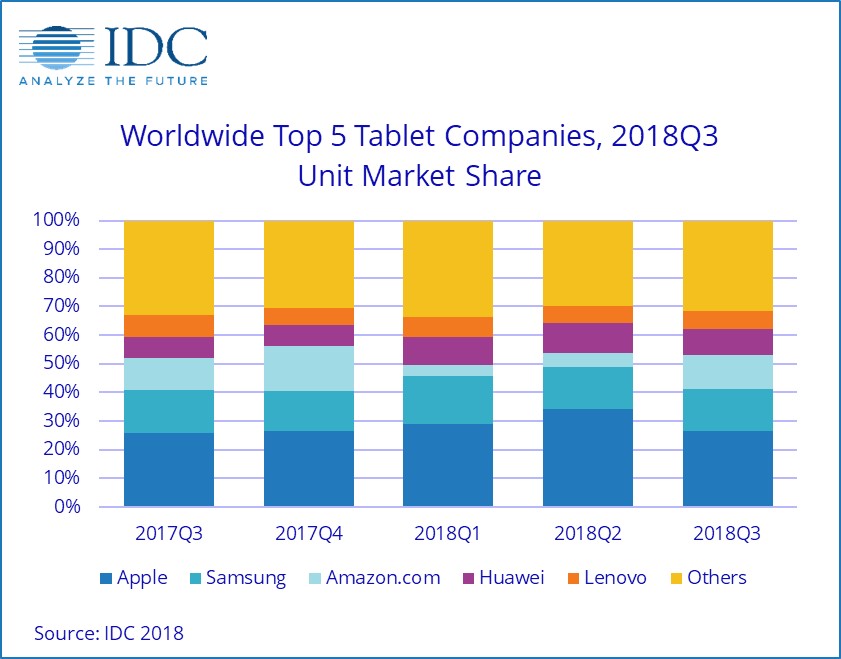 The worldwide tablet shipments reached 36.4 million units in Q3 2018, going down from the shipment of 40 million units at the same time last year. The relative percentage of YoY decline is also huge, which is in itself a worrying trait. Last year, in Q3 2017, the reported year-over-year decline was only 5.4%, while this year it has increased to 8.6%. The fact that the tablet market is showing a decline in shipments each year is worrying enough. But the fact that the percentage of decline is increasing with time is even more thought-provoking.
However, it is depicting a significant growth of 10.3% compared to the previous quarter where 33 million units of tablets were shipped, globally.
Change In Fortune For Amazon
One of the standout highlights of the whole report was the apparent news of Amazon overtaking Huawei to become the third largest tablet manufacturer in the world. One of the major sources of its growth in practically all industries of Amazon stems from Prime Day. Amazon has always had an aggressive hardware strategy which pays dividends most of the time. This growth has been even more surprising after the decline in shipments that Amazon incurred in the previous quarter. In Q2 2018, Amazon.com reported a massive 33.5% YoY decline in its tablet shipments. However, the massive growth this time around is expected to continue, with Amazon expected to maintain its position as the third largest manufacturer in the following quarter as well.
Apple's Performance In the Tablet Industry Over the Years
Apple's iPad has been the main driver behind the growth of the tablet industry for a long time now. It has been successfully able to keep up its struggle against the Personal Computer industry. The 9.7-inch iPad with Apple Pencil support, launched in the late first quarter, continued to drive the volume. Since the last 5 quarters, Apple has been maintaining over 25% share of the global tablet market. Will the undisputed leader be dethroned by another company anytime soon? It doesn't seem like it yet. The gap between Apple and the other companies is just too much. And with the declining tablet industry, it can be safely said that the iPad is, in fact, set to lead for as long as the industry survives.
The Death of the Tablet Industry?
All these points towards the future death of the tablet industry that has been limping towards its end for a really long time now. The tablet was, in fact, an unexpected success upon release, even if it did not pose anything significantly different compared to smartphones in terms of features. Probably, the bigger touch screen did the job then.
But people seem to be over the trend now. With increasing display sizes of smartphones which are in vogue these days, the need for a tab has been significantly reduced. In addition to that, the lengthening cycles of replacement have contributed to the tablet losing its appeal as well. However, 36.4 million units still depict a lot for people who do buy and use a tablet. Therefore, there's life in the industry just yet.
[poll id="84″]