Netflix revenue game has been at a remarkable gain in Q3 2018. With a solid growth, surpassing the likes of Google Play and App Store, Netflix, Inc. (NASDAQ: NFLX) is surely up for some really good time!
This comes as a follow-up, in consonance with a report by Sensor Tower's Store Intelligence analysis which states that Netflix app gained a gross revenue of $243.7 million in Q3 2018, representing a staggering 90% Year-over-Year increase, set side by side with the revenue of Q3, 2017.
This dramatic growth, with more than 50 million installs through the course of Q3, makes the streaming site No. 1 grossing non-game mobile app, worldwide. Additionally, Sensor Tower estimates that Netflix's new mobile users hail mostly from the US, Brazil, and India for this quarter.
All About Netflix's Dramatic Boom!
Netflix's breakthrough in the mobile space is impressing, considering the fact that Google Play billing is unavailable for Netflix since May which clearly refers to behind-the-scenes characters. Much of Netflix's growth comes through Apple, which pockets in 30 per cent of subscription revenue from app partners for one year while taking up 15 per cent in the following years.
Throughout Q3, Netflix could count upon three areas which bolstered up its app gain – U.S, Brazil, and India which witnessed 19 per cent, 13 per cent and 10 per cent of all the subsumed downloads, respectively. The growth in both the U.S., and Brazil was comparatively fair yet passable but none as staggering as that of India. Middling enough, India saw an increase in the downloads of more than 100 per cent, which is, undoubtedly, something of note!
Talking in the context of revenue, the U.S. still captures the greater share and accounts for 55 per cent of Netflix's Q3 revenue. The second largest market holding up about 4.7 per cent of Q3 mobile earnings is Great Britain.
To throw around more confetti, with the recent Q3 score, Netflix positions itself as one of the top performing apps in the mobile ecosystem, globally. It ranks first for non-game apps.
Netflix and India – What's there in the House?
Netflix entered India with great pomp and show! It rode pillion, with promotion in the driver's seat and a heap load of profits fuelling its ride!
Who doesn't love lazying around, and binge-watching? Especially in a country like India, where the mass welcomed "Sacred Games" with the same, familiar zeal like that of "House of Cards" or "Narcos"!
Synonymous to one overtly-used word in the urban dictionary, binge-watching has been quite mainstream now, with an average Netflix person watching approximately one billion hours of content, each week. No kidding!
"We are carried away with enthusiasm by India, We think it will be one of our biggest sources of growth over the next few years." – Todd Yellin, vice-president of product at Netflix.
Netflix believes that the Indian audience who are so used to big-budget Bollywood productions, at times settle for low-budget soap operas just for the sake of watching. However, what lies beyond lavish productions, is a huge untapped market which Netflix is eyeing on!
As of now, to lay hands on that same untapped market, it will use the stratagem which has helped it gain present valuation – Being extravagant in producing original content, and compelling customers to pay!
Additional Takeaways: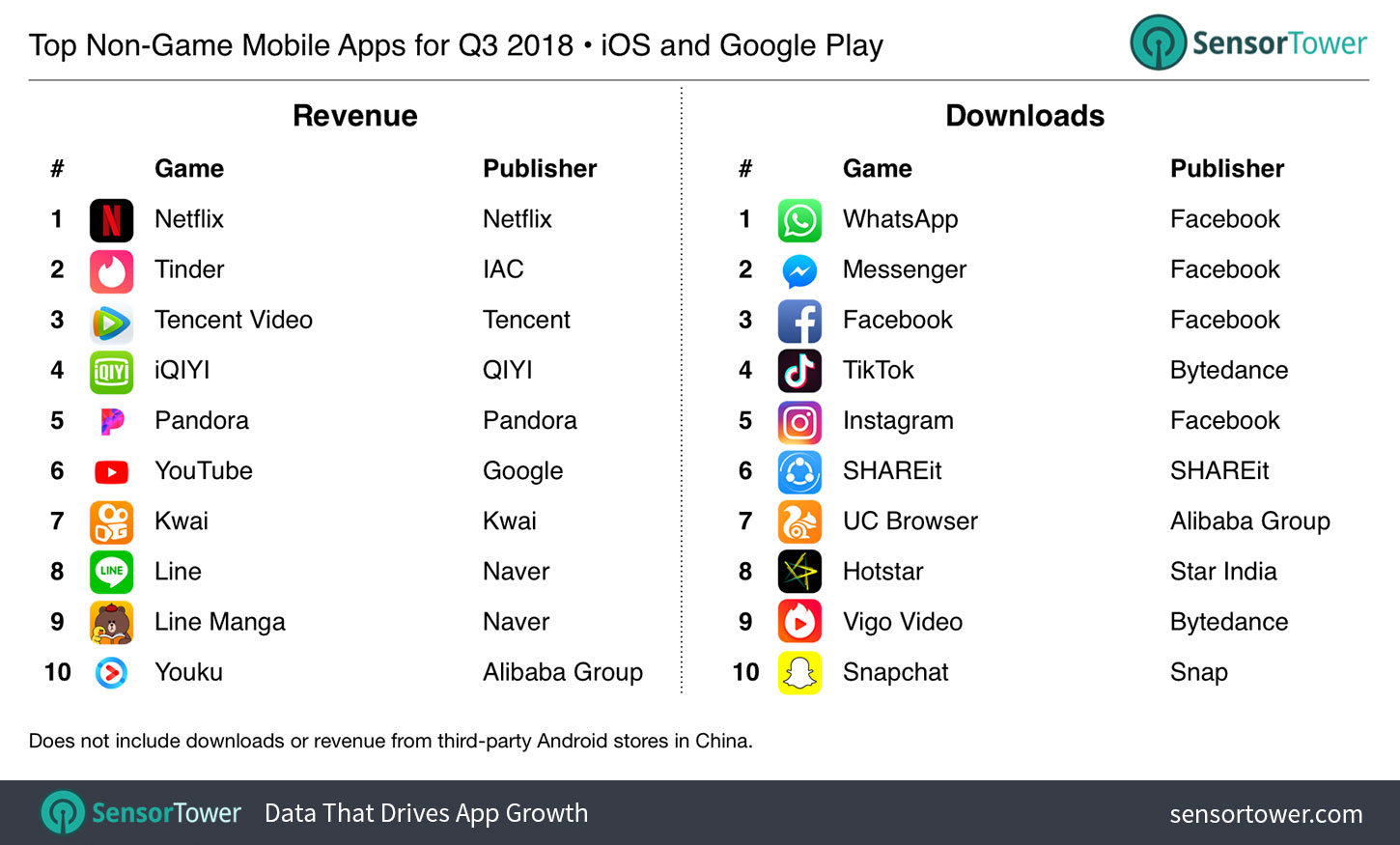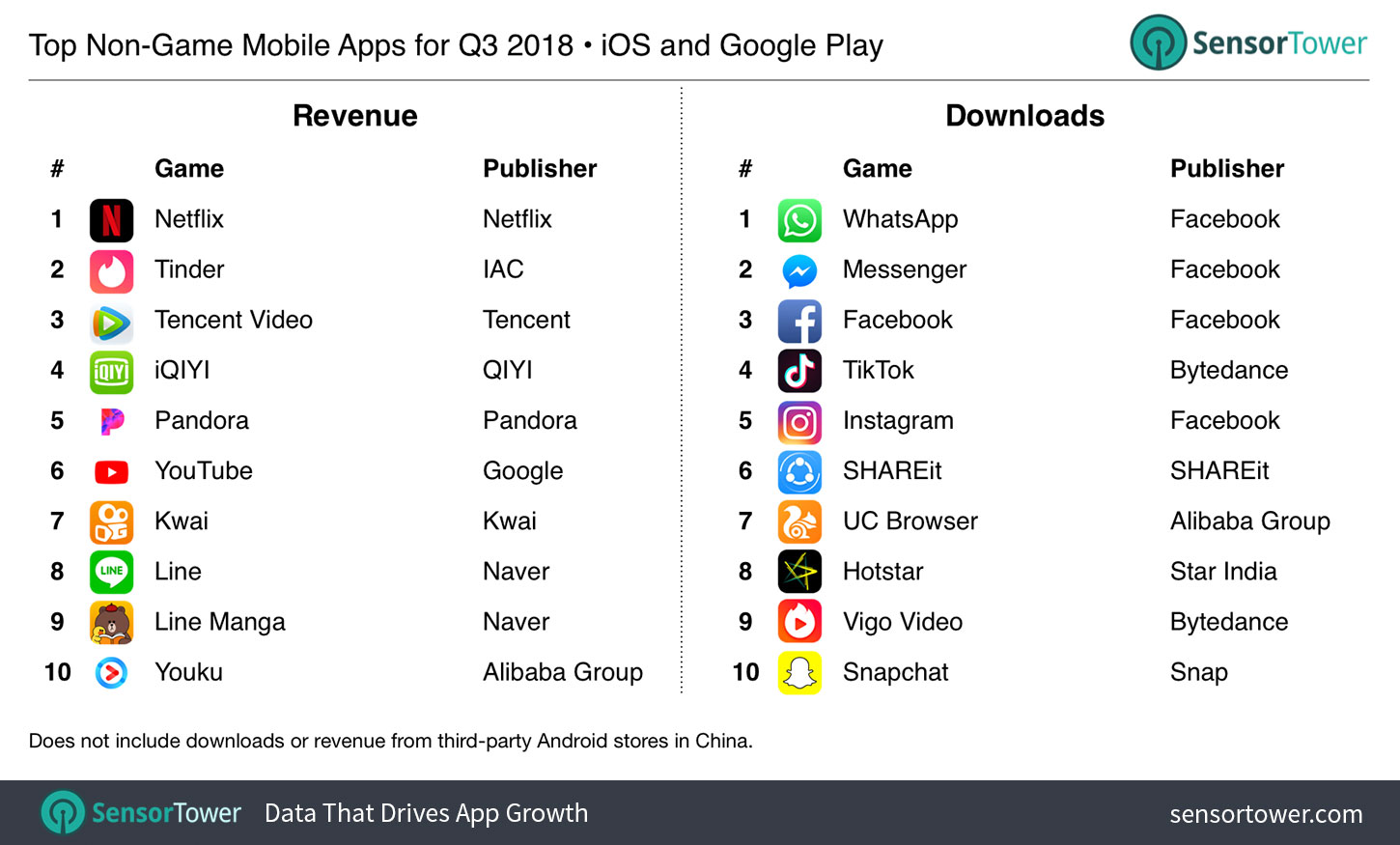 The App Store gained about 93 per cent more than Google Play in the ongoing quarter.
Apple's App Store generated approximately 66% of the $18.2 billion global mobile app revenue for Q3 2018.
App Store garnered in nearly $12 billion, which is an upsurge of 23.3% from $9.7 billion during the same quarter, last year.
The most downloaded apps also saw a rough up, with Bytedance's video app TikTok clinging in for better!
[poll id="82″]