If you are caught Napping, you cannot obviously name who still ascends the throne of Technological pinnacle! However, LinkedIn has got your back.
A recent survey by LinkedIn Corp (NYSE: LNKD) reveals the "Top Emerging Jobs in India" and it seems, technology roles dominate this list.
For this report, LinkedIn surveyed more than 50 million of its members in India, who had specified their work experience on their profile details. Following this, it segmented and clustered what seems like, millions of user-input job titles on the basis of common job roles. The report is based on an analysis of data collected between 2013 and 2017.
Again this survey let several things off the hook. It revealed that even across sectors like pharma and banking, there's an upsurge in the demand for tech jobs and hence, the high demand for talent for specific roles.
Furthermore, the LinkedIn survey suggests that the country's vision for change will only be achieved by swift pliancy to change. That appears to be the key to govern more than five million people who are all systems go when it comes to joining workforce each year.
This shows that the country's job market is making a fundamental transit from conventional engineering jobs to more sophisticated skill-set requisites. With this survey, roles like Software Engineer and Senior Business Analyst seems past one's prime!
Top Emerging Jobs in India: Tech Jobs Rule
According to the survey, Machine Learning has been a hit parade. Machine-learning comes from the digital revolutionary paladin, Artificial Intelligence and is regarded as the next big thing in the technological paradigm.
This role is closely followed by the Application Development Analyst, Back-end Developer, Full-stack Engineer, and Data Scientist.
The successive positions were again, customer success manager, digital-marketing specialist, big data developer, sales recruiter and python developer respectively.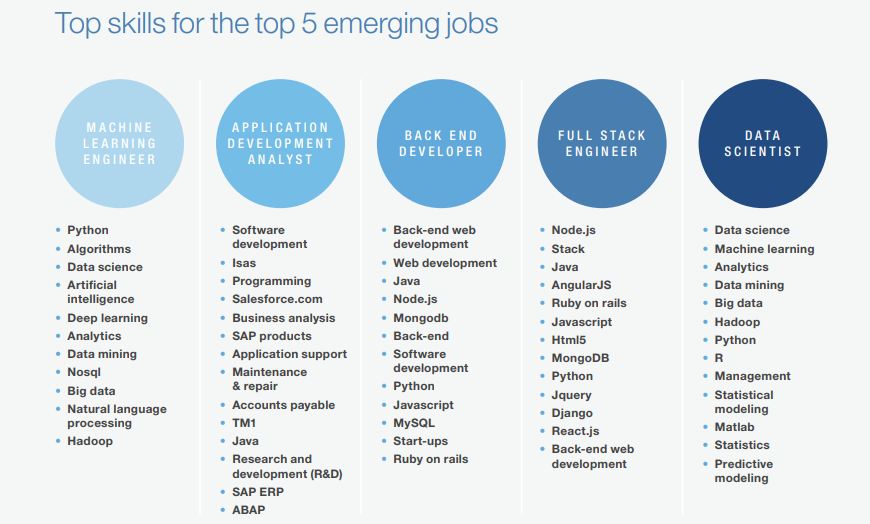 In a Nutshell:
Application development analyst works in developing and troubleshooting computer-based applications.
Back-end developer builds the server side – in web applications like the database.
Full-stack engineers are able to run a project from start to finish – build the server-side functions of a website as also make it friendly for the end user.
Digital marketing is another major space with soaring demand, as e-commerce is up for making their mark.
Sales is a job, that will remain in demand forever.
The survey of top emerging jobs in India highlights the ongoing hiring pattern in this country. On a close juxtaposition, one may find that majority applicant in the US has a Master's Degree while, in India, job roles are meant, mostly, for graduate students.
Are Technological Roles Limited to Tech Companies?
"India's indigenous tech talent has taken several global tech giants to success, hence it is no surprise that India's top 5 emerging jobs orbit around technology and core technical skills across sectors," Feon Ang, VP – Asia Pacific, LinkedIn Talent and Learning Solutions.
Did you see the big "NO" wavering around, by LinkedIn? If not, briefing the already loud antonym isn't that difficult.
This report further elucidates the fact that although technical roles dominate the space, it isn't limited solely to tech companies.
Instead, according to this Microsoft-owned company reports that tech jobs are in demand across nontechnical sectors too like retailing, banking etc.
With about 50 million users in India, the LinkedIn survey states the emerging need for redefining soft skills. These soft skills are the most hyped over skills as of now and reskilling as well as upskilling is turning more crucial for the technology age.