How do you pave way for a digital future and reorient working professionals?
Simplilearn, an EdTech company seems to have an answer. According to Simplilearn's Career Impact Survey 2018, Artificial Intelligence (AI) and Machine Learning (ML) are the most widely chose domains for reskilling among working professionals in India. 25% of respondents chose AI and ML for suitable domains for upgrading their skills, followed by big data and data science (20%). The findings of the survey are aimed at analyzing the impact of professional certifications and reskilling among working professionals in India.
Other new age certification courses such as digital marketing, cloud computing, cyber-security, and agile & scrum together saw a 55% rise among professionals, seeking re-skill prospects.
Go Digital or Backpedal
Going digital is an indispensable part of a company's survival stratagem today. As a result, it has become imperative for professionals to fill their skill gap in order to meet the latest industry requirements.
The Krishna Kumar, Founder & CEO of Simplilearn can be further quoted saying, "The survey outlines how impactful certification courses and re-skilling is a necessity for professionals who want to acquire the right skills for career advancement opportunities."
At a time, when India's industrial spectrum is suffering from a growing skills gap, the Indian IT industry needs to revamp its strategical model in order to drive a change and reorient itself to an effective, up-to-date business model. In the current scenario, at an industry level, re-skilling & up-skilling should be rigorously combined for performance appraisal and realignment.
Re-Skilling Professionals
Industries globally are going through a groundbreaking change today when it comes to deeply acknowledge disruptive technologies like Machine Learning (ML) and Artificial Intelligence (AI). With newer leaps happening in the field of technology across verticals in the country, re-skilling engineers appears core to the country. Experts claim that, although Indian engineers have the expertise and talent with apt degrees, in-vogue skill-sets, however, remains at the pinion.
According to an earlier study conducted IBM, more than half of new employees recruited in local labour markets do not possess the required job skills. Apparently, only 40% of Indian industry executives said that new employees recruited in local labour markets have
requisite skills. As per this survey, much of the nation's current higher education system fails to meet the needs of students and industry. A combination of technology skills, domain knowledge and soft skills is needed.
The Simplilearn survey claims that 44% of the respondents claim that reskilling and certifications have had a positive impact on their pay raise during the performance appraisal cycle, while 24% of the respondents said it impacted their promotions. Thanks to the benefit of reskilling, 32% of the respondents were able to join other departments within their organization.
Future Demand For Reskilling
With organizations around the world adapting to digital transformation, professionals want to put an edge on their technical skills. About 67% of the respondents want to hone their skills in Big Data, Data Science, AI, Machine Learning and Cloud Computing in the next three to six months. In addition to technical skills, 55% of the respondents look forward to improve their managerial skills, followed by problem-solving skills.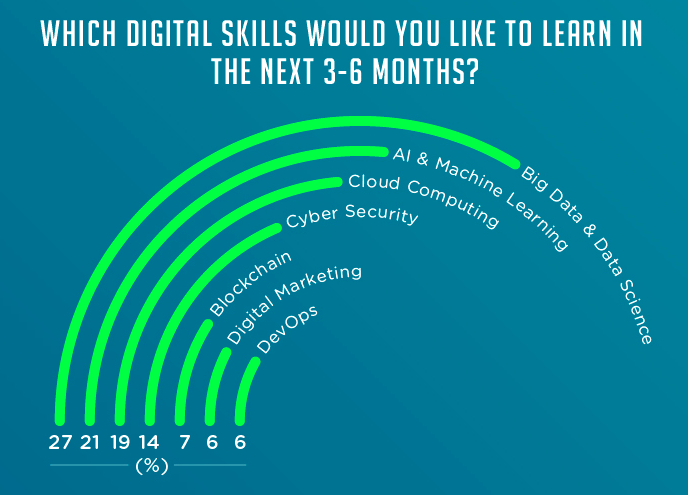 India's economy now, although bolstered by an entrepreneurial workforce and youthful culture, witnesses a talent shortage. The ever-changing skills requirements, completely in contrast to the outdated curricula poses a challenge to the Indian education system to equip youth with job-ready skills.
Bottom Line
Despite efforts at re-skilling, the workforce today is going through a period of job insecurity. Most re-skill programs are done after work hours and workers are forced to undergo these in order to protect their jobs.
When it comes to job searches, 62% found professional certifications to have an upper hand and increases their prospect of finding new jobs. Apparently, the majority of the section will look into tuning up big data, data science, AI, machine learning and cloud computing.