Accept it, the default texting experience on Android is awful. And, that's why Google has planned to take yet another shot in mobile messaging space with Google Chat. The search engine giant is integrating 'Chat' into Android Messages, the OS's default app for texting. Chat is a consumer-friendly name for Rich Communication Services (RCS), a standard that is meant to replace SMS and Google has been pushing every major carriers and OEMs to adopt this technology, The Verge reports.
Google has been trying hard lately to deliver a better messaging experience that could stand against established giants like Facebook Messenger, Apple's iMessage and WhatsApp. Previous efforts involved a whole bunch of not so successful apps like – Android Messages, Hangouts, Google Duo, and the company's latest Allo. Allo, though a fine messaging app, couldn't manage to build a large user base. Perhaps, users are not too fond of migrating and shuffling between similar kind of apps. At the end of the day, the users fall back to the native SMS app on their devices.
Google is reportedly "pausing investment" in Allo to double down its efforts to push Chat. Chat is not a new app, rather its a new experience in the existing messaging app on Android. It is gonna have additional features including the read receipts, group texts, full-resolution images and videos and typing indicators. The important thing to note is, Chat is a carrier-based service, not a Google service. Google is working hardcore on the new standard, Universal Profile for Rich Communication Services, so it would help every carrier's chat services to be interoperable. Chat messages would use your data plan, not your SMS plan. On the downside, the Chat messages won't be end-to-end encrypted, just like SMS, making it less secure than iMessage.
Interestingly, if your texting someone and the recipient isn't in Chat or is not an Android user, the message will be converted into an SMS/MMS – much like how iMessage does. RCS continues to be a carrier-owned service making the carriers final arbiters of what chat can and can't do. Its great news for Google that it has gathered all the major carriers worldwide where Chat services will be interoperable. As of April 2018, the companies that support RCS Universal Profile include – 55 carrier operators, 2 OS providers (Microsoft and Google itself), and 11 OEMs. The GSMA estimates that RCS services can account for a $74 billion market by 2021.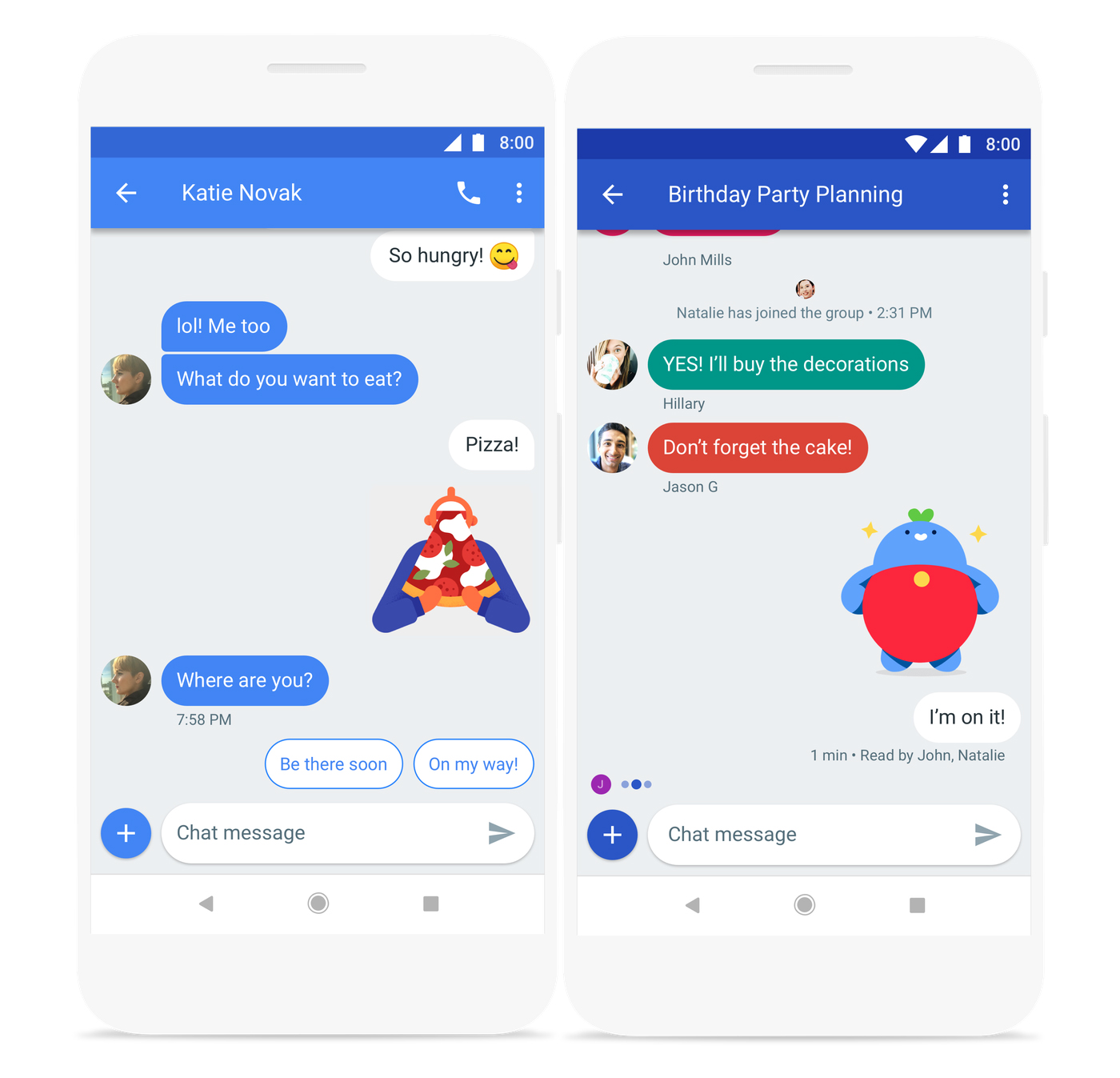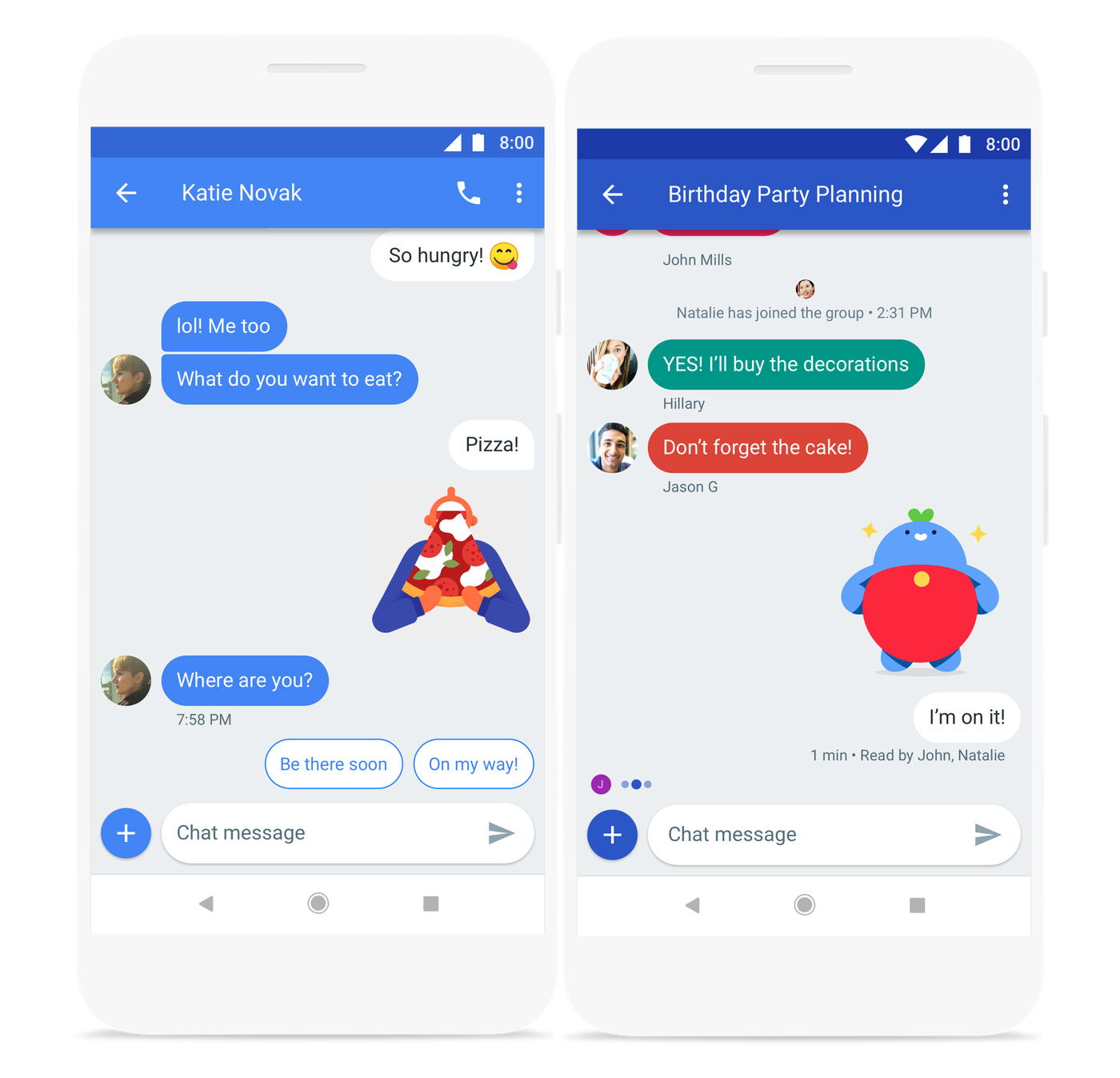 Google wants to give a better and unified messaging system to more than 2 billion Android users. If it doesn't replace the currently atrocious SMS, it can do nothing but watch Facebook and Apple run away with text messaging. Google has put Anil Sabharwal, the team lead behind Google Photos app, in charge of the effort. According to him, this cannot be implemented without the partnership of carrier-operators and OEMs.
Like WhatsApp and iMessage, Chat will also have a desktop interface for texting. Initially, a user will be required to scan a QR code for authorization, similar to WhatsApp, which will let him see a mirrored version of his phone messages on the web. If you are still using other Google apps, you must know that the company has not shut down Allo, just paused work on it. Hangouts is not a consumer-focused app now rather an enterprise app. Duo, the video chat service, also continues to run and is surprisingly successful.
Chat apparently appears like the last chance for Google to fix the texting experience on Android as Google has spent nearly a decade trying and fixing its lot of text messaging services but didn't seem to get far.