After China, globally India has the second largest online population. According to a report by the Federation of Indian Chambers of Commerce & Industry, the Indian healthcare sector is one of the largest service sectors in the country. By 2020, the healthcare industry is expected to grow to a massive US$ 280 billion dollar industry, a growth of over ten times since 2005. In fact, between 2011 and 2020, the healthcare industry is expected to grow at a CAGR (compound annual growth rate) of 17 percent. According to the FICCI report, Healthcare has emerged to become one of the most progressive service sectors in India. It is also believed to be the next big thing after the IT industry.
Unfortunately, despite India being the nation with the world's second largest population, the public healthcare system leaves much to be desired. According to 2015 report by National Health Profile, the country has only one government physician for 11,000 people and one bed in every government hospital serves 1833. In fact, research by InnAccel found that the majority of startups that were evaluated in 2015 (90% to be exact) were focused on innovative and preventive healthcare solutions.
The trend towards startups focusing on healthcare seems to be a global one according to venture capital database CBinsights, which found that digital health startups across the globe attracted $5.8 billion in funding in 2015. So, how has the healthcare industry in India changed in recent years, and what has led to this change?
Growth in Indian Healthcare
This exponential growth in the Indian healthcare industry has occurred due to several factors including:
Demographics: The Indian population aged above 60 years is expected to grow to around 193 million, as compared with 96 million in 2010. This change in the population will only lead to greater demand for healthcare facilities in India.
Increased awareness: There has been a shift in the way in which healthcare is viewed which has led to a greater demand for healthcare products and services tailored to individuals. Indian consumers not just want proper healthcare. They are also looking for services that can be personalised to suit their needs.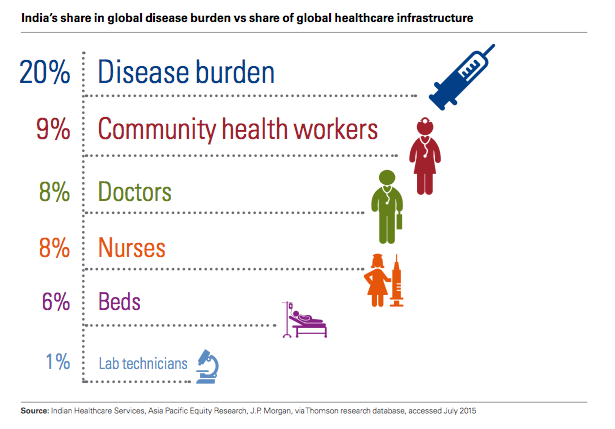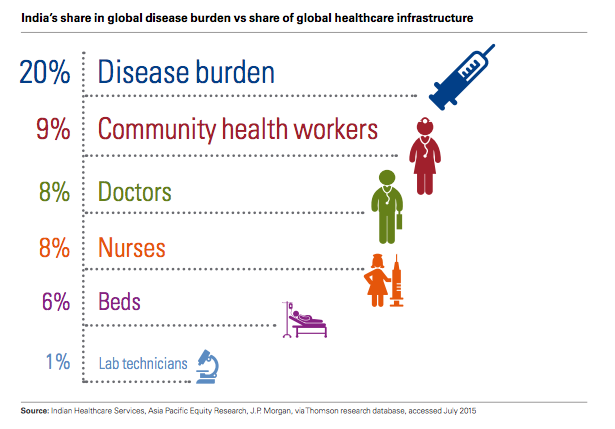 Healthcare, Demographics and the Role of E-commerce
Looking at these trends, it was only a matter of time before digital healthcare services bridged the gap that offline healthcare failed to mend in a rapidly growing nation. Online healthcare has the potential to meet the demands of a rapidly changing demographic landscape whose consumption of technology is also steadily growing. The constant increase in demand for healthcare combined with a lack of quality services in this sector has opened up a vista of opportunities for online health retailers. It is simply because now they can approach a larger consumer base while reducing overall operational costs.
The healthcare industry holds immense potential for both consumers and innovators. With e-commerce having a steady foothold in the Indian market, the online healthcare industry in India is all set for a revolution. There is hope that this wave of change will allow market players to reach millions of Indians that reside in both urban and rural parts of the country. Since healthcare facilities in more remote parts of the country are still developing, they are a source of high demand for technology in the online space.
The change in Indian healthcare industry was inevitable. A steadily increasing population combined with higher life expectancy means a high domestic demand for services which cannot be realistically covered by the offline retail healthcare service providers alone.
Few Players
The online healthcare industry holds immense potential as currently, the market is fragmented and chaotic, and not always consumer friendly. The online space is a huge and a great platform for new entrants and start-ups to grow with the aim of meeting an increasing demand for high-quality services and products. The fact that online healthcare space has a few highly respected names likes of Practo (which has, in the space of just a few years, already left an indelible mark on the industry) makes this space more lucrative for budding startups and new entrants.
Few competitors and increasing demand means the potential for change in the online healthcare space is not limited, and competition is welcome. The rapid adoption of digital technology and evolving consumer behaviour has made the e-commerce space a necessity that cannot be ignored.
Healthcare in India has not traditionally been patient-centric but thanks to Indian startups appearing in the online space, customers are now being provided with the tailor made services, thereby providing plenty of competition for offline channels which are in dire need of change. The future of this growing industry in India looks promising. Few of the features that startups in the near future can explore include video conferencing, online consultancy and palliative care.
Technology and the Future
As far as access to the Web is concerned, research from the desks of the Think Tank Gartner shows that mobiles are set to surpass PCs in terms of usage. Today consumers have greater control over how they access health care options and are using technology to connect with doctors and healthcare brands in a way that was not possible before. Innovation combined with technology is the key to success in this sector.
Since the mid-2000s, digital healthcare startups have been steadily appearing on the horizon. The rise of mobile usage along with a booming e-commerce sector is a powerful combination that is helping to bridge the gap between consumer and health care and between patient and doctor. Today, all it takes is a swipe on the smartphone to access doctors, hospitals and more.
According to startup data tracker Tracxn, India's highest funded healthcare startups in 2015 were focused mainly on 'appointment booking, cloud-based healthcare information systems and online pharmacy providers', with some startups focusing on cutting edge research.
India has seen its healthcare industry being revolutionised in the past few years, and this is just the beginning! At this juncture, the online space is not limited, and the future of this industry certainly looks bright. With great innovation and correct use of technology, the healthcare industry is all set to be a major source of growth for the Indian economy.