Opera Media continues to impress the billions of mobile internet users. This time with the recent launch of its unlimited mobile VPN (Virtual Private Network) app for iOS devices, the company is trying to woo nearly 1.1 billion active iOS users worldwide, and to make Apple users fall for it, Opera has made it totally free. Apart from protecting the privacy of individuals, Opera VPN app blocks the hectic ad tracking cookies which feed ad servers by inferring user's browsing habits with a built-in ad-blocker. The app is launched a month after Opera launched its free VPN integrated into its own browser.
The target consumers for Opera's new VPN service are the ones who work around restricted internet access like in workplaces and schools.
"Every day, millions of people, from students to working people, find that social-media sites like Snapchat, Instagram, and Facebook are blocked when they surf on their campus or workplace Wi-Fi. The same goes for video-streaming sites. With the new Opera VPN app, we help people to break down the barriers of the web and enjoy the internet like it should be," an enthralled Chris Houston, President of SurfEasy, Opera's VPN division.
The app is developed by SurfEasy, the company Opera acquired last year. Opera VPN is a boon for the mobile users who are always suspicious of the security over public networks as it allows the consumer to mask his/her true location by temporarily acquiring an another IP address from a nearby location. Currently, only five locations- the United States, Germany, Canada, Singapore, and Netherlands are available for bypassing one's true location.
The service is absolutely free from Opera and even doesn't feature any advertisement in its app. The move may be attributed to pierce the VPN market and accumulate a large number of user bases for its app. The competition is stiff and is dominated by Hotspot Shield and Tunnelbear.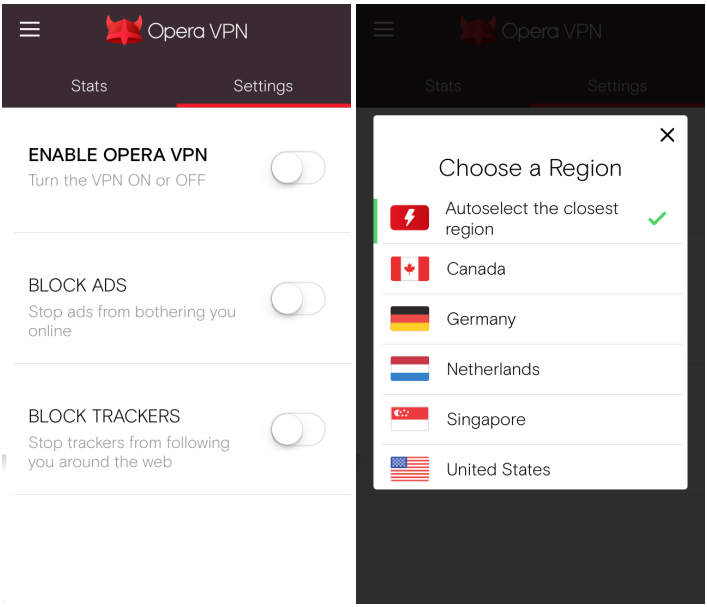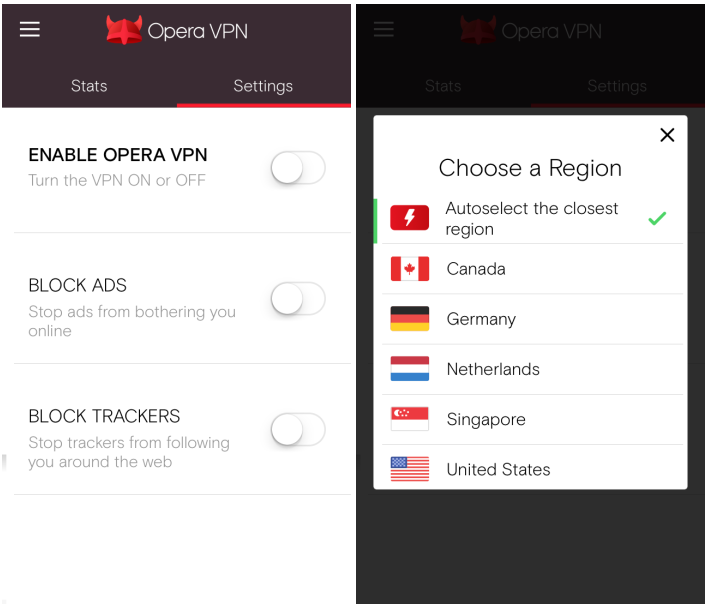 According to Chris Houston, President of Opera's VPN division, advertisements may pop up in the app in the future as a source of revenue. He also referred to 'the other way' in his blog post which states that revenue may be generated by selling anonymous data about the way people use their mobile phones to the interested parties. However, at the same time, he also insisted on the fact that data privacy of the individual won't be compromised.
"While we don't offer this today, we will likely introduce advertising into the application in the future. This is just the same as playing a free game that has ads – we get paid by advertisers based on our users' engagement with their ads," written by Chris Houston on his blog.
The Market Potential for VPN
But, why a company primarily known for mobile browser and mobile apps, is exploring an avenue which is quite diverted from its area of expertise? According to numbers portrayed by Global Web Index, a quarter of world's active internet population (24%), i.e. around half a billion mark, have used VPN at least once. One-third of the total user base of VPN comprises of youngsters aged 16-34 – the very same group known for the heavy consumption of data through mobile browsers and apps.
The numbers are quite glittering; Opera is apparently trying to strengthen its browser and apps market share by reaching out potential users by offering one of the most popular mechanisms to have unrestricted and non-monitored internet access. The numbers also portray the huge market potential that VPN possesses.
But, VPN Is a cause of Distress too
VPN allows its users to mask their true location with a pseudo nearby IP address which has troubled some entertainment industry giants lately.
A couple of years ago, Sony had accused Netflix of piracy and breaching its contract, as Netflix's content could be easily streamed by the foreign users through VPN's. Sony, in turn, forced Netflix to incorporate methods in order to subdue the VPN users who belong to the countries where Netflix has contractual issues.
The growing distress in the online entertainment industry towards VPN can be figured out from the fact that while 38% of the total VPN users use VPN for better entertainment content, 28% use it to access the restricted networks and sites in their country. Nearly 30% use VPN to keep anonymity. Clearly, there is a big percentage of VPN users who access entertainment content, from sites like torrent, illegally by hiding behind VPN walls.
But, VPN isn't illegal and even a boon for the large chunk of users who live in censored countries i.e. where social media or its content are either restricted or banned. In 2015, Twitter was banned in Turkey following some unwanted issues and as a result, VPN adoption went through the roof. A whopping 2.5 million tweets went online through VPNs in the country during the imposed ban.
Final Words
It's definitely a commendable move by Opera, but tricky as well to handle creepy users who try to take undue advantage of free VPN networks. Considering the demographic and daily usage pattern of Apple iOS users, it's safe to say that the number of such users would be less, but Opera has to have mechanisms to belt the neck of those.