With the entry of more content-intensive services like Netflix, Saavn, and other streaming on-demand streaming sites, the Telecom regulator in India has informally directed ISPs and Telco providers to improve broadband speeds in India. The Telecom Regulatory Authority of India (TRAI) has issued a 'draft direction' to stakeholders (ISPs, Telcos), seeking their comments as follows:
"Broadband is a data connection that is able to support interactive services including Internet access and has the capability of the minimum download speed of 512 Kbps to an individual subscriber from the point of presence (POP) of the service provider intending to provide Broadband service"
That means TRAI wants to set a benchmark for internet in India by ensuring that all broadband providers in the country provide a minimum download speed of 512 Kbps. The road to setting a minimum download speed is confusing, as there were numerous discrepancies and disputes between the Department of Telecommunication (DoT) and the TRAI regarding broadband plans in India. Here is a timeline of all the developments:
TRAI issues recommendations on May 2011, stating that the minimum download speed needs to be raised to 512 Kbps from 256 Kbps. It also added in the same recommendation that the benchmark for download speed will be at least 2 Mbps by January 2015.
As more ISPs began introducing Fair Usage Policies (FUP) plans, TRAI issued another direction in December 2012, stating that ISPs who do not meet the 256 Kbps limit will be liable to pay a non-compliance penalty of Rs 50,000 per parameter.
TRAI originally raised the minimum broadband speed to 512 Kbps in July 2014, through a consumer redressal notification stating that the minimum download speed is raised to 512 Kbps from the original 256 Kbps since 2011. The TRAI also added that the regulation would come into place once the official Gazette of India issues the notification through their records. However, while taking a closer into the gazette, no such notification was found in their records. In addition, one of the top ISPs in India, ACT is still found to be providing 'ACT Swift Plan' that falls to 256 Kbps after the FUP limit.
While, the recent notification has mandated just 512 Kbps as the minimum speed, all the previous plans of setting 2 Mbps as the minimum speed for all broadband providers have disappeared. It is not clear to this date, why the regulator has been holding up on the originally set benchmarks.
The State Of Broadband In India
Reports from TRAI shows that over 1.03 billion Indians are hooked onto some kind of a wireless device, including a mobile handset. The growth is expected to hit 30% by 2017. While the number of internet users in India touched 354 million by the end of June 2015—this means that more than half the population is yet to receive an internet subscription.
A TRAI report points out that even though India has over 108.95 million wireless broadband connections, but the wired broadband connections have added just about 140,000 connections during the September-October stretch. That is a tiny growth of just 0.87% in the entire month. While taking a deeper look, it is evident that wired connections in India increased by just 4.6% and stood at 16.27 million connection in October '15 from 15.52 million in Mar '15.
BSNL took the lead in the wired broadband segment with 61% a market share while the Fiber Internet-focused provider ACT took a 5% share.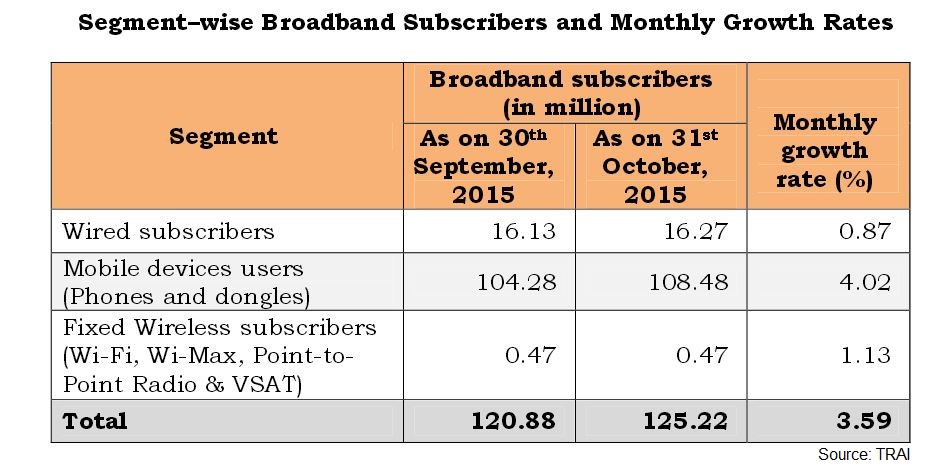 A 512 Kbps benchmark in India is a bad idea: Fiber Internet connections come at a big cost; that coupled with data caps on the high-speed internet could discourage more users from migrating or buying them. When the world's average internet speed stands at 5 Mbps, India ranks fourth-last, according to Akamai 2015 rankings, with just 14% of the connections over 4 Mbps.
The above analysis shows that the rate at which broadband is being adopted in the country is slowing down considerably, mainly due to a lack of value plans. The Fair Usage Policy plans adopted by many ISPs received nothing but protests from the consumers and critics alike.
In brief, India needs to focus on the new shift in networking technologies, including high-speed mobile networks, wireline broadband to allow a value flow, and to bring in more subscriptions under its base. Focused investment and not just investments in manufacturing or campaigning initiatives are going to do good.