Recent reports reveal that over 1.03 billion Indians are hooked onto mobile phones, wherein more than 21.2% of them accounted for smartphone users. The growth is expected to hit 30% by 2017. While the number of internet users in India touched 354 million by the end of June 2015 – this means that more than half the population are yet to receive an internet subscription. Additionally, reports suggest that nearly 60% of these subscriptions are mobile internet users.
Figures from DIPP (Department of Industrial Policy & Promotion, India) suggests that the Telecom industry in India is currently the third-largest sector in terms of FDI equity inflows—from April 2000 to May 2015, the telecom industry has secured more than $17,421 million, accounting for 6.81% of the FDI inflows. Telecom leaders from India suggests that the telecommunication sector is expected to add at least 7 lakh new job opportunities in next five years in India. The country's telecom market is said to be the second-largest in the world, recording an impressive growth in the past decade, says IBEF. The market is driven by a strong adoption of data consumption, especially on handheld devices; and according to IDC, 28.3 million smartphones were shipped to India in 3Q 2015 with 21.4% YoY growth. With such exponential growth, India could overtake the US as the 2nd largest smartphone market by 2017.
India's price-sensitive smartphone market, dominated by Samsung, witnessed a buzz in new entrants—budget devices from new entrants like Xiaomi, OnePlus are taking the market by a storm. Existing players including Samsung, Micromax and Intex have secured the first three positions, respectively. IDC claims that One out of 3 smartphones shipped in 3Q 2015 are 4G enabled as the country prepares for a shift in mobile technology. Newer players like Xiaomi and OnePlus have received a warm welcome by users in India, mainly due to the 'low-priced feature-rich' factor that it offers. Even though High-end brands have their attention, the majority of the Indian consumers prefer 'performance' over 'brand image'.
Mobile Internet And Broadband Should Be Backed With Sufficient Infrastructure As Growth Surges
Let's take the case of Intex—IDC reports that the vendor has witnessed a sharp rise in shipments in the sub-US$50 segment, as well as entry level 3G-enabled devices. India might need to focus on upgrading its internet infrastructure requirement, especially in the wireless segment. IBEF pens down that the wireless segment dominated the Indian Telecom market with a whopping 97.3% of total subscription. Similarly, the country saw a spike in the number of broadband subscriptions—data from TRAI reveals that India recorded a 52.49% YoY growth, totalling to 108.85 million users by the end of Q2 2015 in June '15.
Similarly, HSBC report points out that India has overtaken China in terms of high-end devices due to the rising adoption of 3G and 4G services. The average auction price per MHz stood at $89.20 million in 2013; in fact, the 3G band saw very few takers during last years' spectrum auction due to high reserve prices coupled with limited availability of the 2100 MHz band (Or 3G band). The scenario doesn't necessarily point out that India needs to be scaled down on 3G, but should rather focus on building the next generation services like 4G and fiber network broadband.
Cyber Media Research points out that 4G/LTE shipments in India reached 5.7 million units during April-June 2015, recording a whopping 154% QoQ growth. This coupled with the 52.49% YoY growth in broadband in June '15 shows that Indian consumers are increasingly moving to the 'High-Speed' internet sector. The only highlighted Fiber Internet providers in India include ACT and BSNL, but the existing infrastructure needs more infrastructural investment. Adding to the concern, the metric, 512 Kbps as the minimum required speed, as set by TRAI seems to make no sense in such a surging scenario.
Why Broadband Needs A Tweak In India
A TRAI report points out that even though India has over 108.95 million wireless broadband connections, the wired broadband connections have added just about 140,000 connections during the September-October stretch. Wired connections in India increased by 3.93% and stood at 16.27 million connection in October '15 from 15.45 million in Mar '15. BSNL took the lead in the wired broadband segment with 61% a market share while the Fiber Internet-focused provider ACT took a 5% share.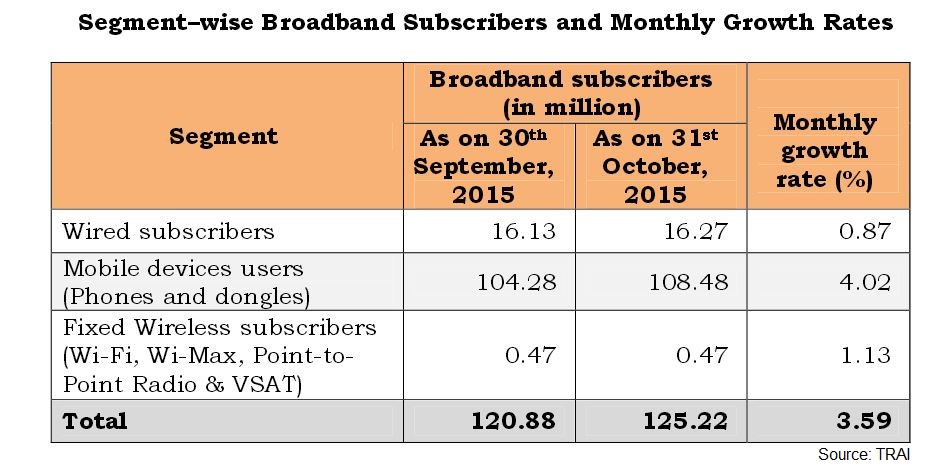 Fiber Internet connections come at a big cost; that coupled with data caps on the high-speed internet could discourage more users from migrating or buying them. When the world's average internet speed stands at 5 Mbps, India ranks fourth-last, according to Akamai 2015 rankings, with just 14% of the connections over 4 Mbps.
In brief, India needs to focus on the new shift in networking technologies, including high-speed mobile networks, wireline broadband to allow a value flow and to bring in more subscriptions under its base. Focused investment and not just investments in manufacturing or campaigning initiatives are going to do good.