From "Tic-tac-toe" to "Microsoft"; the path to triumph he foresaw to become a successful entrepreneur transformed him to a billionaire at the age of 31. A shrewd business person with immense interest in coding Bill Gates co-founded Microsoft Corporation (NASDAQ:MSFT) on April 4, 1975, along with Paul Allen. Thank you to the conception of this great man and his contribution as the world is accessing PC services incredibly and comfortably from the household.
Apart from setting up world's largest software company Microsoft, valued more than $340 billion, Bill Gates has got multiple feathers in his cap. On the 60th birth anniversary of Bill Gates, we bring few interesting, yet less known, facts about him and indeed the man's history nonetheless being interesting it is motivating.
Date of Birth: October 28, 1955
Net Worth: $79.2 Billion
Hailing from an upper middle-class family to the top billionaire today in the US is an incredible feat. Bill inculcated the competitive behavior and he strived for excellence from his childhood days. He loved coding and at his early age of thirteen years he put up his first program "Tic-tac-toe" – a Basic gaming program with the computer in his Lakeside School. Bill Gates recollects the experience gained in Lakeside to be the confidence booster to start his new company.
Despite his interest in coding, he was a voracious reader. He covered the complete series of World Book Encyclopedia at the age of 8 years. He scored immense 1590 out of 1600 in his Scholastic Aptitude Test (SAT). In addition to this, he excelled in all subjects Math, Science, Drama, and English but till date, he regrets his failure to learn any of the foreign languages.
Bill Gates and his long-term partner Paul Allen, both carries a different outlook. Paul Alen is associated with a geeky image while Bill Gates carries an open attitude and he is well known for notorious f-bombs rants in meetings. Their common interest in computers tied them together. The first joint venture was a payroll program for Information Sciences Inc. in the school days.
Apple's visionary CEO Steve Jobs and Bill Gates both spearheaded a revolution and succeeded in introducing innovation to the world, both faced competition as each one produced great products. Interestingly, a letter, written by Bill Gates to Steve Jobs, highlights about his achievements and Job's kids. Apparently, the letter was held dearly by Jobs as he kept that at his bedside before he died.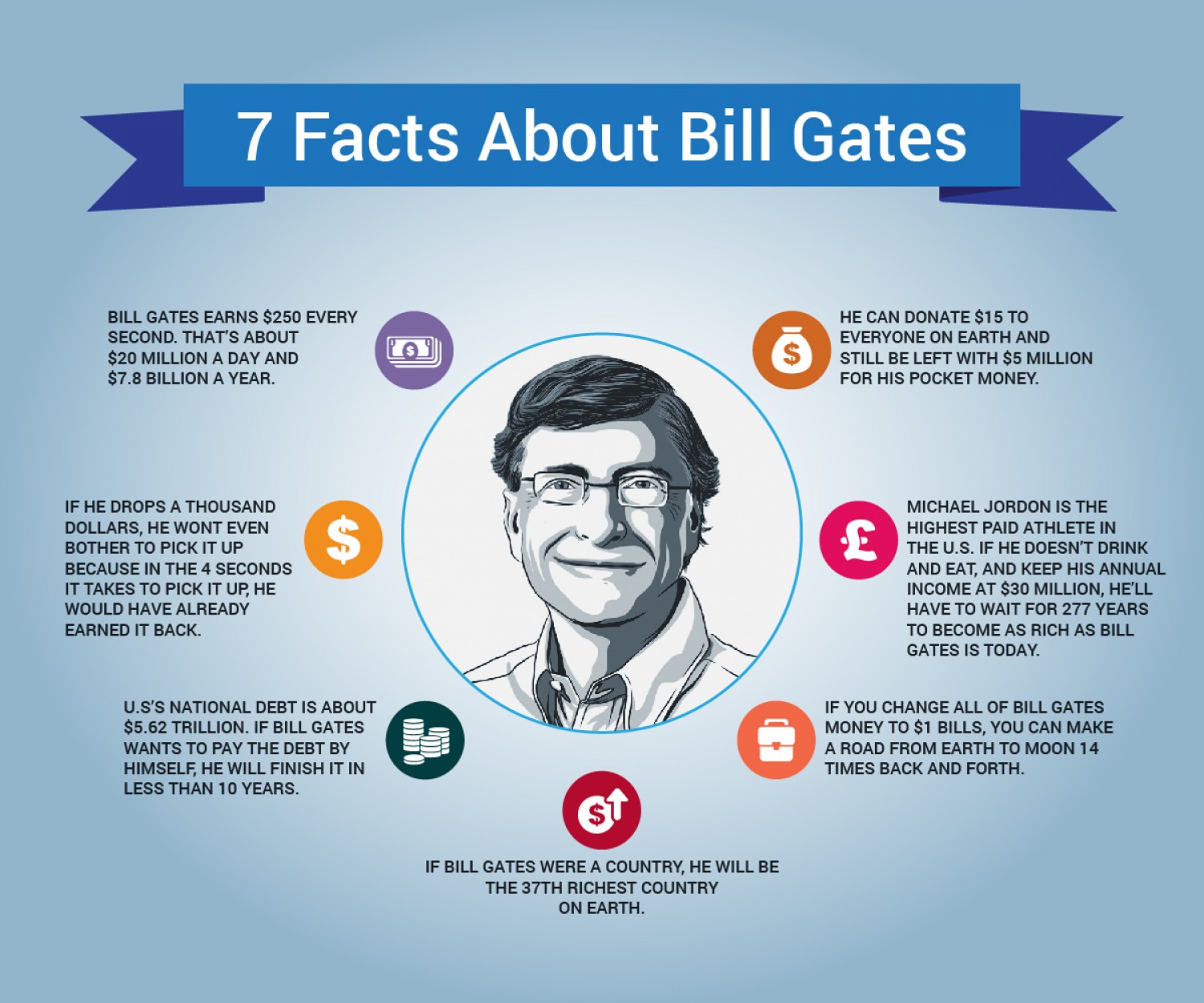 Bill Gates is also known a well-known philanthropist, the trait of donating and charity is innate for the entrepreneur. He enjoyed a close relationship with his mother Mary Maxwell Gates who had a brief career as a teacher and further she engaged in civic affairs and in raising funds to utilize them for charities. Bill Gates accompanied her in the volunteer ventures and at community organizations.
To spread the awareness about the deadly disease Malaria Bill Gates took a tough step; he opened a jar of mosquitoes on the stage of the Technology, Entertainment, Design conference. It was unusual means to create awareness but soon after a minute, he confirmed those mosquitoes to be malaria free. Gates Foundation is endorsing PATH, a nonprofit organization working with GlaxoSmithKline to develop a malaria vaccine. In June 2015, GlaxoSmithKline vaccine was approved the European regulators.
The philanthropist Warren Buffet, Facebook founder and CEO Mark Zuckerberg, and Bill Gates signed a commitment called, "Gates-Buffet Giving Pledge" in 2010. The pledge calls for the donation for at least half of their wealth gradually to charity. The divine cause added to its kitty ten more billionaires dedicating the part of wealth to a noble purpose.
Bill Gates supported by his life partner Melinda Gates in his philanthropy ventures and Bill and Melinda Gates Foundation is gradually departing from the day-to-day affairs of Microsoft and involving into charity deeds completely. It is the largest private foundation in the world. Bill Gates an inventor, investor, founder, philanthropist and many more have "Just don't die," on his bucket list.
Once again, Happy Birthday Bill Gates: An Entrepreneur, Inventor, Investor, and Philanthropist !
The post is a part of a B'day Series where we celebrate the birthday of renowned personalities from Tech Industry, very frequently. The series includes Entrepreneurs, C-level Executives, innovators or a renewed leaders who moved the industry with his exponential skill set and vision. The intent is to highlight the person's achievements and touch base the little known, but interesting, part of his life. You can see the list of all earlier celebrated tech personalities, including Mark Zuckerberg, Marissa Mayor, Sean Parker, Andy Rubin, Julian Assange, Sir Richard Branson, Sergey Brin by following this link or subscribe to your daily newsletter.
To make it more exciting, we suggest you to make use of the comment section if you are among the ones celebrating their birthday with today's featured personality.