Soon after Dussehra, Diwali is fast approaching in India to fill the place with joy and pomp throughout. Festival time is a family time where most of the workforce gets out of their routines and engage in the festivities and spend some time for themselves. Of course, it is a good time to reach them on the Internet. People, unlike during their busy office schedule, are glued to online social networks, albeit through their phones. The latest infographic from Facebook reveals some interesting insights for marketers to understand the behavior of the internet users in India during Diwali.
The Year-End Season Infographic highlights the fact that the majority of the Facebook users (92%) in India access the social network through mobile during the festival season. This, in turn, creates a mobile podium for the marketers to acquire happy customers. This could be the best time for marketers offerings a mobile-centric services, products or solution to shift their marketing strategy from Desktop to graphics driven mobile strategy. During the festive season, Facebook transforms into a "greeting card" during this celebration period with colorful and sparkling pictures uploaded by the users.
For Facebook, India is an important market. On the worldwide level, with 125 million users India is the second largest country for Facebook by the number total users. Marketers, in India and abroad, must leverage the highly enthused and extremely engaged crowd on this social media during the celebrations. So, let's proceed with more interesting numbers that provide valuable insights to marketers to acquire their new age consumers.
Festival Time: Time to Engage and Connect
Adapting to tech ruled lifestyle and expansion of Information Technology, it is difficult to stay connected with the family and the dear ones in an offline world always. Sometimes, even during the festival season, it is hard to stay with the large part of the family beyond the neutral one. Facebook is a boon as it is ubiquitous and accessible instantly. Facebook users, irrespective of age group, stay engaged with their friends and family by sharing photos, videos, and text during the festival.
Facebook users in India upload 3x more videos and 1.5x more photos through their mobile during Diwali compared to other days, according to the Facebook infographic.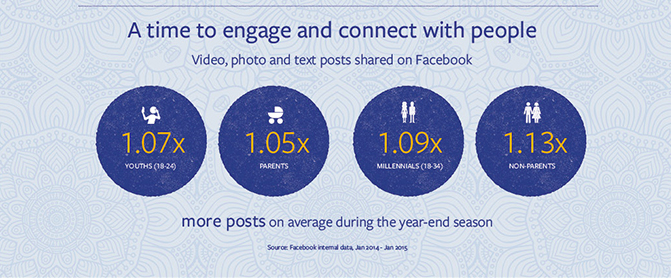 Facebook reveals, on an average youth users (18-24 years) share 1.07x more during festivals, whereas non-parents uploads 1.13X more photos than the normal usage. Therefore, marketers must focus on non-parents group as they live with low commitment and high buying power, consequently have a great chance of go on a buying spree during the festival season. Nonetheless, parents' group enjoy 1.05x more usage and millennials engage 1.09x more in sharing posts than the non-festive season. Evidently, millennials are the second most engaged group who stay connected with Facebook.
To add colors to the festival celebrations, Indians spend a dear during festival season. If the spending pattern of the Indians is considered, it is evident that electronics, clothes, and home products grab a big chunk of the total spending pie. This year between October-November festival season, online shoppers in India are estimated to splurge approximately $6 billion on the said categories, which is three times more than last year claims another study.
Men indulge in gadgets and technology buying online while women are more interested in engaging with pre-analysis like comparing goods and clothes before they hit the buy button, claims the study.
Mobile Drive the Festival Engagement on Social Media
Videos and photos make up the Facebook page during the festival. Throughout Diwali last year, Facebook saw 1.44x more photos uploads while the number for video content upload went up 2.76x. When compared with mobile, the online users find more value in using facebook from mobile as it is quick and easy to upload photos, and videos than desktop. During the festival season 3.48x more posts, photos, and videos were uploaded on Facebook via phone.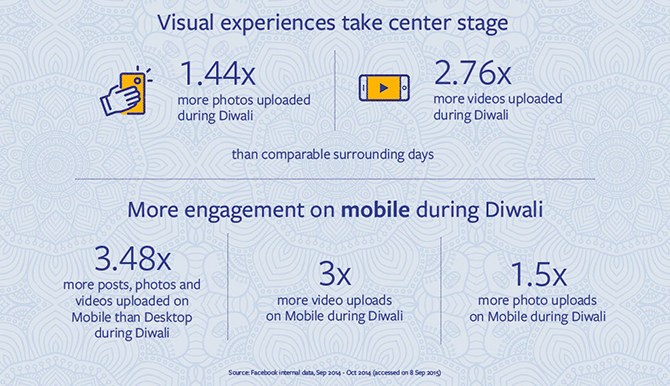 Videos upload alone saw three times surge through mobile during Diwali, while photo uploads on mobile increased 1.5x than desktop uploads. This clearly indicates the exploded adoption of mobile internet and video content. Unlike before, people in India finding more value in recording a complete scene than capturing one single moment in a form of a photo, thanks for declining cost of mobile internet. Marketers can approach Facebook Canvas to make their way into the palm device of the user.
Travel Plans Surge during Festival Season
Besides shopping, Indians make travel plans during festival season. Before Diwali mentions of the hotels and transportation shoot up and remain high throughout the festival on Facebook. The United States tops the list of favorite international destinations followed by the United Arab Emirates and Great Britain.
No wonder travel industry accounted for 61% of the total eCommerce market in India in 2014; clearly, it can reap a lot out of this festival season once again.
Actionable Insights
The Infographic from Facebook carved out a clear-cut path for the marketers to approach prospective buyers out of the 125 million active users in India this festival season. Video ads play a major role in attracting the customers. "Lookalike Audiences" on Facebook help marketers in finding new people visiting your fan Page. Not to forget, it is the mobile phones that keep you connected this festive season with your customers.
Lastly, it is important to keep the customers engaged throughout the festival season. An engaged relationship can transform into a loyal and everlasting connection. Besides, other online players in India, it is Amazon India, Flipkart, Snapdeal, Shopclues, and Paytm to shift their gears and employ Facebook to the optimum to acquire more customers.