With the 2015 holiday season just around the corner, we are being treated to a host of new devices from various tech companies looking to woo us into adding their latest gadgets into our holiday shopping cart! It wasn't that big a surprise when Microsoft Corporation (NASDAQ:MSFT) took to the stage on the 6th of October to launch a bunch of new devices running on their Windows 10 Operating System. And launch they did, with an event that without a doubt was the best of 2015 in terms of innovation and sheer presentations, outdoing the Apple and Google events that had been held prior to it by a fair margin! Among the plethora of devices that had been unveiled by Microsoft, from Surface tablets to Lumia phones, one stood out for us. It is the Surface Book, Microsoft's first attempt at the laptop market. So, is this 'Book' worth picking up? or, the better question would be, is this 'Book' worth picking up over 'MacBook Pro'? Stick with us for that's just we intend to find out!
What is the Surface Book?
Corny naming aside, the Surface Book is Microsoft's first attempt at making a laptop. Powered by an i5 or an i7 Intel Skylake processor, the Surface Book packs a mean punch to go along with its futuristic look and design. But is it the main claim to fame? The dynamic fulcrum hinge! It sounds techy; it looks like it belongs in a Star Wars movie and we love it! What makes this hinge so special is the flexibility it offers the users in terms of viewing angles! While it can't bend a full 360°, it does allow the screen to rest on the back of the keyboard. The display unit is actually a working Windows 10 tablet that can be detached with the press of a button. Couple that with a machined metal unibody construction, island-style keyboard, high-resolution display and glass trackpad and you can see why people are heralding it as the mac book pro that 2015 deserved! So let's get to the nitty gritty of it, is it the right device for you?
Which Surface Book Should You Get?
There are quite a few variants of the surface book. They vary mainly in 3 major factors:
Internal Storage
Dedicated Graphics Card
Processor and RAM
The last one being coupled together sounds weird because they are two entirely different things, but there's a reason for it and I'll get to that in a minute!
Let me start off by stating an obvious fact. The Surface Book is expensive. And while that is true, it is not overpriced. We firmly believe that gorgeous hardware and cutting edge technology comes at a price and the Surface Book is well worth the >1000$ price tag. With that out of the way, let's take a look at the variants of this hybrid laptop and their prices.
Microsoft Surface Book Variants and Pricing:
128 GB 6th Generation Intel Core i5 2.4Ghz + 8 GB of RAM = $1499
256 GB 6th Generation Intel Core i5 2.4Ghz+ 8 GB of RAM = $1699
256 GB 6th Generation Intel Core i5 2.4Ghz+ 8 GB of RAM + NVIDIA GeForce Graphics = $1899
256 GB 6th Generation Intel Core i7 2.6Ghz+ 8 GB of RAM + NVIDIA GeForce Graphics = $2099
512 GB 6th Generation Intel Core i7 2.6Ghz+ 16 GB of RAM + NVIDIA GeForce Graphics = $2699
While the price scaling can be deemed reasonable, one major point of disappointment among fans is the fact that if you want to get 16GB of RAM, you'd have to shell out $2699 for the top model! Now while that doesn't seem particularly bad on paper, one thing that has to be said is that there is only about a 15% difference in performance between the two processors. Although Microsoft didn't divulge technical details about the chipset, a quick search brings up this comparison chart on Intel's website.
With the same integrated GPU in both of them and minimal difference in performance, the $1899 Surface Book seems to be the most bang for the buck. Unless that extra 8 gigs of RAM and 256 GB of storage is a must have, we'd say save yourself $700 and go for the first model that comes with the discrete Nvidia GPU.
https://www.youtube.com/watch?v=XVfOe5mFbAE
Should You Pick it Over Apple Mac Book Pro?
If you're in the market for a 13-inch laptop, then the two that stand out right now are the Mac Book Pro and the Surface Book. But before we compare them head to head, let's first see why the Mac Book has enjoyed as much success as it has!
Apple has always been lauded among the designers and media content creators for their astounding build quality and design in their laptops! The glass trackpad of Mac Books is also a favorite among many. Apple also has a history of producing beautiful high-resolution screens that have a high range of color accuracy and cover the entire RGB gamut. But only hardware is not enough for a great experience. Mac OS X provides a smooth user interface that designers have come to love and expect with features like Mission Control and applications like Final Cut Pro deserving special mention in the software department.
But Microsoft's Surface Book is out to beat the Mac Book on its own turf. The exquisitely machined aluminum shell of the surface is something even Jonny Ive would have been proud of! The Surface Book takes quite a few design cues from Apple, the glass trackpad, the overall thin and lightweight design and a minimalistic look that makes us double check the lid for the Apple logo! Kudos to Microsoft for the craftsmanship.
Now the main target audience of the 13-inch Macbook are the people who value power as well as mobility. Primarily small businesses, freelancers, graphic designers and developers who are constantly on the move. With that being in mind, let's see if the claim of Panos Panay, head of hardware at Microsoft, holds true! The Surface Book may be 2x faster than the MacBook Pro on the hardware side, but can it deliver the complete experience? We will rate the both of them across 4 main categories and try to come out with a winner!
Processing Horsepower: The Surface Book has the clear edge in this department. The variants with the dedicated Nvidia GPU with Maxwell architecture and 1 gig of GDDR5 memory beats the Iris 6100 integrated GPU in the 13 inch Mac Book Pro hands down. The newer Skylake chips also pull ahead of the older chips in the MacBook although not by much. For those who need it, the additional power in the small form factor is a huge boon!
User Inputs: For years, Mac Book users have raved about how gorgeous the trackpad is on their laptops and with good reason as well. But the Surface Book has a similar glass trackpad; thus Macbook users will find it an easy and pleasant transition! But Microsft didn't stop at that, they added a touch screen that helps movement around the Windows 10 OS feel more intuitive and fluid. And finally for the crowning glory they added the Surface pen, an active stylus that will make life so much easier if you're into computer graphics, media editing or anything else that requires precise user input! No guesses as to who won this round, it's 2-0 for Microsoft!
Productivity: The software suite that Apple have up their sleeve is hard to beat for Windows. Even though there are various windows counterparts in the software department, a Macbook user would simply find themselves at home in their familiar environment! Added to that is the fact that though the Surface has a high-resolution screen, the aspect ratio makes it not so good for media consumption and as such may irk a chunk of the Mac Book userbase. Windows 10 and company are good, but we think they might just not be good enough. Apple pulls one back this round to make it 2-1.
Battery life: The Macbooks have traditionally had excellent battery life with the 13-inch model have a claimed battery life of 10 hours. However, Microsoft claims that it has gone one better with the Surface Book offering 12 hours of battery life. However the caveat here is that the keyboard dock and the tablet both have battery packs in them so how much usability we can get out of the Surface Book in tablet mode remains to be seen! Without conclusive evidence on Microsoft's superiority, we declare this round a tie.
Final verdict? If you can afford it, go for the Surface Book, it's faster, better built and possibly serves as the iPad and the MacBook rolled into one! Our answer to the question asked above? A resounding YES!
So is the Surface Book the Perfect Laptop?
Well, while nothing is ever perfect, the Surface Book comes damn near close there are a few minor facts that we could point out although that'd mostly be us nitpicking!
The hinge looks beautiful, futuristic and after a few months- dirty. The design looks cool but seems to be a haven for attracting dust and grime in the long run.
Windows always finds itself in a bit of a pickle when switching from tablet to laptop mode in previous hybrids. We can only hope the optimization has been good enough since this is Microsoft's own baby!
The discrete GPU is housed in the keyboard dock. It remains to be seen how the OS handles if the tablet is suddenly removed in the middle of a graphically intensive task!
Microsoft has Struck Gold with the Surface Book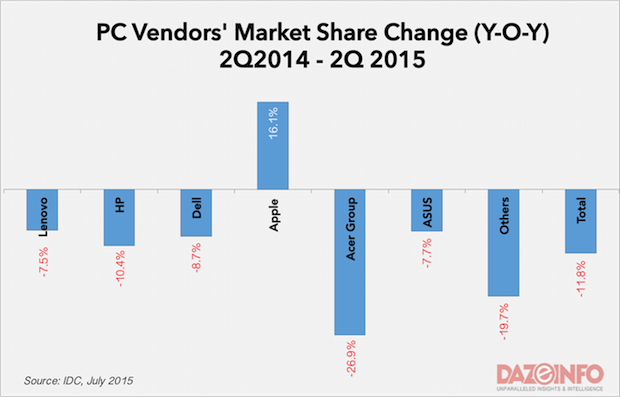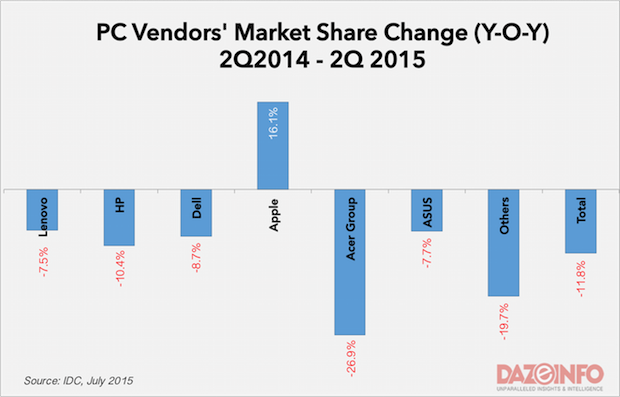 In a declining PC market, Mac sales have held up pretty well! With the Surface Book, Microsft seems to have gotten a whiff of Apple's magic potion for success! With smartphones being the way of the future, and PC's on the way out; hybrids might be the only way out for traditional computers and laptops to survive! A revamped Microsoft has emerged and under Satya Nadella, they seem to be making the right strides in the software and smartphone space! 2015 may be the Chinese year of the Sheep, but in tech, it certainly seems to be the year of Microsoft!