When Charles Warner said "Politics makes strange bedfellows" little did he know that 150 years later, the same quote will equally apply to technology companies! Microsoft-Salesforce, IBM-Apple are examples, but the crown will belong to Blackberry if they launch a smartphone running on the Android OS.
For those not following the rumour mills, the Blackberry device, code named Venice, will run Android OS and come with a slider QWERTY keyboard. The speculation is that Blackberry will secure the Android OS and in the words of Blackberry's CEO, John Chen. 'We only build secure phones and BlackBerry is the most secure phone so, if I can find a way to secure the Android phone, I will also build that." Once you finish rubbing your eyes on John Chen's use of 'I' in the above quote, I will make you rub your chin by saying it is the best idea from Blackberry for a long time.
Before you close your browser tab and start wondering if John and I have simultaneously gone cuckoo, let me try and explain why BB-Venice can easily become a blockbuster for Blackberry and revive its flagging hardware sales.
Today about 43% of all business emails and 57% of personal emails are first opened on mobile devices and nearly 8% of time spent on mobiles is either in reading or replying to emails. If we look at the typical use of smartphones, we find that text messaging, internet and email are the most popular features and all of these require heavy use of keyboards.
Let us pause here and rewind; from the time iPhone was launched, the physical keyboard was confined to history books and traded for a larger touch screen with virtual keyboard. The only company that BOLDLY (pun intended) persisted with physical keyboards was pushing an OS that should have retired before the physical keyboard. When BB finally upgraded their OS, the world had moved on and 84% of the smartphone market was split between Android and IOS. So to Blackberry horror while they managed to launch a secure and touch friendly OS and put it on devices with physical keyboards, the users shunned the devices due to lack of the application ecosystem.
Let us now forward to 2015 when BB launches Venice with a secure Android OS, physical keyboard, full-size touch screen, top of the line hardware specs, bundled with the Blackberry hub and managed by BES12. Now if all of the above happens, we don't need to wear either our CIO hat and argue why organizations will love this device or wear my geek hat and argue why the retail consumers will grab it off the shelves. The only caution and spoiler to the party can be absurd pricing aka the Classic or Passport (they need to ideally price in the ballpark of Xiaomi and Oneplus One).
Blackberry-Android Marriage: Pros & Cons
Blackberry has been struggling for the last few years now; The company shipped 5.8 million devices in 2014, down 70% from the previous year. In Q1 2015, Blackberry OS market share shrinked to mere 0.3% while Android stood tall with 78% share. Adopting Android as a platform will definitely help Blackberry to leverage on the massive app base. People love Android due to millions of apps available for almost every purpose today. Google Inc. (NASDAQ:GOOGL) have had 1.4 million unique apps available for download by the end of 2014, adding whopping 2 million apps during the whole year. Having said that, Blackberry cannot afford to be a part of rat race even with Android. It needs to follow the footprint of Xiaomi by customising Android UI part and give a fresh feel to Blackberry users.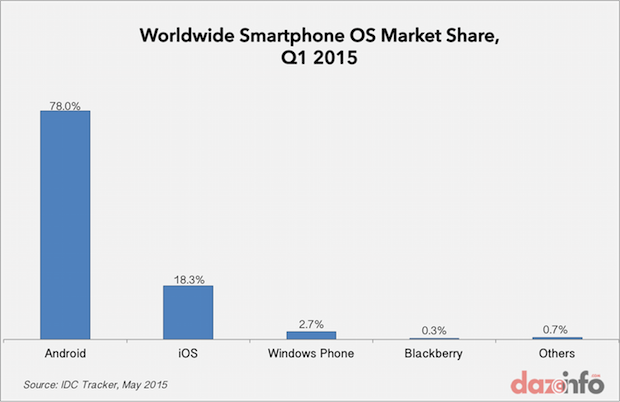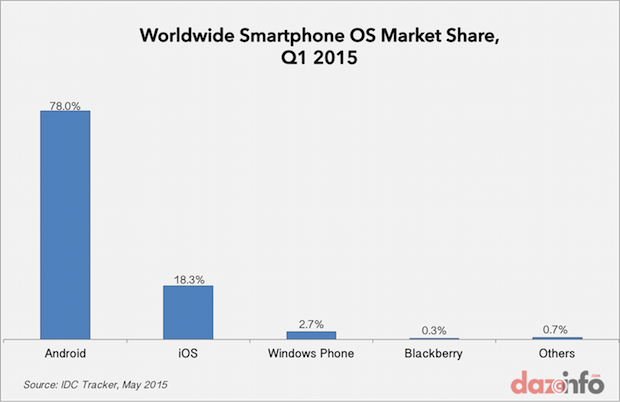 On the flip side, Android has it own cons. Blackberry, primary known for providing a robust and secure mobile platform, may have to compromise on Security standards. Android as a platform had accounted for 94% of mobile threat in 2014, according to Symantec. Apple iOS poses a threat to only 6% of its users, other OSes, Symbian and Windows are apparently most secured mobile platforms with 0% security concerns.
On the other hand, Google is aware of the situation and by joining Blackberry the company is expecting to beef up the security level on Android, making the platform more adaptable to use.
Few Final Thoughts
In summary adopting and securing Android can become the inflection point for Blackberry and can end their device woes, provided they get the pricing right. The play then will be in the MDM space and what how BB leverages its investment in the brilliant though unsung QNX platform.