India is home to the second largest number of people in the world. It is also a major contributor to IT and Tech sectors in general. The country's digital population is also growing fast. The number of people who are online and on Social Media is increasing with every passing day and companies are betting big and investing a lot in our country. Going by this definition, it follows that India would be accounting for the lion's share in Digital Ad spend. But as per a study done by eMarketer, India's share in the Global Digital and Mobile Internet Ad Spending  is not as big as perceived. Let us try to break the data down and analyze this :
When we look at total media spending in India year-on-year we can see that between 2013 ($5.56 Billion) and 2014 ($6.11 Billion) the increase is 10%, but in 2015, the ad spending will increase only by 8.0% to just $6.60 billion. By 2019, it is expected that advertisers will spend $8.53 billion on paid placements in the country.
The digital spend numbers tell us that less than $1 billion will go toward digital ads in India this year, this despite the fact that the overall spending numbers on formats served to internet-connected devices, including PCs and mobile devices, are growing by double-digit rates.
This year is pegged at 27.0% growth in Digital Ad Spending and that will bring the digital component to 14.2% of the total ad spending in India. That's still very small on a global scale, more than only Argentina and Indonesia in numbers. It is expected that, by 2019, when more than a quarter of the total ad spending in India is attributed digital, the country will be ahead of several significantly digital powers, including France, Spain, Italy and Brazil.
The study claims that more than 60% of the estimated digital spending will be invested on display ads this year. The display ads are also growing marginally at a better speed than the spending on search or "other" ad formats in India and will maintain that hold on more than 60% of the market for the complete forecast period. In 2016, for the first time, India's digital ad market spending will surpass $1 billion and a sizeable share of 35.2% will go to search, while a very minor chunk of just 3.5% will go towards spending on email, mobile messaging and lead generation.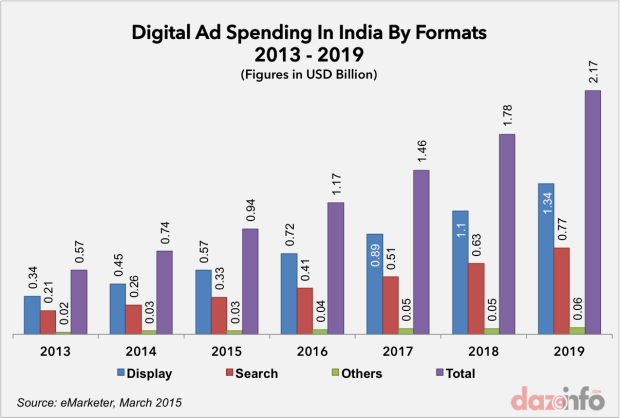 It is also estimated that the spending on mobile internet ads in India will double in 2015 and the next year, then there will be a period growth slowing down as mobile internet ad spend touches $1 billion in 2018. By that time, more than 50% of the digital ad spend will be on the mobile component.
India will see low levels of ad spending that are in stark contrast with its large population. Although the internet penetration is at a low percentage in the country, and is expected to go up in future with infrastructure capabilities being increased, digital ad spending on a per-user basis is still the lowest in the world, estimated at $3.72 this year. It will go up to $5.13 per internet user by 2018. India also stands last among all countries studied and analyzed by eMarketer in terms of mobile internet ad spending per mobile internet user, the figure stands at 27 cents this year. Mobile internet ad spending per user in India will remain well under $1 throughout our forecast period, keeping our country in last position for a while in the near future.