Mobile network carriers might be willing to focus more on selling phablet size iPhone 6 Plus over 4.7-inch iPhone 6; According to the latest annual Mobile Analytics Report from enterprise virtualization firm Citrix, users of Apple iPhone 6 Plus consume more data than those using its smaller sibling, the iPhone 6. The bigger screen of iPhone 6 Plus is apparently helping users to execute number of tasks on the phone, resulting in a greater number of mobile internet hours users are spending on the phone. The report also claims that users of both, iPhone 6 and iPhone 6 Plus, are consuming more data as compared to its 4-inch predecessors.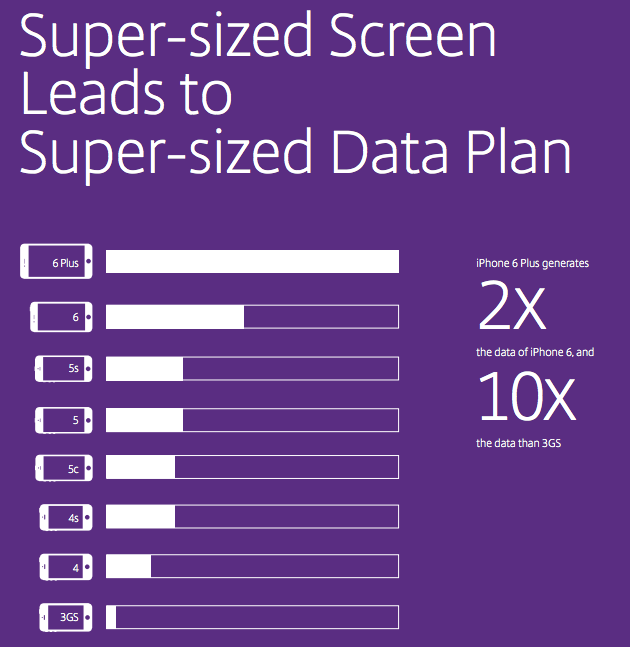 The report points to the fact that the growing usage of mobile data on iPhone 6 Plus is actually eating into the iPad sales. Unlike before, users are not willing to carry iPhone and iPad together. In fact, many prospective buyers are finding 7.9-inch iPad Mini redundant after the introduction of iPhone 6 Plus by Apple.
The Citrix report covers aspects beyond iPhone to understand the overall usage behavior of mobile data subscribers, and found a significant difference in the usage pattern of iPhone and Android smartphone users. Android smartphone users are a bigger consumers of web images and apps as compared to those using iPhones, who are known as a big consumers of web and online video content. Similarly, when it comes to sports data, the overall consumption across all smartphones has increased from 21% in Q3 2014 to 50% in Q1 2015. Sports content accounts for 0.5% of total mobile data traffic volume now. However, the consumption of sports content among iPhone and Android smartphone users is quite different; the consumption of video content among Android users is nearly half as compared to that among iPhone users, while the consumption of image data among Android smartphone users is 3X than iPhone users.
Smartphones have also become a key platform for healthcare apps; the number of mobile health app subscribers using fitness apps has increased to 78% in 2014 from 39% in 2013. Majority of smartphone users use healthcare apps between 5 PM and 7PM.
The report also highlights the fact that the average engagement duration per session is 4.6 minutes per day, the longest being 9 minutes. Evening sessions are the longest ones while early morning sessions are recorded to be the shortest ones.
The above statistics clearly indicate the growing influence of smartphones worldwide. In 2014, 1.2 billion smartphones were sold and a majority of them sported large screens. By the end of 2014, nearly 2.5 billion smartphones have been sold and the increasing competition is making the smartphones more affordable, especially in the world's biggest and fastest-growing markets – China and India.
Actionable Insights:
iOS App developers/companies must adopt iPhone 6 Plus first strategy for greater engagement and to provide better user experience.
Companies from sports industry must adopt two difference app development strategies for iPhone and Android app.
Mobile marketers must be aggressive enough during evening as compared to morning.