The much-awaited holiday weekend is now over. Frenzied shoppers smashed all previous Black Friday and Cyber Monday sales records for online shopping this year as well, in keeping with the past tradition.
According to Custora – a predictive analytics platform, the sales over the Thanksgiving weekend grew by 15.4% while orders were up by 15.7% over last year. Custora arrived at these figures by tracking more than 100 online retailers, 100 million online shoppers and over $40 billion in transaction revenue.
Black Friday and Cyber Monday Online Sales Grew By 20.6% and 15.4% Over The Last Year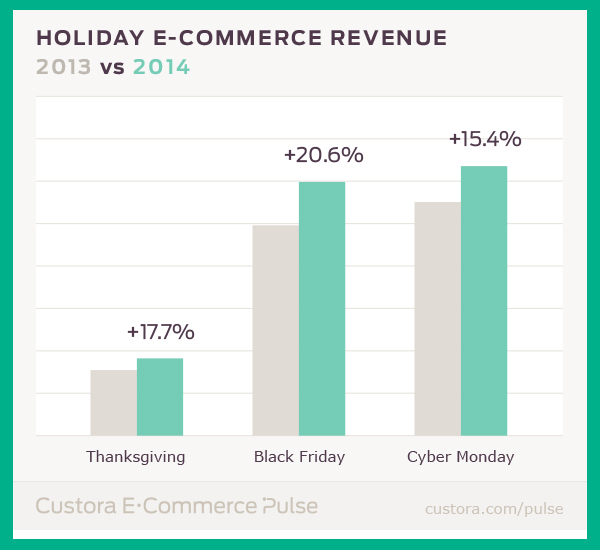 Black Friday online sales grew by 20.6% over last year, with the leading e-retailer Amazon only selling more than 5.5 million items at the rate of 64 items every second, bettering its own record of 4.1 million items at the rate of 47 sales every second over the Black Friday 2013 sales.
The new record thus set was smashed within three days, as Cyber Monday saw the e-commerce revenue improve by 15.4% over the figures recorded last year. This made the Cyber Monday 2014 the biggest day in the online shopping history of America.
Email Marketing Played a Major Role in Driving Buyers to Online Shopping Portals
27.3% of online orders on Black Friday and 23.9% of them on Cyber Monday were generated through email marketing.
Social Networking Sites Failed to Inspire Users from Making Online Purchases
The role paid by social networking sites in driving online sales was almost negligible, in spite of their huge user bases. Only 1.7% of the online sales on Back Friday were driven by the hugely popular sites Facebook, Twitter, Pinterest, Instagram and Tumblr. Similarly, only 1.5% of the online sales on Cyber Monday came through networking sites.
Google Search- Both Free and Paid Drove More Sales Than Networking Sites
The role played by Google search cannot be ignored either. While free search accounted for 18% of orders on both the big days, paid search was responsible for 18.5% of the sales on Black Friday and 16% of them on Cyber Monday.
Summing up the sales figures for both the days, 23.1% of the online orders came from email marketing, 19.4% from free Google search and 17% from paid Google search.
Mobile Commerce Accounted for 26.4% of the Processed Orders
30.3% of the online sales on Black Friday and 21.9% of them on Cyber Monday were processed through mobile devices. Overall, mobiles were used to process 26.4% of the total orders during the course of the weekend.
Considering that only 19.7% of online sales over Black Friday 2013 and 15.9% of the sales on Cyber Monday 2013 were affected through mobile devices, the quantum leap clearly points that mobile commerce is gaining importance.
Mobile Transactions Did Not Mirror Mobile Traffic Over the Holiday Weekend- Performed Better than Expected
Though mobiles and tablets drove 45% of all internet traffic over the weekend, mobile transactions did not mirror the traffic levels, points out Marketing Land.
According to IBM, mobile traffic beat traffic coming in from PCs over Thanksgiving- 52.1% to 47.9%. Nearly half the traffic (49.6% of it) on Black Friday and 41.2% of it on Cyber Monday also came from mobile devices. Mobile traffic, according to IBM estimates, is up by 30% over last year.
Monetate also came up with more or less similar figures. According to them, 44% of all internet traffic from the US on the Thanksgiving day came from mobile devices, falling slightly to 42% on Black Friday.
ShopVisible, an e-commerce platform, also attributes 43% of online traffic on Cyber Monday to mobile devices.
However, the results given by mobile traffic were much better than expected in most cases.
According to Custora, 30.3% of the online sales on Black Friday and 21.9% of them on Cyber Monday were processed through mobile devices. Overall, mobiles were used to process 26.4% of the total orders during the course of the weekend- as pointed above.
Rakuten, the Buy.com owners, attributed 25% of online sales over the weekend to mobile devices while Monetate put the figure at 27.5%. IBM had credited mobiles and tablet devices with 27.9% of the Black Friday sales and 22% of Cyber Monday sales.
Now while the EXACT figures quoted by different sources show a slight variation, they are all pointing in the same direction. The message is clear- with bigger screens, smartphones and tablets drove greater sales even from a lower percentage of traffic than PCs.
Though iOS powered Devices Drive Most of the Online Sales, Android was Seen 'Nibbling' at the Apple
As mobile transactions were further split into Apple and Android devices, iOS powered devices were seen to be more active for conducting online purchases. 78% of the mobile commerce transactions came from iOS devices while only 21.6% happened on Android based devices.
Android share which was only 15.4% over the holiday season online sales during 2013, therefore, has shown a marked improvement while the share of Apple devices fell by more than 5% over last year inspite of an increase in the number of orders processed through them
Takeaways
The National Retail Federation (NRF), which tracks both online and offline sales, reported that the brick and mortar store owners across the country were disillusioned with the lukewarm response of offline buyers. Driven by lower petrol prices and better job prospects, retailers were hopeful of getting a good response from holiday spenders, a sentiment which was echoed by the fact that they adopted some aggressive marketing strategies this time. Some of them had even extended their shopping hours, hoping to cash in on the consumer sentiment which was being seen as upbeat before online retailers grabbed the opportunity and walked away with the cake.
The decade old cliché, "The money is in the list" suddenly seemed to assume importance. It was surprising to see email marketing play such a hugely important role in driving traffic to online shopping sites at a time when Gmail has made it convenient for its users to ignore promotional messages.
"It does not come as a surprise to us that email marketing has played a pivotal role in driving sales during Black Friday and Cyber Monday. One of the main reasons is that people actively look out for deals during these periods. This form of pull marketing becomes a big contributing factor. Also, 47% of emails are first opened on mobiles which helps in initiating more transactions via email. We have also seen our email marketing CTRs  going as high as 58% during Diwali and GOSF," said Mr Mr Mehul Jobanputra-CEO and Cofounder of DesiDime.com, one of India's largest online shopping communities for deals and coupons.
In spite of a user base of 1.35 billion in case of Facebook and hundreds of millions for other networking sites, they were incapable of influencing user behavior and egging them on to make online purchases.
"There is a mix of factors that is responsible for less revenue coming from social channels. Social media primarily gets the word out & drives conversations. People who learn about your brand or campaign on social media may not always visit your site via a social link.They may search for it online or come to the site directly. Even those visiting the website via ads or posts on social media may not necessarily transact in that session. They could explore products, add them to wishlist & then come back again via search or direct hit to the website. When we measure conversion using the last click attribution model, these conversions get attributed to either organic or direct traffic even though the users first found out about the sale or offer via social media," explains Mehul Jobanputra.
Though only
42%
of the smartphone users in the U.S. use iPhones, they affected 78% of the total online purchases, but Android is beginning to take a bigger bite off the Apple. That can be attributed to the larger screens over Android-based devices till recently. Tablets, with larger screens than their smartphone siblings, affected greater volume of sales in spite of lower level of penetration and lower volume of traffic than the latter.
According to IBM, 12.9% of Cyber Monday sales were through tablets as compared to 9.1% from smartphones. Similarly, Adobe credited tablet devices with 16% of Black Friday sales as compared to 13% of online transactions through smartphones. So when it comes to online sales, size clearly does matter!