Twitter Inc. (NYSE:TWTR) is one of the most powerful social media sites that connects and engage people globally by showing the magic of 140 character limit. Small and medium businesses prefer it to enhance their business networks and follow the other people from their background. It is a place to contact the business people and solve their queries. College students prefer Twitter to ask questions to their ideal ones and to take guidance from them. It can also be used as a platform for marketing by posting events on the site and spread the word.
Though most of the brands on Twitter are trying to catch the eyes of maximum number of people, very few have been successful to attract a sizable number of social media users. Though Facebook Inc. (NASDAQ:FB), undisputedly, is the titan in the world of social media, Twitter has also marked its presence with more than 284 million average monthly active users.
As we tried to figure the names of the top brands which have contributed the most in Twitter's growth, surprisingly, we found that the video sharing networks and the image sharing networks have outpaced both Facebook and Twitter with distinctive margins. This clearly indicates that fascination towards rich media content among internet users is growing phenomenally. This is proved by the fact that everybody is adopting the same. Besides, it is also evident that people are coming to Twitter primarily to consume more news and information as some of the top brands on the list like CNN, NY Times and BBC.
Here is the complete list of top brands on Twitter by the number of followers.
YouTube: There are 46,855,963 followers of YouTube. YouTube is a place to share the videos and spread the word. It is also known as video sharing website. People can create their channel and upload their videos to share it with the world. Contents available on YouTube are video clips, video blogs, videos from different TV channels and many other kinds of videos. There are also many videos on YouTube which serve as user guides to several things, from machines to apps. Such videos help in shaping and enhancing people's knowledge.
Instagram: Instagram is a social media site where one can share photos and videos. One can upload photos and videos and share them on Instagram for the world to see. Instagram followers are 36,341,311.
Twitter: There are 33,727,564 followers on Twitter. It is an online social media networking site which enable people to send and receive short notes. Small and medium businesses can enhance their business network using this platform.
CNN Breaking News: CNN Breaking News followers are 21,321,555.
CNN: CNN followers are 14,986,277. Cable News Network in the site where one can access a particular news from anywhere in the world. It carries videos of the live telecast of different Television news.
The New York Times (NYSE:NYT): New York Times is an American Newspaper that deals with all the news coverage of the newspaper online bringing all the news to the fingertips of the readers from all over the world. Followers on New York Times are 14,212,582.
Twitter on espanol: 14,018,583 people follow Twitter on espanol.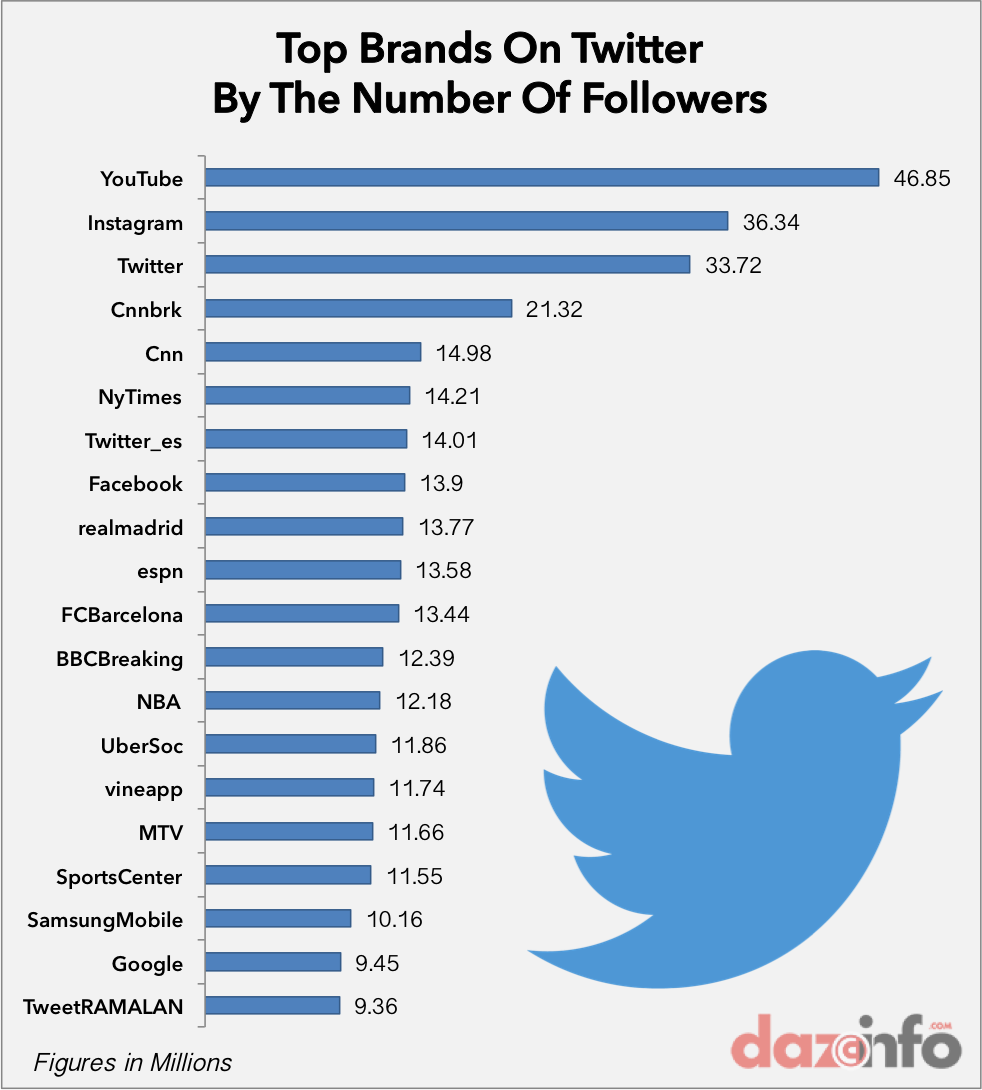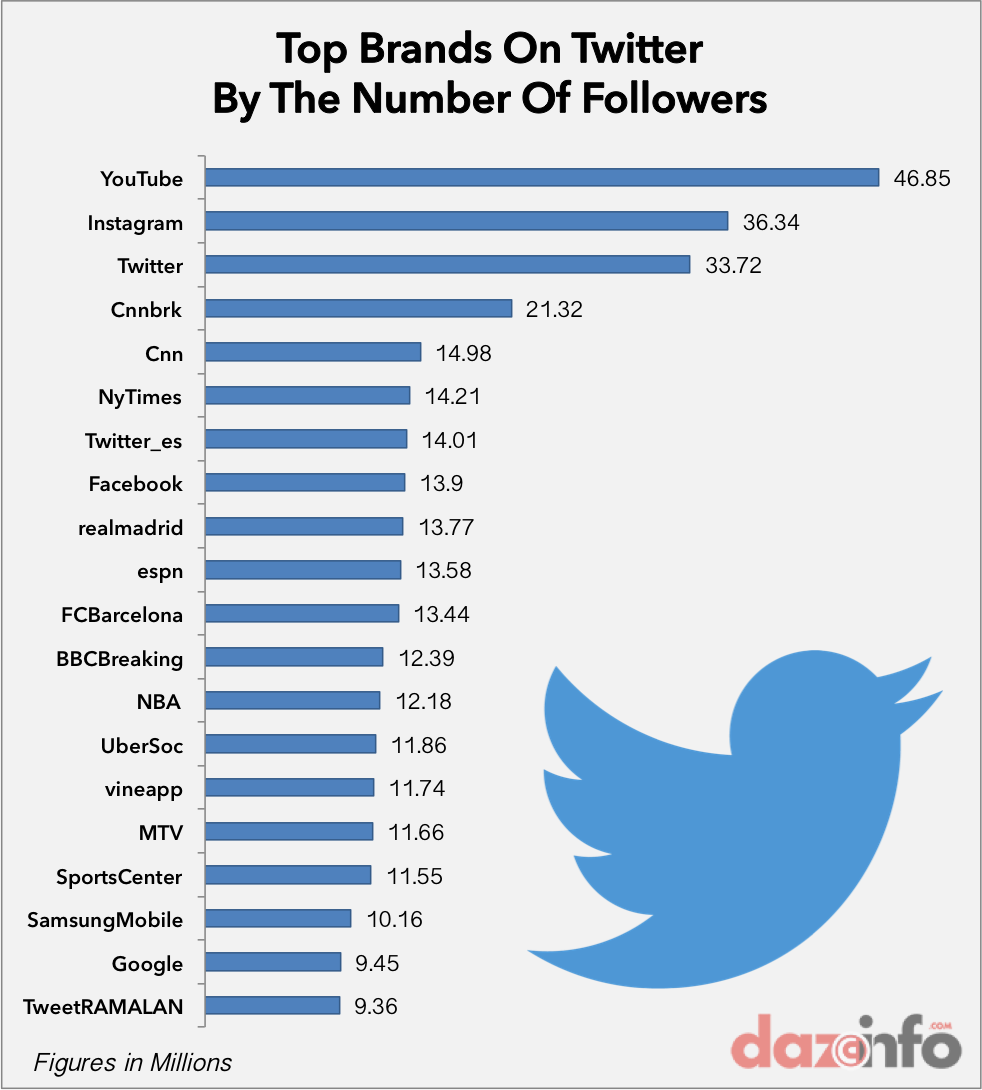 Facebook: There are 13,900,843 people who follow Facebook. Facebook is one of the favorite social media sites to connect people and enhance their networking. It is also used as a tool for marketing by sharing the necessary posts on the site to promote them round the globe.
Real Madrid F.C.:  It is also known as Real, which is one of the professional Football Club in Spain. The followers of Real Madrid F.C. all over the world are 13,778,253.
ESPN: Entertainment and Sports Programming Network is a global and satellite based channel that can provide comprehensive sports coverage. It can provide complete sports information including NLF, MLB, NBA, etc. 13,580,082 people follow ESPN.
FC Barcelona: FC Barcelona followers are 13,446,221. Futbol Club Barcelona is a professional football club based in Spain. It is one of the most successful Club.
BBC Breaking News: BBC Breaking News is a national British morning television programme telecast on BBC One and BBC News. It is followed by 12,395,065 followers.
NBA: National Basketball Association (NBA) is the men's professional basketball league in North America, followed by 12,187,527 followers. It has 30 franchised member Clubs (29 in the United States and 1 in Canada) and is an active member of USA Basketball.
UberSocial: The followers of UberSocial are 11,867,056.  UberSocial is a free application for BlackBerry smartphone that handles all functions of Twitter.
Vine: Vine is a video sharing network founded in 2012, acquired by Twitter just before it was launched. The followers of Vine are 11,748,064.
MTV: MTV is Music Television, an American basic cable and satellite television channel. The followers of MTV are 11,668,829.
Sports Center: Sports Center in a sports news television program where one can get daily updates from the world of sports. It is followed by 11,554,758.
Samsung Mobile (KRX:005930): Samsung Mobile includes a solar panel back on the earth. Samsung has changed all over the world. The number of followers of Samsung Mobile is 10,165,096.
Google (NASDAQ:GOOGL): 9,457,701 people follow Google. Google is a platform which has made our lives easier by providing us with the access to all the possible information under the sun.
Ramalan Indonesia: 9,369,365 people follow Ramalan Indonesia. It is the platform that gives the information about the King of Indonesia.