Engineering colleges have been springing up like wild mushrooms in India in the last few years. Their number has gone up from a not too modest 1,511 colleges in 2006-07 to an astoundingly high 3,345 in 2014-15. The state of Andhra Pradesh alone has more than 700 colleges. If these figures are anything to go by, it would be easy to be led into believing that opting for a degree in engineering would be a wise career move in India. The fact, however, remains that 20-33% out of the 1.5 million engineers in India are passing out every year run the risk of not getting a job at all, points out EconomictTmes.
Engineers In India And Their Pathetic Hiring Conditions
For those who do, the entry-level salary is pathetically low and has stagnated at that level for the last eight-nine years, though the prices of everything from groceries to vehicle fuel have shot up during the same period.
Whether it is the below-par quality of education provided by private colleges or the stagnating (if not shrinking) demand for the number of engineers, the huge number of engineering pass outs – which, incidentally, is more than the total number of engineers produced by the USA and China combined together, face a bleak future.
A large percentage of the 'fortunate' ones who do end up getting a job after an engineering degree take up jobs which are well below their technical qualifications since the supply far outnumbers the demand. They do not get jobs for which they are qualified or 'suitable' jobs, which makes matters worse.
"In that case, there is both unemployment and underemployment," says E Balaji, former CEO of manpower consulting firm Randstad. "Several engineers end up working as sales executives, so there is no link between what they studied and what they do."
All the more threatening is the fact that the two key industries which hire engineers in India – the IT and ITes and the manufacturing sector- are also hiring a lesser number of them than before.
The IT industry in India, which grew by as much as 30% up till five years back, has slowed down to a 10.2% growth rate at present. The demand for qualified professionals in the field has understandably gone down too.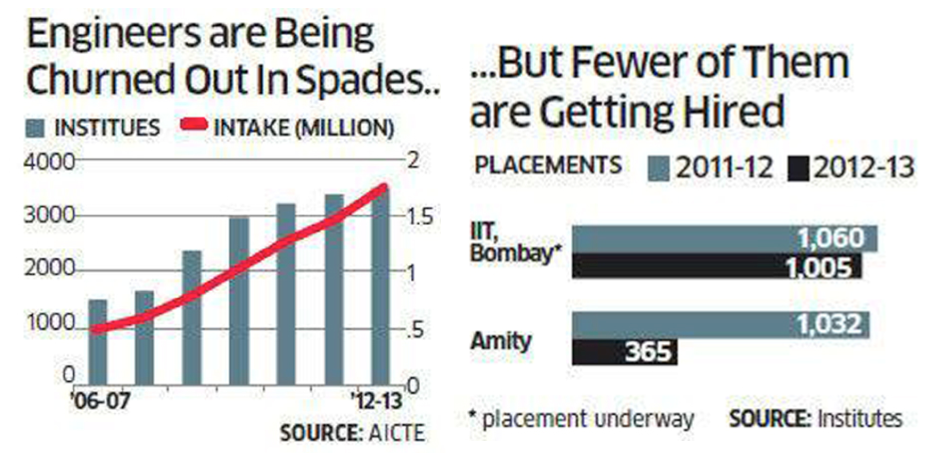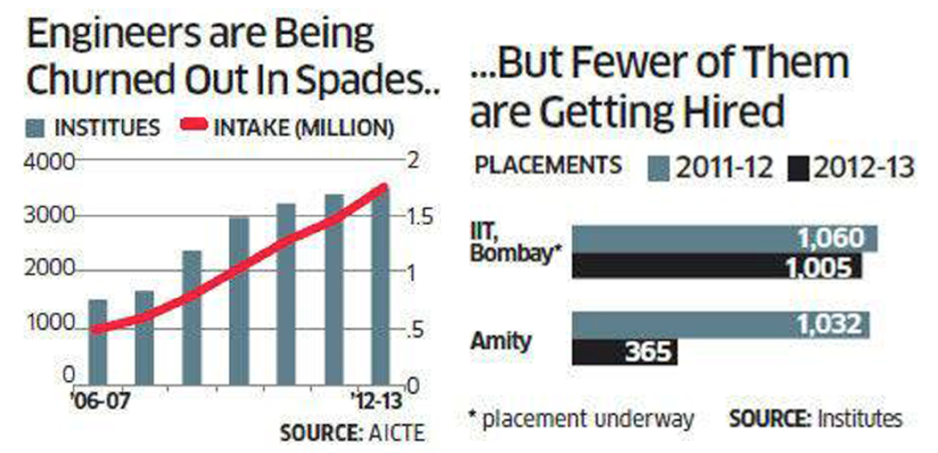 The rapid growth in the number of engineering colleges can be attributed to an ecosystem built around feeding the $110 billion outsourcing market and the huge demand for engineers in the IT sector in India itself.
Sadly, however, the demand for IT related jobs in India fell sharply due to nonlinear growth models of IT companies and a lesser number of men required to handle the same jobs as before due to a higher degree of automation.
Making matters worse is the fact that the start-up salary offered to fresh engineering pass outs is expected to stagnate at more or less the same level in the next 3- 5 years, said LiveMint last year. Entry level salary package for a software engineer which has hovered around Rs 2.75 lakh to Rs 3.25 lakh ($4,600- $5,400 per annum) since the last eight-nine years should not, therefore, hope for a turnaround or for better days.
The two biggest recruiters in the IT sector, TCS and Infosys, do not plan to hike their entry-level salary for fresh recruits and they are quite clear about it.
"At the moment we are giving campus offers where we have not changed anything as far as the salary component is concerned. It (entry-level salaries) remains stagnant for a while…We are going with the same structure as we have. There is no change. And we are getting good talent," said Ajoy Mukherjee, global head of human resources, TCS to a leading Indian daily.
TCS, however, will continue to scout the various engineering colleges in its bid to hunt for the best talent in the industry and look forward to hiring 35,000 professionals in 2014-15 as compared to 25,000 the previous year.
A worrying trend that has come to be observed is that not only students from some of the lower rung colleges, but also some of the best brains that cleared the tough entrance tests to reach the 10 exalted Indian Institutes of Technology (IITs).
As against 76% of the 1,389 IIT Mumbai pass outs getting campus placements during the 2011-12 session, only a little above 66% out of the total 1,501 could find campus placements in 2012-13, as per sources.
The situation is grimmer for Tier II and Tier III colleges. The huge disparity between start out the salary for top colleges and the not so highly sought after ones, which has already been highly pronounced, is expected to widen further. While average startup salary for an IIT pass out is Rs 9-10 lakh ($15-16,000) per year, that of a second-grade college pass out is barely Rs 1.80-2 lakh ($3,000-3,300) a year.
Students who come from humble economic backgrounds and whose parents had to arrange study loans to be able to give their wards a decent education and ensure a bright future are worried too.
The numbers are alarming. Most of the engineering graduates who fail to grab an employment in their respective industry, end up joining call centers or BPO units in MNCs that could be disastrous for them in the future. However, the promising and flourishing growth of the startup ecosystem in India is emerging as a rescuer for those who are hard working, but still fail to get through the stringent interview process in MNCs, said Subhendu Panigrahi – Founder & CEO, Venturesity
Engineers in India who used to dream of working in swanky offices, living in penthouses and driving luxury cars are now concerned about finding 'decent' openings as they get into their final year at college.
Not surprisingly, engineers in India are taking up taking up jobs for which they are not qualified. The logical Indian, a huge Facebook community which started their own website some time back, wrote about a mechanical engineer who is driving an auto rickshaw in New Delhi because he has hungry mouths to feed and a family to look after.
Now, while that is a sad pointer to the grim scenario, it is pertinent to point out that only a small percentage of those who 'pass out' from engineering colleges do possess any skills worth the name at all. Most of them are not 'employable' and/ or 'trainable', feel the employers, a tragic reflection of the state of our training and academic institutions. The engineers produced by the huge number of private engineering colleges which have come up after the government sanction for them add up only by way of numbers, in the absence of sound infrastructure, well-qualified staff and no emphasis on imparting quality education.