Though Tim Cook, CEO – Apple Inc. (NASDAQ:AAPL), has given numerous interviews but one is remembered for a  remarkable statement-"Anything can change. The smartphone revolution is still in the early stages." Little did he know that his statement beautifully summarized the revolution Apple's iPhone series has brought. Since the inception of the iPhone in the market, Apple has literally taken the smartphone industry by storm. The first-generation iPhone  was mere a kick-start. As of lately, it is iPad Mini 3 and iPad Air 2 that is creating waves in the company boardrooms. When we talk about this new iPad series, we need to be conscious that the smartphone consumers are not to be ignored. Though a month old, iPhone 6 and 6 Plus will continue to make headlines for sure, irrespective of all new launches.
We have been regularly covering the popularity of iPhone 6 and 6 Plus with respect to others in the series. We may not be sure of how well the previous versions may fare in the future, analysts keep new iPhones on a brighter side. Mobile marketing platform Localytics has come out with its latest data on these two devices. In a span of one month, iPhone 6 and 6 Plus together are already boasting of 7% of the total iPhone's market share. What may be called as minimal by some, it is worth reminding that it's merely a month since their launch! The report claims that iPhone 6 with a market share of 6% is way ahead of its counterpart 6 Plus' 1% market share. However, the 5.5 inch screen serves its own purpose. It seems that users prefer to spend more time with apps on iPhone 6 Plus. Technically, it has more user engagement than iPhone 6. The iPhone6 Plus has comparatively 13% longer session length  and 11% more app launches. Also, given the limited supply of these new devices, the percentage is not expected to drop. In fact, China is yet to add its revenue in Apple's sales. Among the current series, demand of iPhone 5S  is still something to look after. The factors of iPhone's life-cycle, which is quiet  longer when compared to iPad is again something that needs to be discussed. The impact of any new launch has always brought a thunderstorm; and if it's Apple, missing a discussion is out of the question.
iPhone

5S Most Popular But iPhone 6 Enjoys 2X Adoption Rate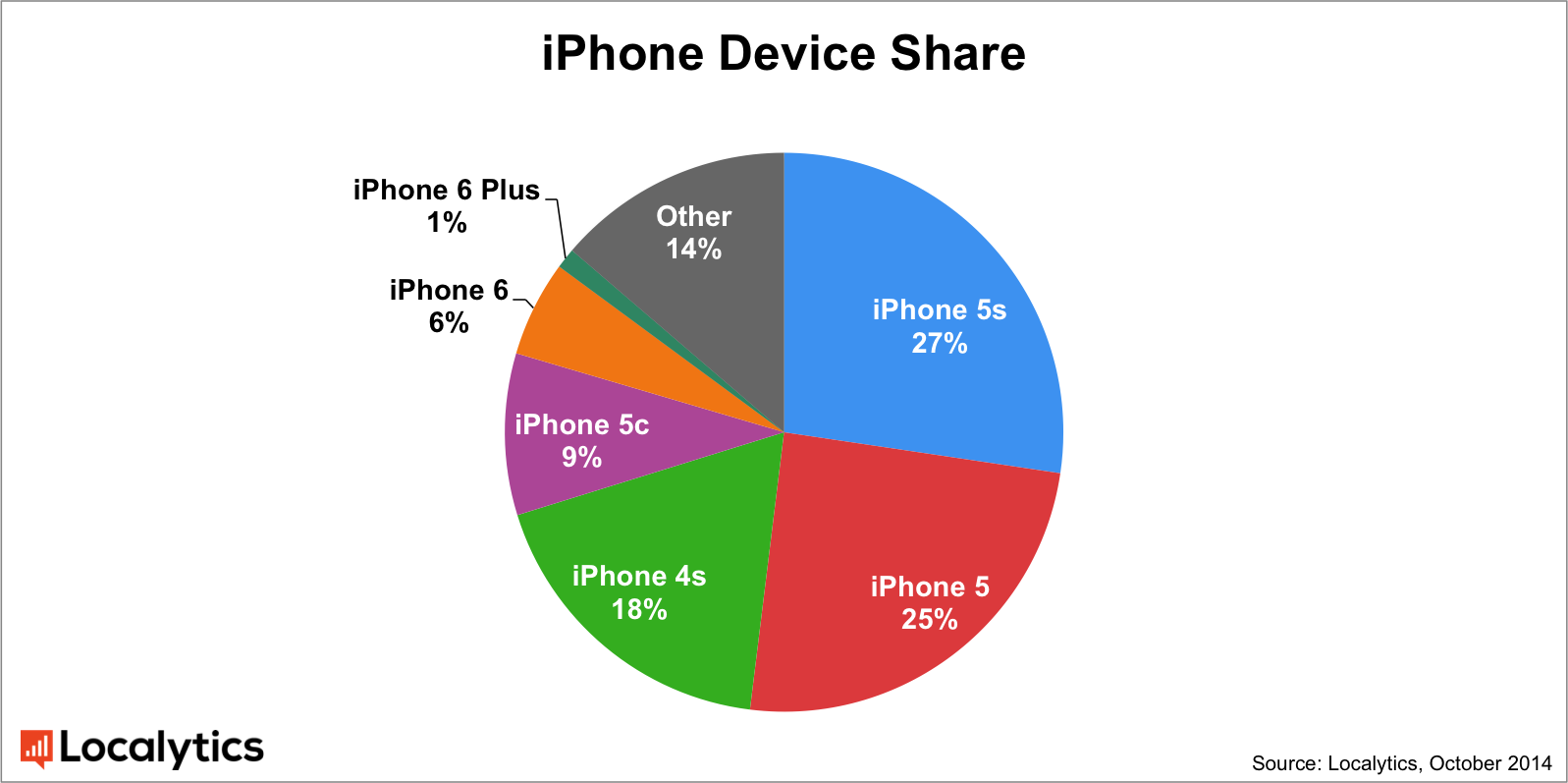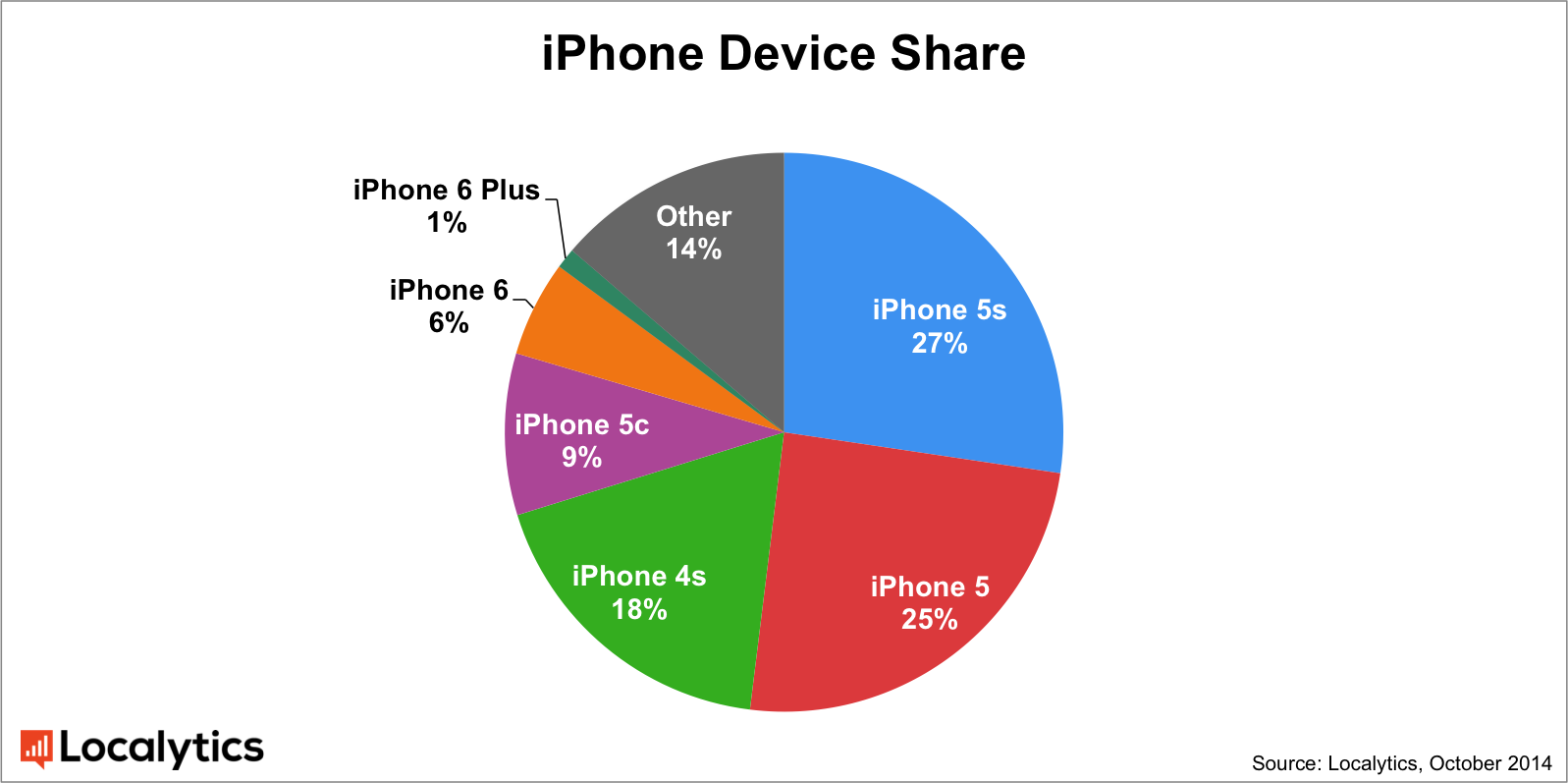 The popularity of iPhone 6 and 6 Plus is not something that can be questioned. After the pre-order sales of 4 million units in first 24 hours, speculations were rife if it can beat the iPhone 5's weekend record sales which topped 9 million. With 10 million weekend sales, the message was loud and clear! It's merely a month since launch and the newly launched have already grabbed 7% of the total iPhone market shares. This is a positive sign when compared to iPhone 5S market share of 3%, after one month of the launch last year. Yet, iPhone 5S continue to dominate the iPhone market with a share of 27%. It is not only popular among all the iPhones, but also enjoys a global stardom. Earlier in the year, it had beaten Samsung Galaxy S5 by 40% becoming the top-selling smartphone.
Available at a price of $599, it has become a favourite both for the ones looking affordability and brand name. In fact, 5s and 5c have a stronghold together with one-third of total iPhone market share. iPhone 5S is closely followed by iPhone 5 which is behind by marginally 2%. Still people's favourite, the reason lies somewhere again in its affordability. However, with Apple no more churning out iPhone 5, the dip in the share is on its way. Same goes for iPhone 4s which holds a share of 18%.
When it comes to adoption, the rate of iPhone 6 is almost double than of its predecessor iPhone 5s. Fiksu is regularly tracking this market pattern to see how are these new devices being accepted when compared to others.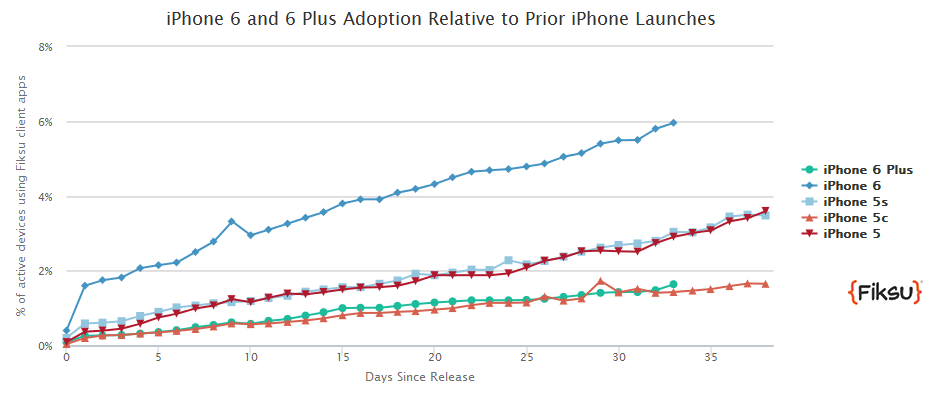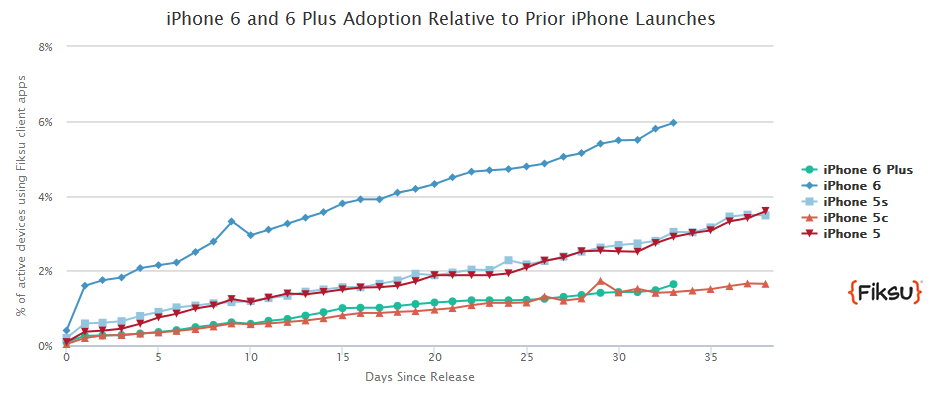 Lagging in market share, iPhone 6 Plus beats iPhone6 when it comes to user engagement
Large screen devices have doubt brought a change in market preference. People are actually looking out for devices which give them enhanced experience. Apart from the features provided, one thing that users expect from any smartphone is compatibility of an app, both with the connection and the user. The former is taken care of by the manufacturers themselves; it is the latter one that drives our concern. iPhone6 Plus leads in this regard.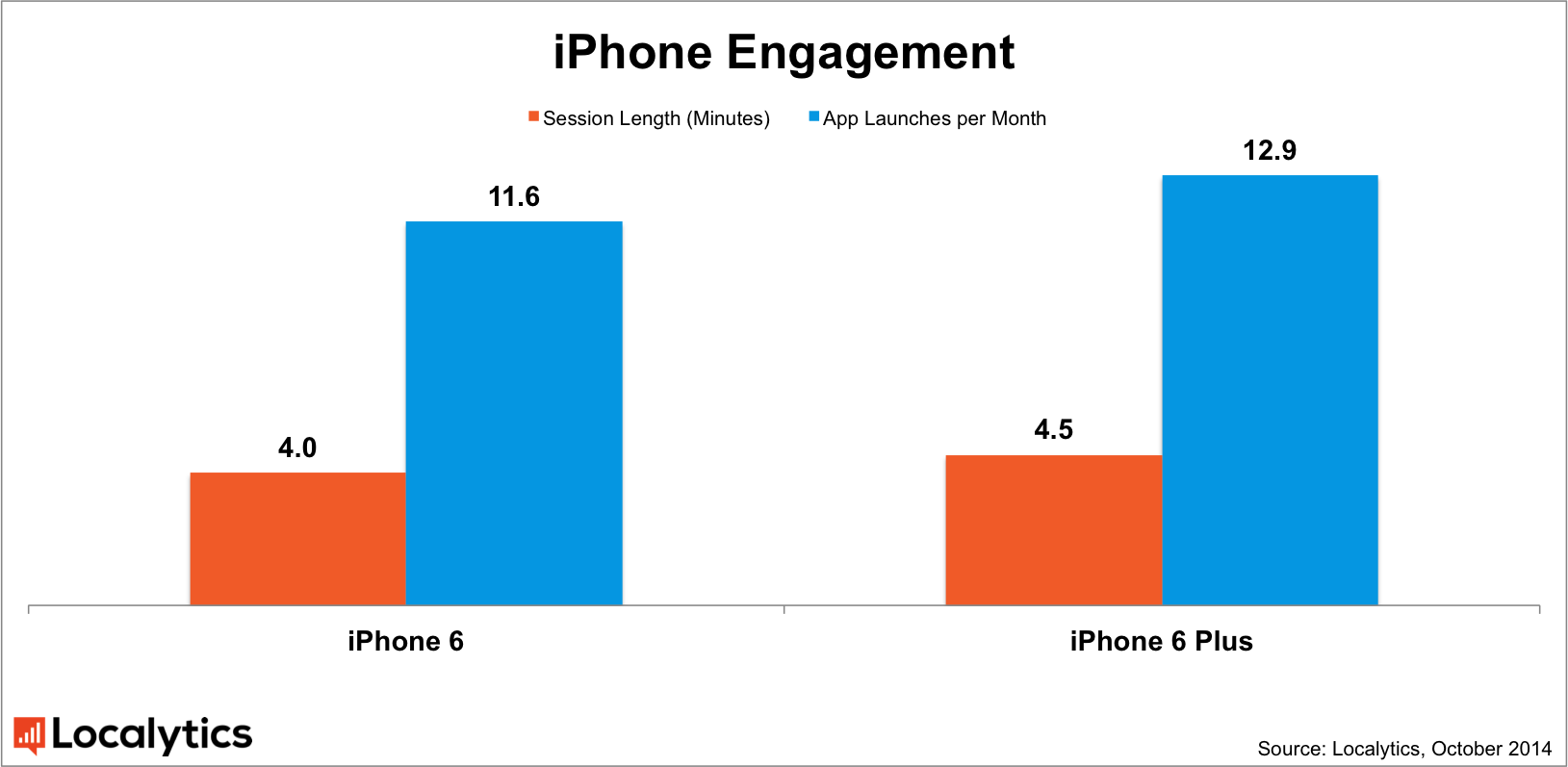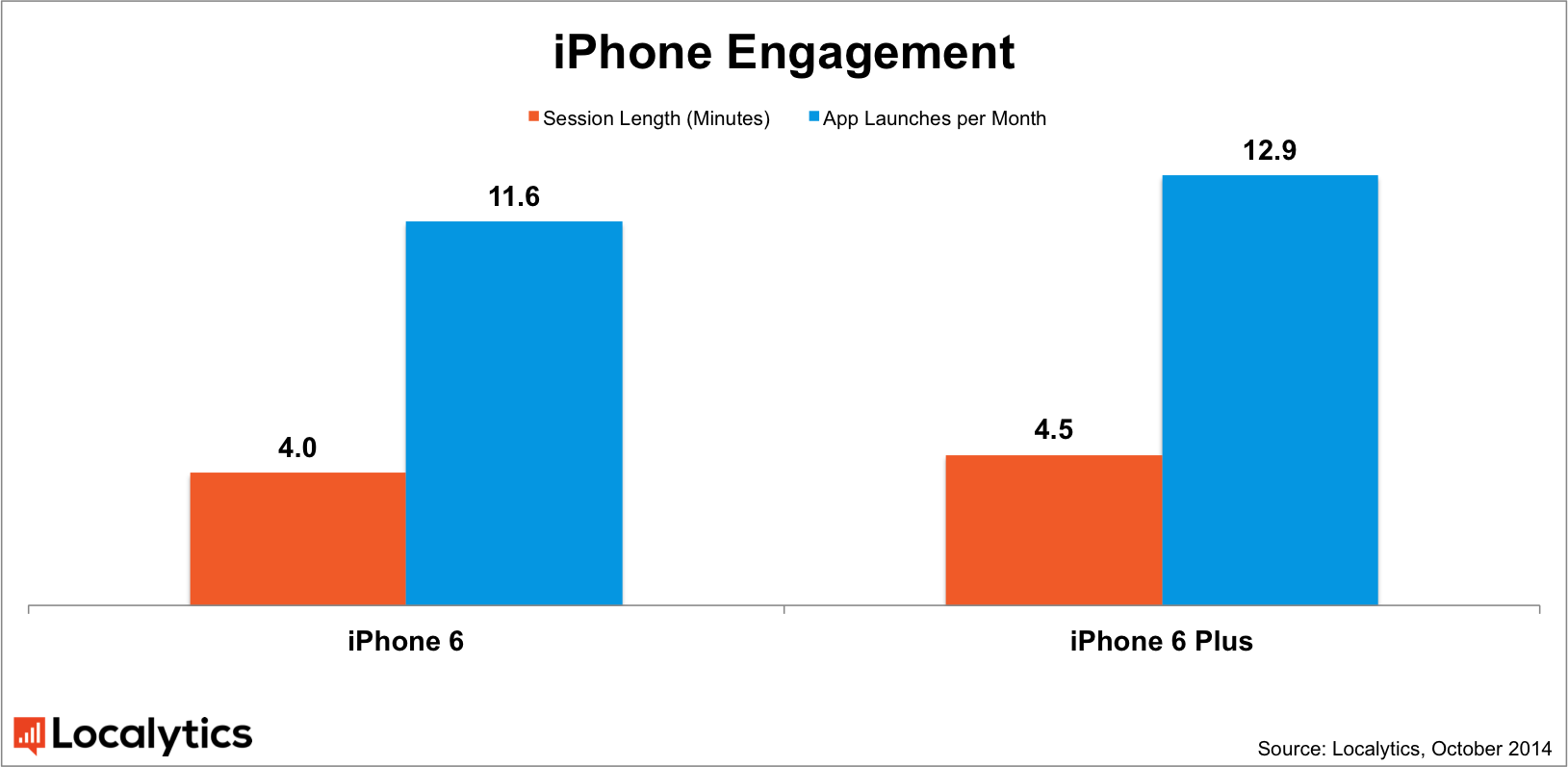 iPhone6 Plus does not lag in every front. When it comes to user engagement, it beats iPhone6.
According to Localytics, "The average session length for an app on the iPhone 6 Plus is 4.5 minutes, compared to 4 minutes on the iPhone 6, a difference of 13%. Additionally, the iPhone 6 Plus has 12.9 app launches per month compared to 11.6 on the iPhone 6".
There are many factors backing this claim. One of them being the type of app that engages a user. Gaming and Music sector have had the highest increase in the time spent on their apps on devices with larger screens. Though this data was based on Android devices, it is largely true for all. With usage of touch screen features on high, incorporation of social networking features, good quality speakers, better resolution, battery and high speed processors, no wonder people like spending time on iPhone6 Plus!
Apple's new iPad series is out. In fact, it was released prior to expectations. With new Touch ID fingerprint sensor and new gold colour option, it is yet to see how iPad series will fare! iPad 2 has long dominated the iPad market. With a whooping 27% market share among the iPad devices, it is not expected to lose its charm overnight.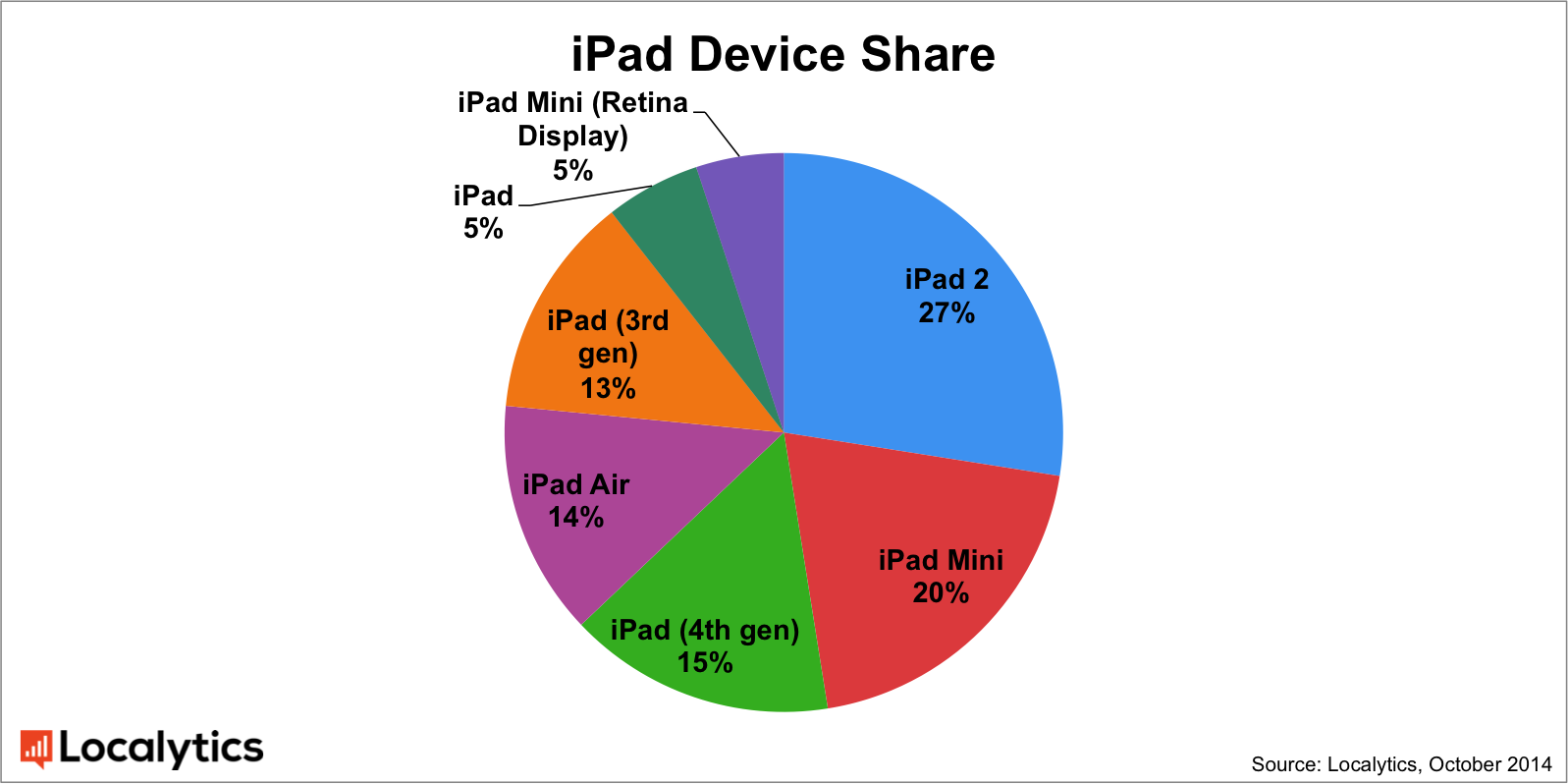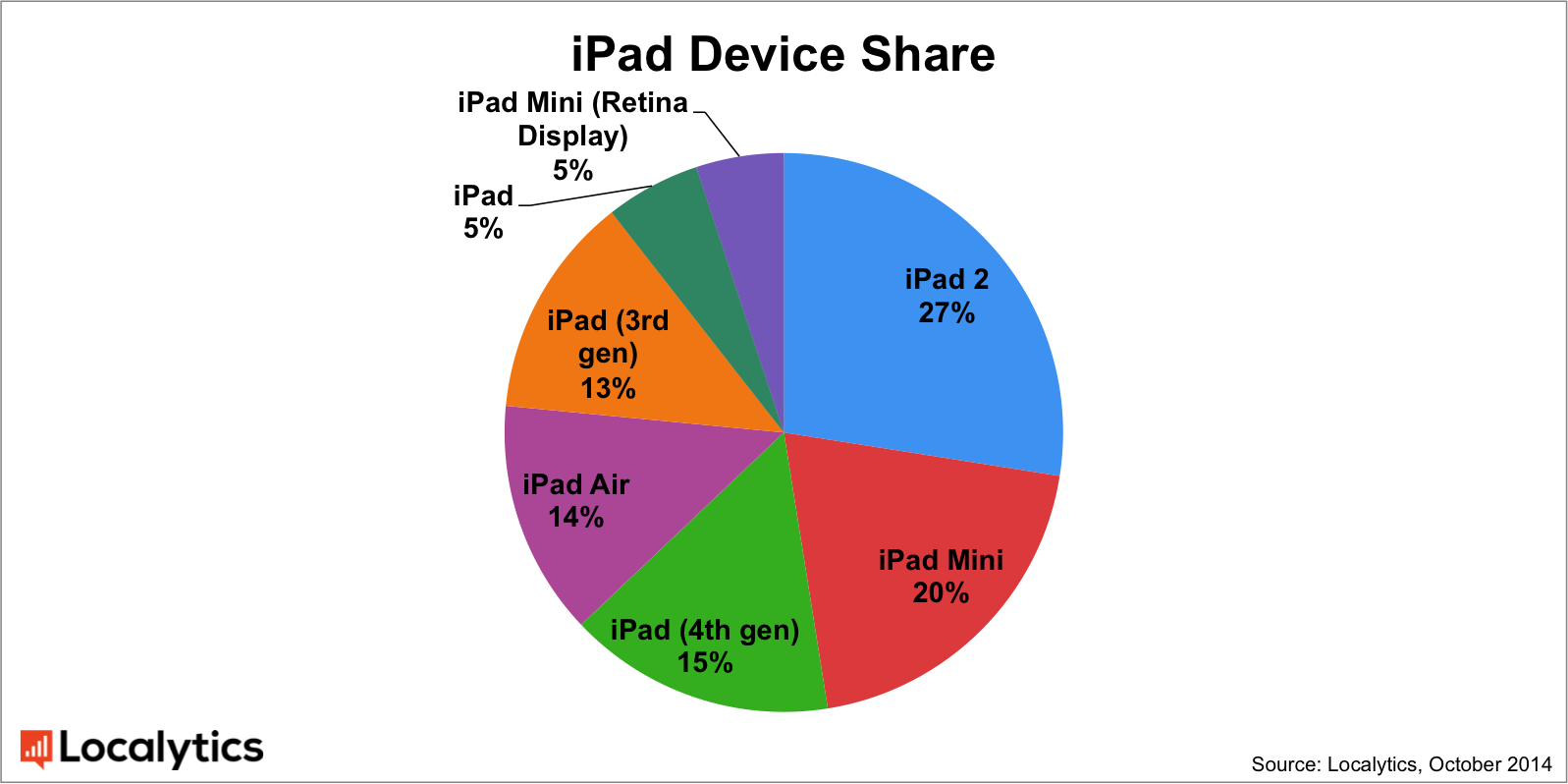 Slimmer and lighter than its predecessor, new iPads promise to sustain its 10 hour battery life. Some even say that there is nothing radically innovative that might attract a consumer. Promising 40% better CPU speeds and 2.5 times the graphical grunt, it is the future which will tell if this new series was Apple's best bet to stick to its consumer or it needs serious change in the methodology.
It is hard to predict whether these new launches, be it iPhone6, iPhone6 Plus, iPad Mini3 and iPad Air2 will survive market expectations. Their predecessors have set a bar so high that Apple would not like to compromise upon. The statistics will continue to see new dimensions and we'll continue to bring forward new market preferences for you, but till the time there is no harm in checking out what's new in iPad Mini3 and iPad Air2!