IT and communications companies based in India are spending more than ever before to strengthen their IT and communications (ICT) infrastructure, inspite of the fact that the Indian economy is going through a difficult phase because of high inflation and slowing economic growth.
IT spending in India is expected to touch $73.3 billion in 2015, a 9.4% increase over the $67.1 billion forecast for 2014, according to Gartner Inc. The figure will surge up to $79 billion in 2016. The telecommunications services sector will alone will make up for almost 40% of the Indian ICT market, and is expected to grow at a rate of 4.2%.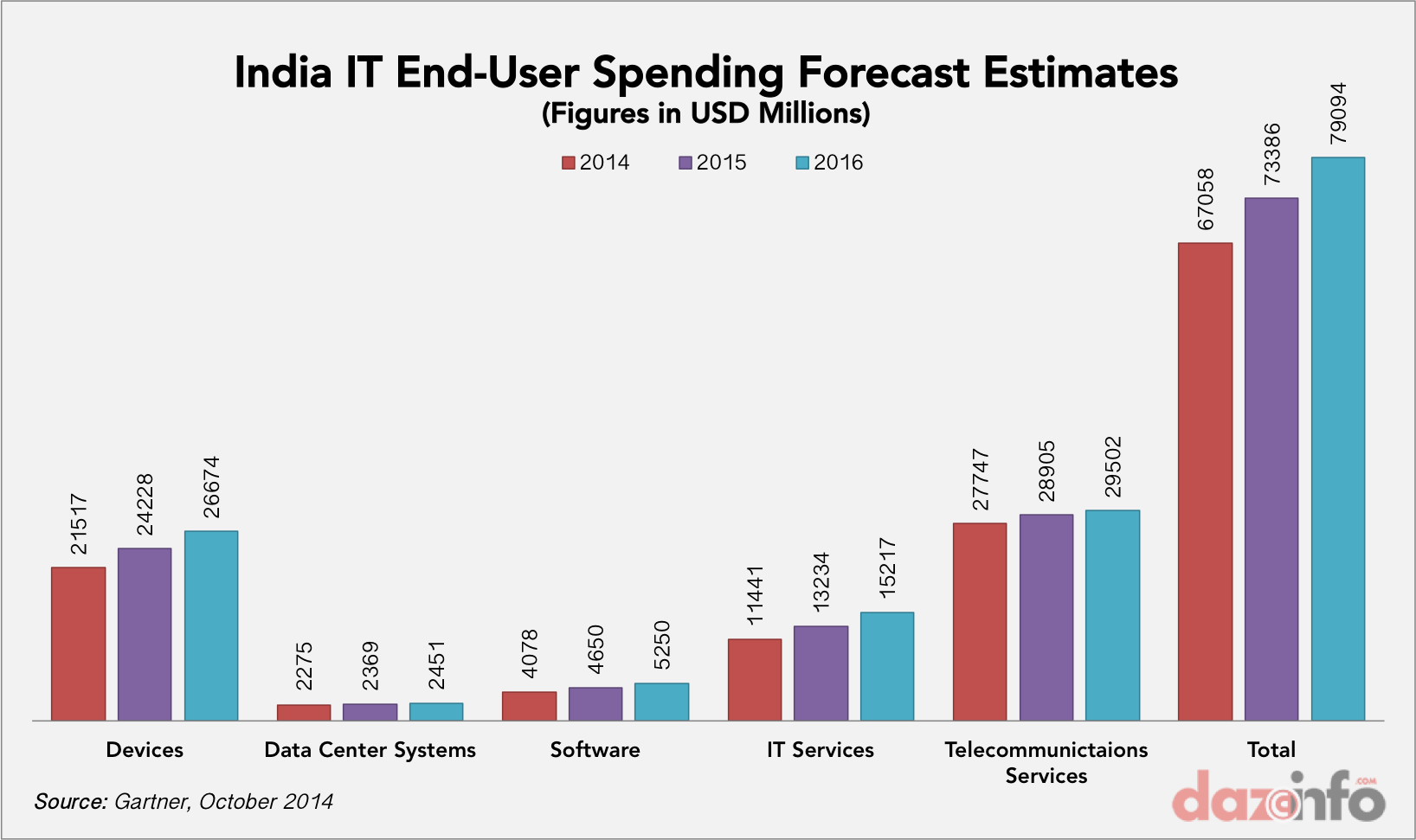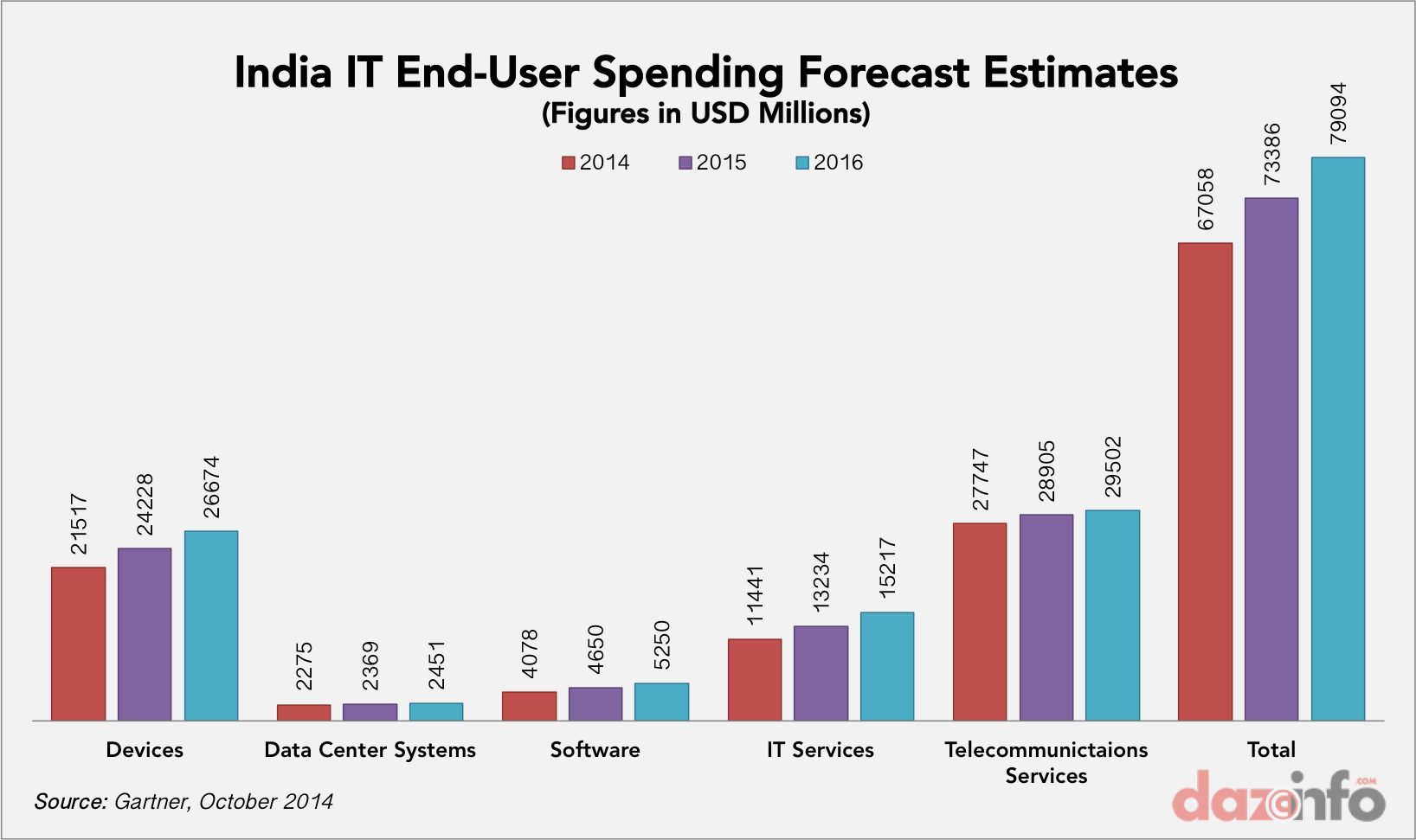 It is also being conjectured that the devices, which constitute 33% of the total share of the market revenue, will grow at a rate of 12.6% in 2015. The good news, however, is that IT services will record the strongest revenue record and grow at 15.7% next year, followed closely by software which will grow by 14%.
This is what Mr. Peter Sondergaard, Senior Vice President at Gartner and global head of Research had to say, "India is forecast to be the third largest IT market within the Asia/Pacific region by the end of 2016 and will further progress to become the second largest market for IT by the end of 2018. Much of the growth from being the number four market in Asia/Pacific to number three is likely to happen in 2015."
These observations were made by Mr. Peter Sondergaard when the latest outlook for the IT industry was being discussed, while addressing an audience of nearly 1,000 CIOs and IT leaders at Gartner Symposium/ITxpo which was held in Goa recently.
At present, China, Australia, Japan and India are the four biggest IT markets in the APAC region. The news that India will improve its current position to get to the No.3 rank by 2016 and later push Australia to the third spot while occupying the second rank is heartening news indeed. It clearly indicates that the IT industry in India is looking up.
This year will also see a 13.5% increase in the number of mobile devices, and see mobile data services become the most rapidly growing sector within the IT sector, leaving even calling services behind. Data services will grow by 18.2% in 2014. At present, there are 243 million active internet users in the country, which means that only 19% of our population has internet access. Further, the number of people who access the internet through their mobile devices and tablets is 185 million, which implies that 76% of our people access the internet through their mobile devices and tablets. As the mobile devices grow by 18.2%, they will relegate voice calling to the second place.
Gartner also predicts that the digital business economy will affect the IT industry in a big way.
Enterprises are expected to spend in excess of $40 billion on designing, implementing and operating the Internet of Things," said Peter Sondergaard.
Many more interesting trends have also come to be noticed; One of them being a dramatic shift in the spending power in the IT sector. The demand has shifted towards digital business units which are closer to the end users, while moving away from IT. 38% of the total IT spent is outside IT already, and is expected to touch 50% by the year 2017.
Gartner has also worked out that nearly half the technology sales people are selling directly to business units and not to IT departments.
As the digital platform gets strengthened, acquiring talent will hold the key. Within the next ten years, almost 33% jobs will be taken over by a smartphone, softwares or handled by robotics. The demand for business process workers will fall by as much as 50% within the next four years, believes Sondergaard.
Robots, which have already made an appearance in many developed countries, will be seen in houses, as well besides being seen on factory floors. With smart machines taking over the decision making, employment opportunities will nosedive.
While the need for process workers will fall down by 50%, there will be a 500% boost in the number of digital jobs. The most sought after skills at present are:
Mobile,
User experience, and
Data sciences.
These jobs will find fewer takers by 2017. Popular skills three years from now will include:
Smart Machines (including the Internet of Things),
Robotics,
Automated Judgment, and
Ethics
By 2021, the following professionals will be pursued most hotly:
Integration Specialists,
Digital Business Architects,
Regulatory Analysts, and
Risk Professionals
Gartner expects bimodal IT to fill the divide between what IT provides and what the enterprise really needs. While Mode 1 refers to the traditional model, Mode 2 is inconsequential, emphasizing agility and speed (like a startup) because disruption can occur at anytime.
While emphasizing that new business startups look out for data analysts, software developers and cloud vendor management staff and hire them faster than IT, Partha Iyenger, VP mentioned that they may soon be looking out for expertise in smart machines, something IT professionals lack. The need of the hour, therefore, is to build up talent and pull up socks to be well equipped for the digital organization in 2020 right now.
"You must build talent for the digital organization of 2020 now. Not just the digital technology organization, but the whole enterprise. Talent is the key to digital leadership. Build credibility and build the two-speed organization," said Iyenger.