Till last year, the subjects of concern in the smartphone industry were the improvements in the available features, performance benchmarking, competition with the OEMs and the rise of homegrown vendors. Though these continue to exist, rather have become dominating concerns, there is an addition to the list. Rise of the market of large screen devices! As per the latest reports from Localysts, large screen devices now owe a sizable chunk of the smartphone market and now they are of special concern to the app developers. According to the report, Music and Gaming industry saw an increase of 142% and 116% respectively in the time spend on these devices. Others like photography, sports, books though did see an increase, but were nominal (enhanced experience could be the only reason). With the increased size and hence the enhanced experience, app developers need to analyze this changing scenario if they want to be a part of this increased penetration.
Apple Inc. (NASDAQ:AAPL) is already eying this changing preference. With its new iPhone 6 and iPhone 6 Plus already out in the market, their adoption rate is something to look for. In our earlier report, we have already done a comparative study of these two devices with respect to others. However, it is not only Apple that seems interested in the phablet market. One can easily look out for big names like Micromax with its Canvas Mega A240, LG's (KRX:066570) Optimus G Pro, Huawei's (SHE:002502) Ascend Mate, Sony's (NYSE:SNE) Xperia Z Ultra, and the list continues. No wonder, every smartphone vendor is looking to secure a pie in this newly growing market. Though its an unending list where the domains will be affected but yes, one that needs to remain specially attentive is an app developer. It is giving ways to innumerous questions:
Should the app developers continue to work for the mainstream small devices?
Will the

phablet

market dominate the future? What has led to this change in market pattern?
Which apps will profit the most? Is the trend really meant to continue and How much is it going to affect the app market revenue?
The solutions are not as straight as one will assume it to be but lets try to look out for the answers.
Music industry sees the highest increase, surprise for one and all
Keeping in consideration the usage of apps, Localyst compared the Android powered devices sporting 5 inches or bigger display with other Android phones. It also kept in consideration the current market share of these smartphones. As it becomes complex to analyze data on such matters, it used "time in app" method which is the session length multiplied by app launches. Simply put, we can have an overview of the average time user spends on an app. When compared to others, app usage on large screen devices found an increase of 34%. The report also saw music apps topping the chart with an increase of 142% closely followed by games with an increase of 116%. It is not as if the engagement of users with the music app was not anticipated to see any rise at all. What has surprised the most is it topping the list!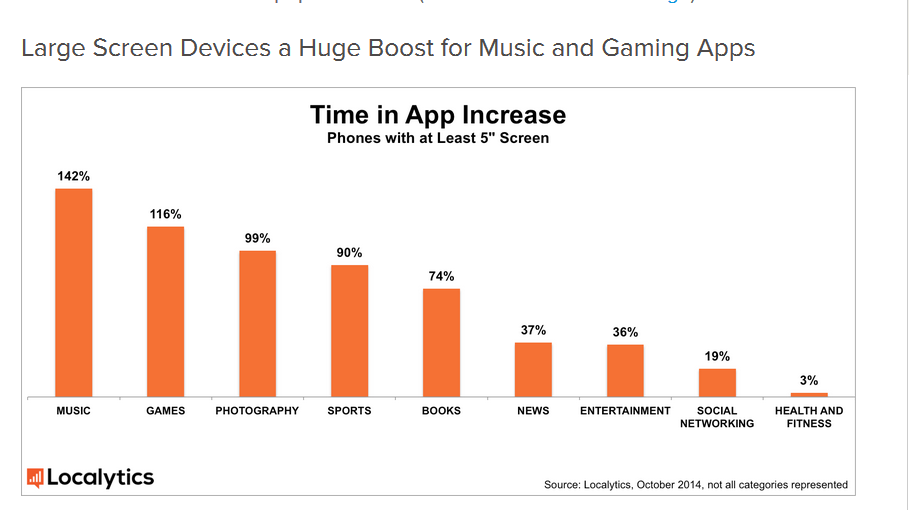 The report backs this trend on the higher side to the incorporation of social features in such kind of apps. Observation shows that as of recently, social networking component are being provided in such apps through which they can share their playlist. Music services like Pandora, Spotify, Buzznet, Mog, Last.fm have turned out to be one of the top revenue generators in recent years. Social networking feature allows them to post their taste of music on the social networking sites with added features of like and comment. Who doesn't want to stay updated on lines of music and say it out loudly? Companies too deserve credit for this trend. Churning out smartphones with increased size, larger battery and good quality speakers, users now don't worry about the battery discharge problems. They spend quality time with music. As the market continues to increase, this trend is not likely to slow down. With more and more music streaming features becoming user-friendly, app developers must see it as a hot target in terms of revenue generation.
Gaming sector next on the chart, may surpass all others soon
The most expected of all was the rise in the gaming sector. Time and again we have analyzed the gaming industry and have found that it was, is and will continue to remain the favourite choice among the users. App developers need to understand that with the boom of large screen devices, this sector will see the trend on higher side only. Observation shows that large screen sizes are powering the game revolution. Most games today make sure real-time engagement. With touch screen features on rise, quick finger movements have become a necessity. Large screen devices give easiness with the same. It also means better graphics, high-resolution and high accuracy.
In one of its latest reports, Flurry analyzed the global mobile gaming app industry, with particular interest in Android phones. The report claimed that on an average a person spends 37 minutes a day on these games. USA topped the chart with nearly 51.8 minutes a day. Though sentiments and dialects vary across the globe, gaming is the language of the taste; uniform and omnipresent. It will continue to proliferate the phablet market at a staggering rate.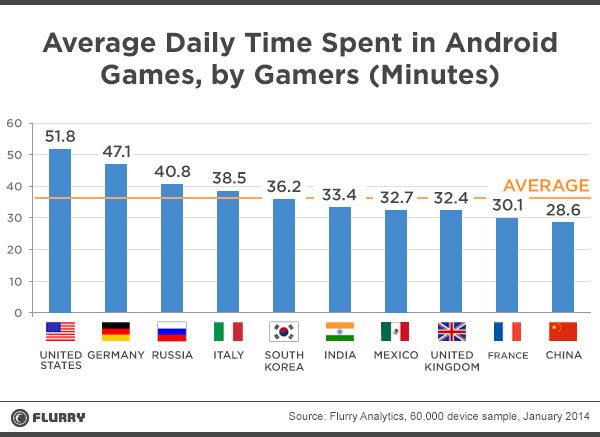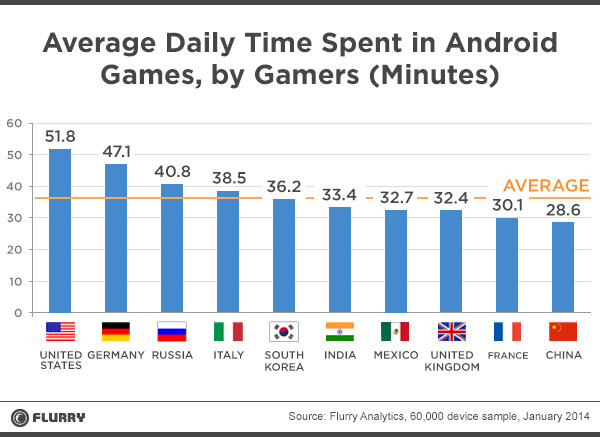 With the increased innovation in technology, smartphone giants are churning out smartphone with better processors. Large screen devices are no less affected. Processors are driving the phablet market. Better processing speed is simply an add-on for the game lovers in addition to the large screen size. Having said this, an increase of 116% in the time spent on this app is still is on the lower side, increment is on the way though. It won't be a surprise if in the next few months it takes over the music sector!
Apple

still benefiting

the most in the

phablet

market, should expect competition soon
Apple's new iPhones have a 4% market share in the global iPhone market. It's been only a month for the launch and its share in the pie cannot be ignored. What needs special mention here is that Apple has just launched iPhone 6 in China mainland – one of the most crucial market for any smartphone vendor, let alone Apple. Its weekend sales of 10 million had already taken the analysts worldwide at surprise.
iPhone 5 was one the most popular iPhone prior to 6/6 Plus launches. However, post launch the number seems to be favouring 5S. As iPhone 6/6 Plus continue to garner popularity with time and 5S sustains its dominance, there will be an eventual drop in the share of iPhone 5.
This trend in growing preference of the large screen devices is not restricted to Apple. Big guns like Nokia, Samsung, Motorola have hummed the same tune for some time. Albeit, the features 'may' be a dominating reason for this growth yet role of demography cannot be ignored. Countries like Singapore, Switzerland,UK- one of the highly industrialized countries have more users with larger screens.


Even due to their bulkiness, market of phablet is rising exponentially. It is expected that phablets will control 25% of the total smartphone sales in 2014. According to Juniper research, in 2013, at least 20 million phablets devices were shipped. It is estimated that the market will hit 120 million devices by 2018. Apple is already out with its new line of iPad: iPad Mini 3 – Another in the series of larger screen devices, everyone will watch its acceptance in the market. With the deviation in preference seen in the market, saga of record sales is expected to continue similar to that of 4.7 inch iPhone 6 and 5.5 inch 6 Plus. In fact, if reports are to be believed, by 2018, shipment of the devices with screens larger than 8 inches will increase at a rate unmatched.
Whatever future may behold, app developers have nothing to lose. It is the trend they have to keep an eye on. With increasing phablet market, it ought to be their hot target. However, one must realize that small screen devices will not lose their charm overnight. Especially in low economies, people actually prefer them owing to the ease of affordability and options. These buyers will continue to be a part of profit making app business. The gaming and music sector needs to be given special attention. It will actually be interesting to see the trend in these economies. Having said that, app developers have to keep a balance between their interest in revenue making and going with the flow of the market!