With the worldwide smartphone shipment crossing a staggering figure of 300 million mark in Q2 2014, as per the latest figures by IDC, people are looking for avenues for engaging themselves in the mobile applications. Of all the revenue generated by these smartphones a significant portion comes from apps devoted to the gaming sector. Apple Inc. (NASDAQ:AAPL) App Store and Google (NASDAQ:GOOGL) PlayStore deserves special mention owing to their dominance in the smartphone market. For Apple, games contribute a major chunk of the total revenue generated from App store while the same stands for Google from its PlayStore. However, the share of Apple's App store in revenue generation leads that of Google's PlayStore by a good margin. The difference is no surprise, thanks to the boom of Android powered devices.
As the gaming companies continue to develop applications, addictive games and new consoles, gamers will always have a good amount of options to hold on to. A new report on Global Mobile Gaming App Industry 2014 and distribution of Android gaming apps, by Flurry, sheds light on this global pastime by investigating various scenarios in all gaming categories. This is, however, restricted to Android games in view of their huge market share. The report claims that on an average a person spends 37 minutes a day on these games. U.S.A. tops the chart with nearly 51.8 minutes in a day. Past three years have seen a significant growth in the US. Due to increased adoption of smartphones and tablets, bigger screen size saw nearly 50% console gamers using these devices in 2013. It is an increase of 15% with respect to that in 2011 on similar standards. Following the US, is Germany, where average daily time in Android games in 47.1 minutes.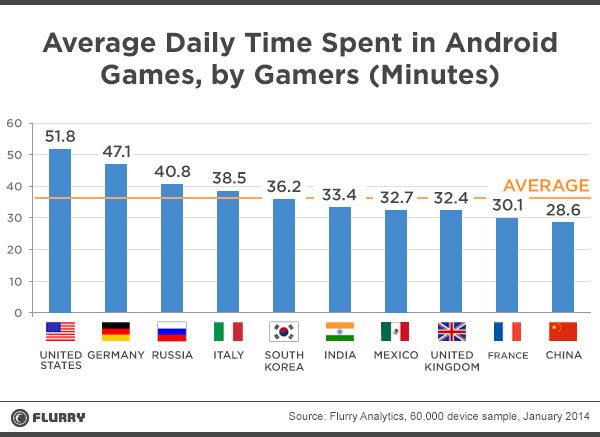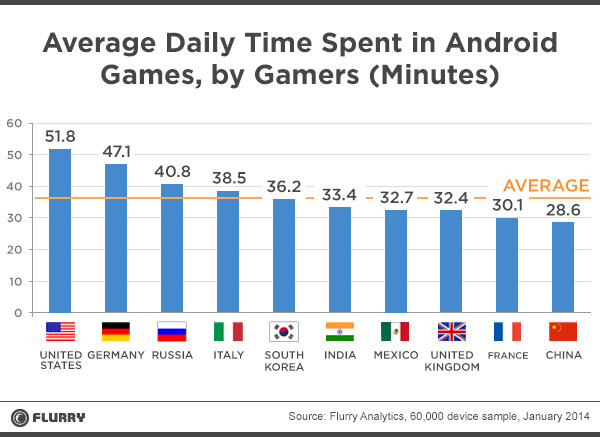 Russia and Italy manage to keep their bars above the global average with the average time being respectively 40.8 and 36.2 minutes in a day. What makes the data interesting is the marginal difference between South Korea and India since the latter saw the industrial revolution at quite a later stage comparatively. However, its reason can be based on grounds that low-end smartphones have become widely popular in the sub-continent. Surprising is the fact that the UK lags still behind with 32.4 minutes, thanks to the popularity of Apple there. China wraps up the top 10 list with 28.6 minutes. An overview of the top ten countries in this section reveals that mobile gaming is not limited to a certain geographical region. Covering a major area globally, it is the lingua Franca of the new generation indeed.
Arcade & Action and Casual games are the most preferred of all gaming sessions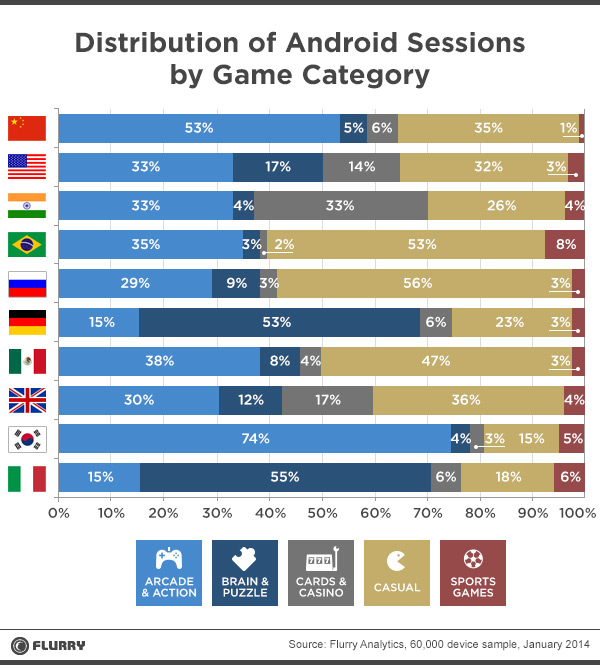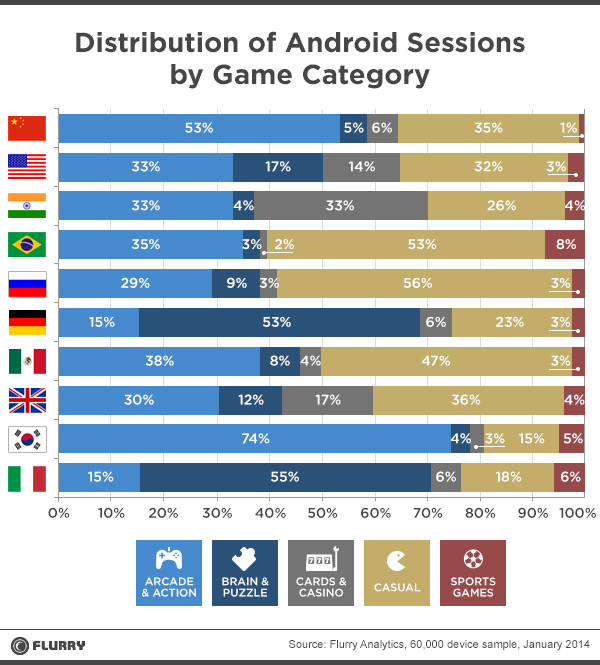 When Flurry analyzed the distribution of gaming app sessions by category and country, it found that Arcade and Action lead the pack, followed by casual games. The former was most popular among South Koreans with the share as high as 74%, followed by China at 53%. Brain & Puzzle games were found to be more addictive amongst natives of Italy and Germany . Casual games found to be largely popular among all countries. It was the proportion of Casino and Sport Games that was quiet less than expected seeing their popularity on the real ground scenario. Brazil, known as the mecca of Soccer, as expected, was ahead in the line in sports games, with 8% share. This however does not give a clear picture of which country engaged in which game significantly more than the other.
Flavors for the favorites vary from one country to another
When the comparison was done on the basis of monthly session frequency by category and country, quiet expected results were found. Monthly session frequency in simple words, is the average number of times an app is opened by a user in a month. This gives a comparative study of the popularity of one game category over the other from region to region. In addition, it helps in analyzing how much the worldwide average stands when compared to country's monthly frequency. It turns out that Germans love playing Brain and Puzzle games with 66 monthly sessions. This can be attributed to the high literacy rate in Germany. This is marginally followed by Italy with 61 monthly sessions. It is no less popular among Americans where the puzzle is played by almost every second gamer.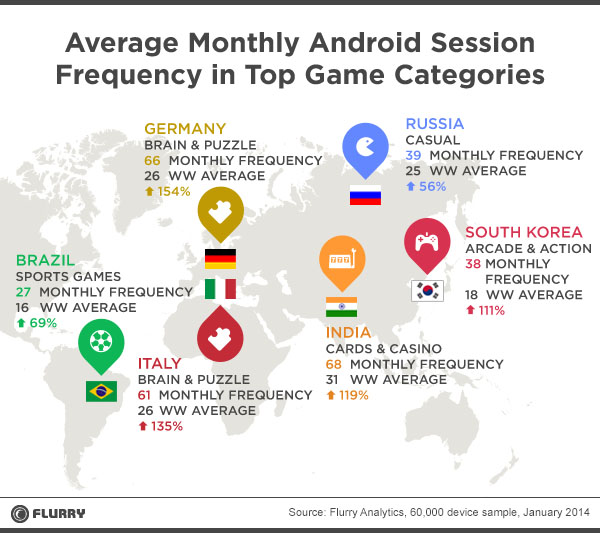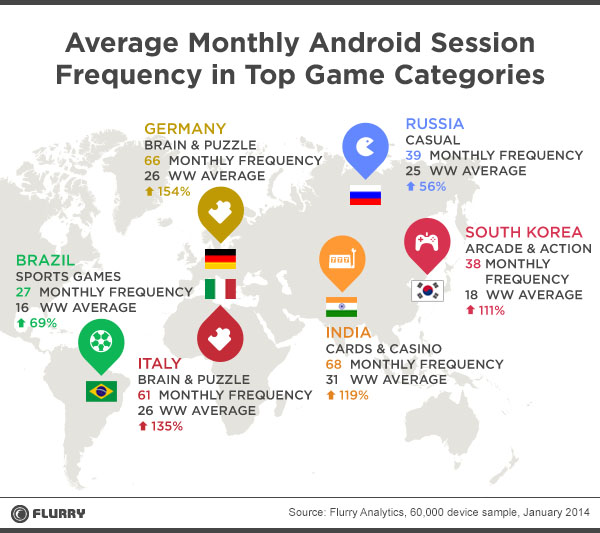 Indian on the other seem addicted to Cards and Casino, generating the monthly frequency of 68, 119% more than the global worldwide average of 26. This wasn't surprising since India is a young country with an average population of 25. The young blood will definitely not be expected to reach out for brainy games! Brazil, crazy over Soccer,  saw a monthly frequency of 27. South Korea has its popular social messaging platform Kakao, which is popularly used for mobile games. They prefer arcade type games unlike Russians, who with 39 monthly sessions, prefer casual games, the report analyzed.
Game developers will lookout for games with the
broadest appeal

!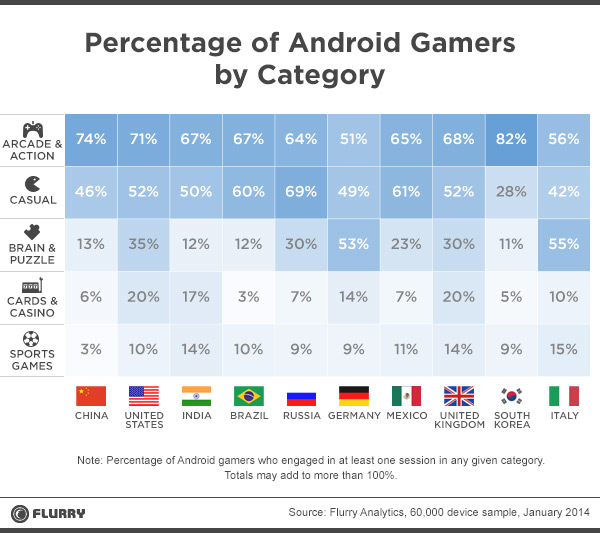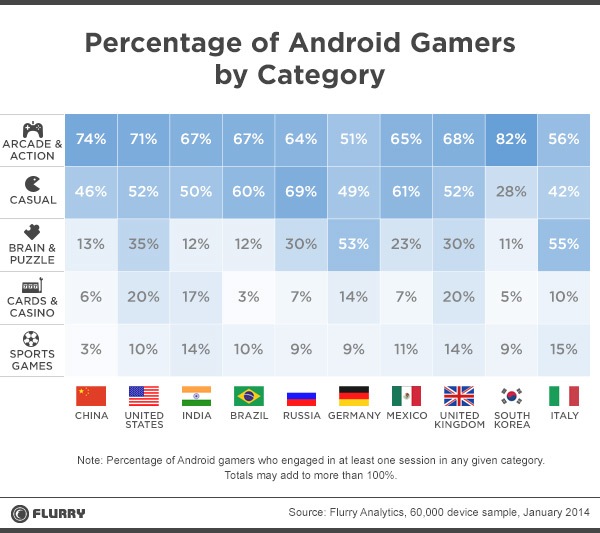 With highest penetration rate, Arcade & Action and Casuals undoubtedly have the highest appeal. Talking factually, as high as 82% of South Koreans were seen playing Arcade & Actions despite the fact that it contributes 74 % in countries gaming sessions. On similar comparisons, Italy and Germany take the lead in Brain & Puzzle whereas it is Casuals for the Russians with 69% of all devices engaging in at least one session of a Casual game. These variations can be based on various factors like internet penetration rate, literacy rate, an average age of the population, higher bandwidth availability etc.
It turns out that gaming with its own dialect and sentiments has varied distribution across the borders. As this explosion of adoption continues and online gaming continues to proliferate on smartphones and tablets, its worth is estimated around $37.91 billion by 2015, globally. It will be imperative for application developers understand the choices of gamers from region to region to increase the profit.