Smartphone shipment is estimated to reach 1 billion in 2014 while sales of feature phone are dipping. That's the global phenomenon but in India the scenario is apparently the exact opposite. According to the latest report from InMobi on Mobile Advertising Market Q3, 2013, Smartphone users are still confined to old school device usage and mobile website is predominantly the main adopted mechanism to access the internet.
Smartphone shipments in India grew to 12.8 million in Q3, 2013 though, the overall ad impressions in the Smartphone market dived to 35.4%, registering a negative growth of 2.9% compared to Q2, 2013. Tablet and connected devices performed fairly well in comparison as they contributed 1.8% of total ad impressions in India on mobile devices. Surprisingly, feature phone emerges as the biggest gainer in mobile ad impression market despite the fact that sales of Smartphone leapfrogged feature phones for the first time ever in history. 62.8% of total mobile ad impressions in India during Q3, 2013 originated through feature phones – a 3.1% improvement in its market share was observed compared to an earlier quarter.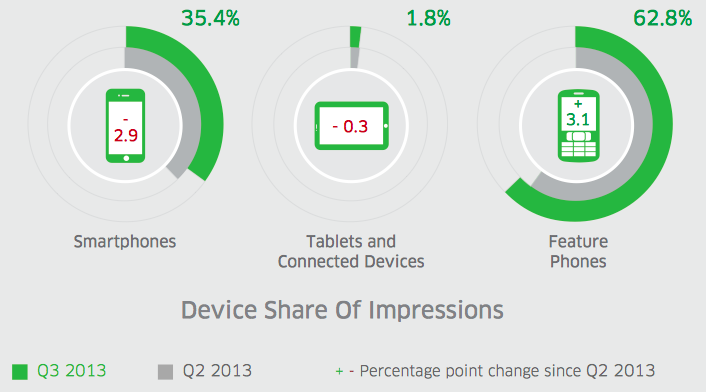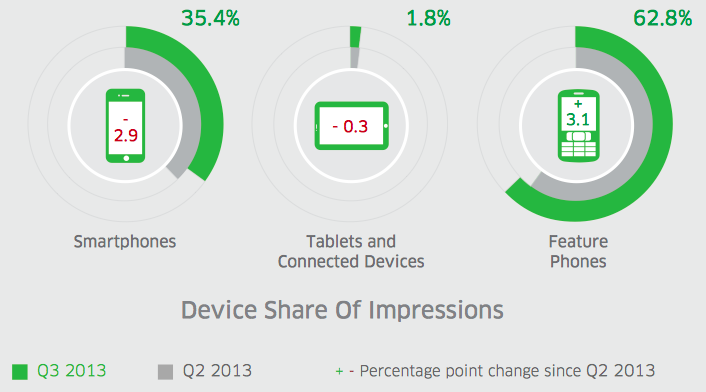 In most countries mobile apps (Smartphone + tablet) are recording an astounding exposure and adoption, mobile users in India are far from joining the global bandwagon. Nearly 84% of ad impressions in India were recorded through mobile websites as compared to a mere 16% on mobile apps. The finding further strengthened the claim that the mobile app market in India is still at a nascent stage which is forcing Indian app developers to focus on developing countries.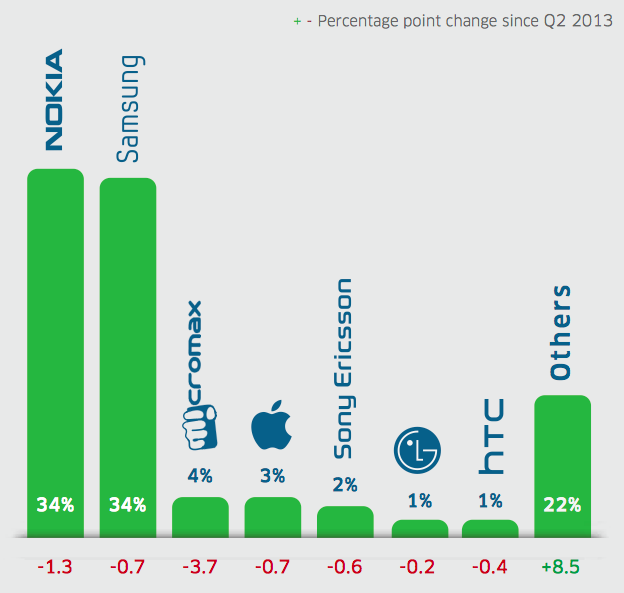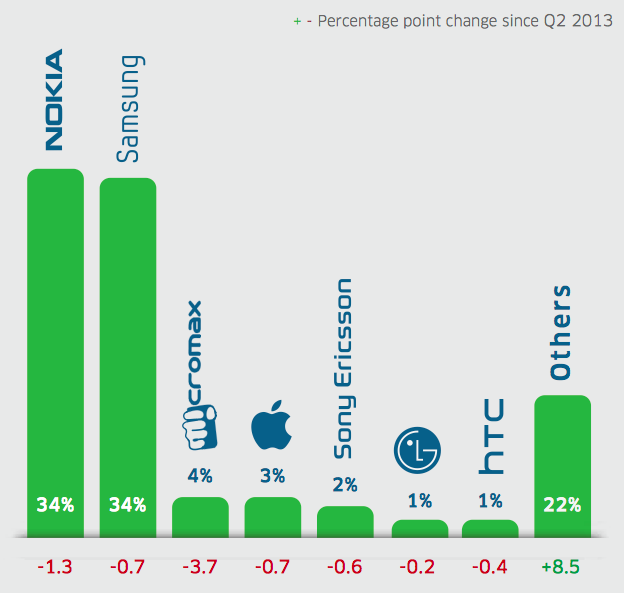 Due to the widespread lead of feature phones in mobile ad impression, Nokia and Samsung have emerged as the leading manufacturers that delivered the maximum number of mobile ad impression in Q3, 2013 in India. While Nokia handsets contributed 34% to total mobile ad impressions in India, Samsung almost equalled Nokia. The 4% mobile ad market share of homegrown Micromax depicts that the company is able to poach only the price conscious first-time Smartphone users who are yet to open up to mobile internet and its usage.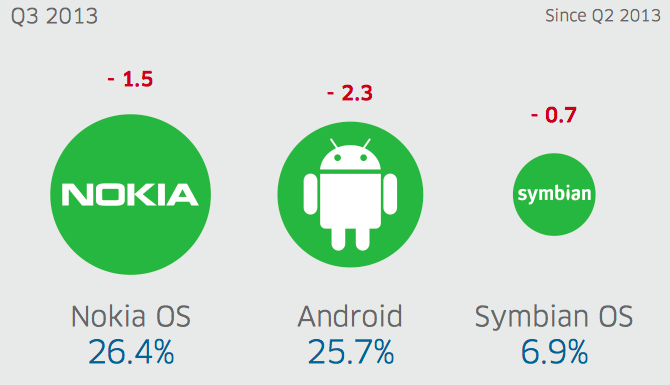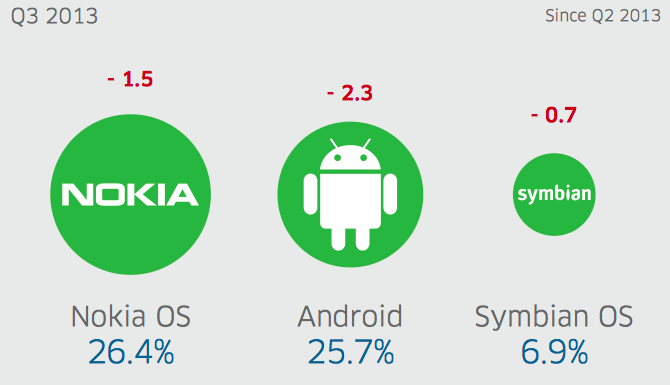 While distributing ad impressions based upon mobile OS, the Nokia OS emerged as the favorite with 26.4%, beating Android's 25.7% market share in Q3, 2013. Smartphone OS from Google, Android is pacing up to catch Nokia in overall mobile ad impressions race to become the top OS in a market, largely driven by feature phones.
Apple is yet to find a sizable share in India, be it Smartphones, tablet or mobile advertisement in India. Despite of offering a higher CPC, CPM and RevShare to developers, the iPhone and the iPad are failing to fascinate Indian mobile users in large numbers.
The above insights depict the mobile ad market trend in India, which is based upon millions of mobile ad campaigns that run on the InMobi network during Q3, 2013.
Source: InMobi