At a time when Micromax – India's second-largest Smartphone vendor – is reportedly gearing up to launch its IPO in 2014, Smartphone market in India Q3 2013 is showing a great sign of transformation as users seem a little sceptical about the company's products and performance. Despite the much-hyped hiring of Hugh Jackman as a brand ambassador, Micromax is apparently losing its grip over the pulse of highly ambitious Smartphone users in India.
According to the latest IDC report on Smartphone market in India Q3 2013, Samsung strengthened its Smartphone market presence by scaling up its market share to 32.9% in Q3 from 26% in the second quarter of 2013. Interestingly, Samsung remained the only Smartphone vendor in India that registered positive growth in its market share, while local vendors Micromax and Karbonn disappointed. Smartphone market shares for Micromax shrunk to 17.1% in Q3, 2013, resulting in a sizable loss of 4.9% share to Samsung, compared to Q2, 2013.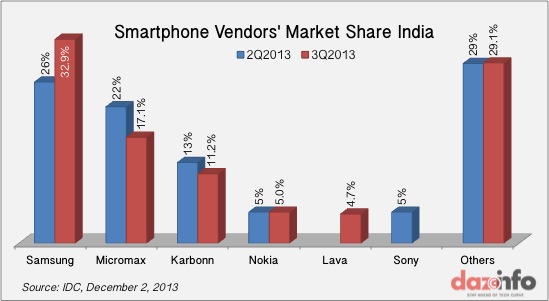 The overall Smartphone market in India recorded an astounding Y-O-Y growth of 229% and 28% Q-O-Q growth in Q3, 2013.  Smartphone vendors shipped total of 12.8 million units compared to a mere 3.8 million in the same period in 2012.
"The change agents for this rapid shift of consumer preference towards Smartphones have been the narrowing price gap between Feature phones and Smartphones. The Smartphone market is expected to maintain these elevated levels of growth in the near future" comments Kiran Kumar, Research Manager with IDC India.
The other Smartphone vendors in India, including Apple, Sony, LG and HTC, managed to grab 29.1% of the total market in Q3, 2013. However, Nokia, the second-largest Smartphone OS in India, held on to its fourth position with an unchanged 5% market share.
The biggest surprise emerged in the form of Lava that made it to the list for the first time by controlling 4.7% of the Smartphone market in India. Thanks to Lava's XOLO and IRIS series Smartphones, tagged with highly competitive prices, which succeeded in luring first-time Smartphone users.
Mobile Phone Shipments In India Q3, 2013
The overall mobile phone market, which includes feature phones and Smartphones both, in India recorded a 12% Y-O-Y and 7% Q-O-Q growth in Q3, 2013.  The market share of feature phones has kept shrinking as more number of users continued to migrate to Smartphones in Q3, 2013.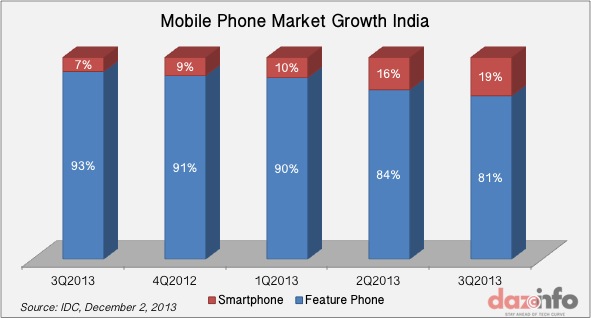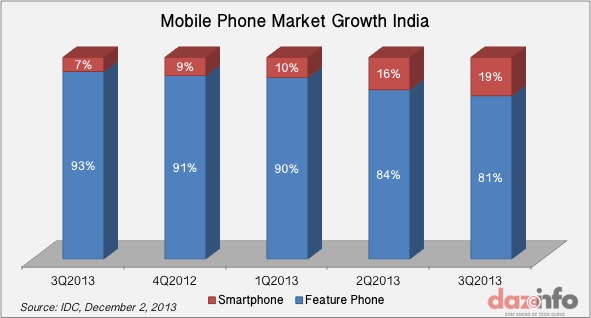 Samsung remained the top mobile phone vendor with 50.8% market share, followed by Nokia and Micromax that controlled 15.3% and 14.7% of total Indian mobile phone market in the quarter.
Source: IDC