The Samsung Galaxy S4 has been out for a few months now, and many Android fans are considering whether it's worth making the jump to the next generation of the phone. To help you decide, we've made a side-by-side comparison with the S3 taking into account vital features like camera, processor speeds, screen resolution and more!
Camera
S3: 8-megapixel main camera, 1.9-megapixel rear camera
S4: 13-megapixel main camera, 2-megapixel rear camera
The S3's camera was never its strongest selling point, and the S4 makes a considerable improvement – the 13-megapixel main camera produces significantly sharper and more detailed images in good lighting conditions, and also features a live HDR video mode.
CPU
S3: Exynos 600 quad-core 1.4GHz CPU, 1GB RAM
S4: Snapdragon 600 quad-core 1.9GHz CPU, 2GB RAM
The Snapdragon 600 quad-core processor that ships with the UK version of the S4 isn't a giant step up from the Exynos 4212 quad-core, but you'll notice the difference on the more demanding Android apps – and the extra RAM allows it to multitask more effectively.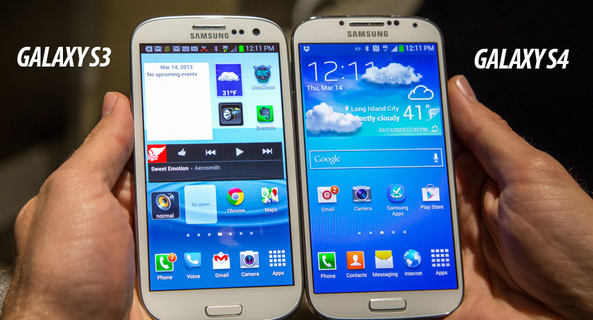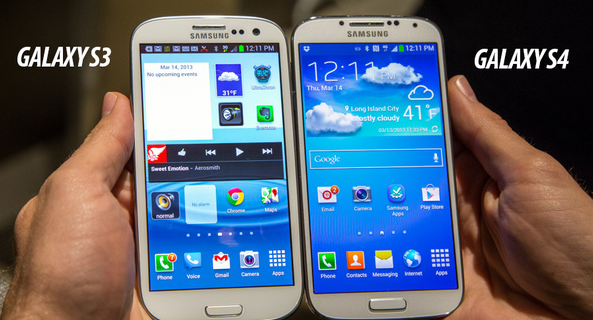 Screen
S3: 720p 4.8-inch Super AMOLED
S4: 1080p 5-inch Super AMOLED
Bumping up the screen size a whacking 0.2 inches hasn't made the phone any wider, as the surrounding bezel takes the hit instead. The S4's screen is definitely as crisp as they come and beats the still-impressive S3 screen hands down.
Software and OS
S3: Android 4.1 with Touchwiz
S4: Android 4.2 with Touchwiz
Both phones use Samsung's custom Touchwiz user interface, and with the S3 expected to get the 4.2 update in the near future, there's no clear winner here. However, the S4 does come with extras like eye scrolling, air gestures and Group Play.
Battery
S3: 2,100mAh removable battery
S4: 2,600mAh removable battery
The S4's battery is nearly 25 per cent bigger than the S3's, but it's also got a bigger screen and more powerful processor to handle. Still, users report that the S4's battery life is a good bit longer than the S3's in general usage – and there's always the option of a spare battery for power users.
Conclusion
If you're already an S3 owner, there's no hugely compelling reason to upgrade – the S4 is certainly faster and shinier all-round, but more an evolution than revolution. However, if it's your first time with the series, it's worth jumping in with the latest model – you won't be disappointed.