The mobile operating system market share numbers of the U.S was published today by a market research group Kantar World panel, and the numbers show an alluring twist compared to the global data.
The Number Game
According to the data revealed Android has grappled 51.7% of the U.S Smartphone market over the three-month period ending April 2013; meanwhile Apple Inc (AAPL) is holding fairly steady at number two, its market share has climbed to 41.4% in Q1 2013 from 39.1% in Q1 2012.
But the BlackBerry (BBRY) and Windows phone numbers have witnessed dramatic changes from the same quarter a year ago. Both BlackBerry and Windows phone battled it out for the No.3 spot and it looks like Windows phone won the battle. BlackBerry's share of U.S market slid from 5.30% in Q1 2012 to 0.70% in Q1 2013; despite the launch of Z10- the firm's much awaited Smartphone.
Windows Phone looks to be finally taking off; its market share has reached to 5.6% in Q1 2013 from 3.8% in Q1 2012.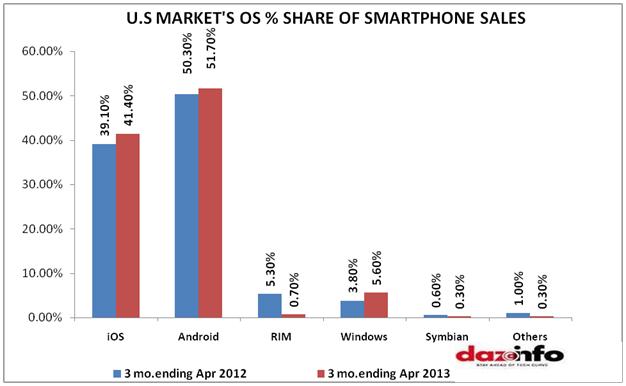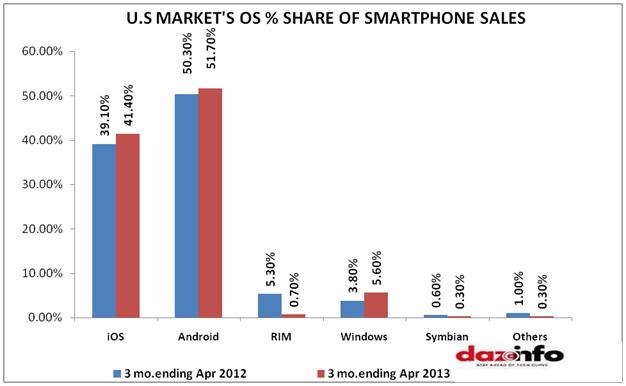 And coming to the network percentage share of Smartphone's Apple's mobile offerings are strongest with the two largest U.S carriers, AT&T and Verizon. Verizon is leading with 36.3% market share in Q1 2013 with an increase of 1.8 % from 34.5% in Q1 2012. And AT&T is in the second place with a steady growth and a mere increase of 0.3% from Q1 2012 and it looks like Sprint bounced from 11.7% in Q1 2012 to 13.1% in Q1 2013 with an increase of 1.4% points meanwhile T-Mobile declined from 14.8% in Q1 2012 to 11.3% in Q1 2013.
The Fortune
Google Inc's (GOOG) Android now owns more than half of the U.S Smartphone sales, but its remarkable growth stopped Apple from enjoying impressive growth as well.  It looks like Android's dominance in U.S is leading us to believe that it is growing at the expense of all other Smart phones. Nevertheless Apple has continued to show steady growth in the U.S market even as Android's growth rate has peaked. iPhone 5 and other Apple products are somehow helping Apple to survive and Samsung is continuing to expand its Android market share with the release of Galaxy S4 and it taking away the market shares of the other competitors. What's compelling is that Windows numbers, even though they are in a smaller number but currently it is one of the fastest growing mobile platform. But still Microsoft has a long way to go. So for now Android is the nation's elite Smartphone platform with a remarkable margin.