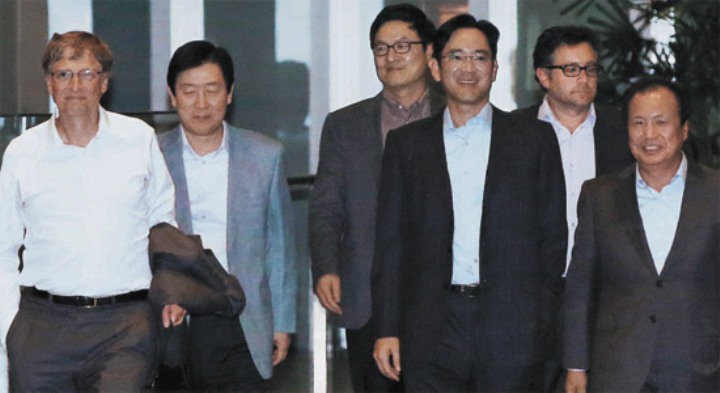 Microsoft Corporation (NASDAQ:MSFT), represented by Chairman and Founder Bill Gates, met with the Vice Chairman of Samsung Electronics (KRX:005930) Jay Lee, head of strategy for the future of Samsung Group Choi Gee-sung and President of Samsung Electronics for IT & Mobile Division (IM) JK Shin. This is touted as a meeting in order to drive Samsung towards making use of the Windows 8 Ecosystem on its mobile phones.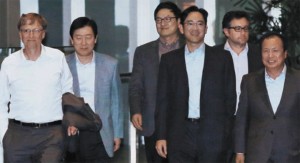 If we have understood the inherent meaning behind this, we could soon be staring at a game changer – that if Samsung has been convinced that its own OS Tizen may not have a solid footing against the existing ecosystems. A closer look at why this relationship is important for Microsoft is here.
Microsoft's net profit YoY grew 18% from the sales of all the products that it sells. However, its net profit YoY from the sales of Windows as a product rather fell negligibly owing to the extensively publicised Windows Upgrade offer that it offered.
Microsoft's well known hardware partner's results are not impressive either. It continued its fall for another quarter taking a hit of 32% fall in its device sales. However, if one were to look at the smartphone sales, the story is even grimmer since this is where Microsoft steps into the picture. The YoY change for smartphone sales was a dip by a whopping 49% there by cutting a really sorry figure for itself.
Samsung on the other hand stood to gain a net profit after tax increase by a blasphemous 73%! These not only indicate a complete shift in the tide but also goes on to say how well Samsung is doing. While this included all the Samsung subsidiaries, it goes on to show how Samsung was fast approaching the role and status of being a market leader.
If we have understood right, a major chunk of Samsung's mobile division's profits come from the sales of Google Inc's (NASDAQ:GOOG) Android based devices. The sales of other ecosystem based devices, which includes Samsung's own Bada and Windows phone account for a meagre sum.
Given the fact that Samsung is currently embroiled in serious legal hassles with Apple Inc (NASDAQ:AAPL), Microsoft could try to convince Samsung to increase its share of Windows based devices. This would be possibly presented as a win-win deal on a golden platter. Here's why the deal could benefit Samsung –
This could reduce the amount of money Samsung would spend in injunctions against various patents of Apple. It would also directly translate into reduce legal costs.
Microsoft with its partner has definitely improved the Windows Phone ecosystem from what it was a few years back. This means that there are plenty of developers and Apps already available. Increased availability of apps directly influences the customer buying decision. This translates into better sales revenue.
However, since it is a well-known fact that Microsoft imposes strict requirements for the handsets that get the Windows Phone OS, it could well stunt the company's growth. Samsung may neither be able to put in the R&D effort that it is currently putting forth in developing newer and better processors; it would also directly impact the development of Tizen which at one point of time was the bastard child of Intel Corporation (NASDAQ:INTC) and Nokia Corporation (NYSE:NOK). It is left for us to speculate right now which way Samsung would swing; Google, Microsoft or home bred OS Tizen.