Microsoft Inc (MSFT) has announced it's patent agreement with ZTE Corporation (SHE: 000063) on Tuesday. The deal grants ZTE a license to Microsoft's worldwide patent portfolio for ZTE phones, tablets, computers and other devices which powered by Android or Chrome OS. However, Microsoft did not disclose the amount ZTE would pay, under the agreement.
ZTE is not the first one to come under the belly of Microsoft due to patents the company bought from Novell; In the fiscal Q4 2012 Microsoft earned more than $1.3 Billion from Android Royalties; largely from Korean Smartphone giant Samsung (KRX: 005930) and HTC (TPE: 2498). On an Average Microsoft is collecting $10 on each Android device sold; Microsoft is claiming $12-$13 from Samsung which controls more than 50% of Android market where as HTC pays only $5. Microsoft says– "80 percent of Android Smartphones sold in the U.S and a majority of those sold worldwide are covered under patent agreements with the company from today"
One must not be surprised with the fact that Microsoft is minting millions of dollars from the product of its arch rival Google – An earning source helping Microsoft to earn higher than its own homegrown Windows Phone OS. All thanks to patents Microsoft once bought from Novell, Inc.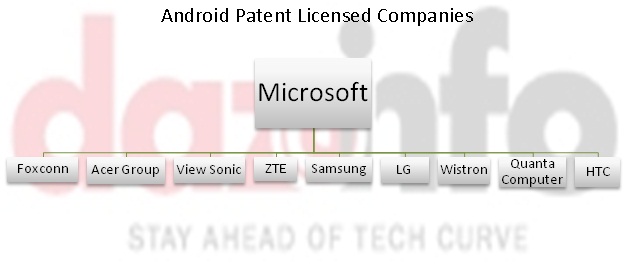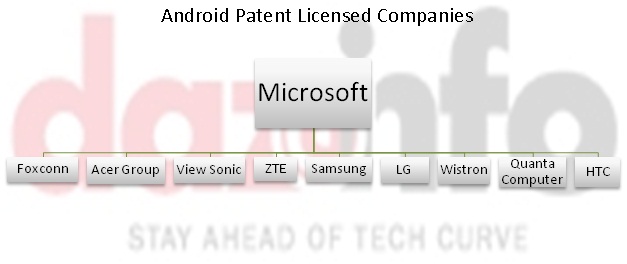 The Company was recently in a hype after signing its biggest patent deal with Foxconn, formally named HON HAI Precision industry Co (TPE: 2317); Taiwan design manufacturers has to take a license on any product powered by Google's Android or Chrome Operating system.
IS Microsoft Concentrating More On Android Than Homegrown Windows OS?
Android is unilaterally dominating the Smartphone industry with over 68% market share. Due to affordable price tags and strong mobile eco system, Android phones are going to outburst the market in upcoming years. Astoundingly, Microsoft Windows OS is still struggling for a firm footing in the smartphone market, while trust of users continue to deteriorate day-by-day in spite of all efforts by Nokia.  Microsoft's PC sales declined last quarter and Surface RT and Surface Pro failed to create the impact as well. Apparently, Microsoft has understood that its difficult to take Android head on and still keep investor interest intact by only banking on its benefits from Android.
Successful business models can always en-cash opportunities and if it is at the cost of its competitors or from their products/services – there is nothing more interesting than this. Incidentally, Microsoft knows how to turn royalties into money making machines.