Nokia corporation (NOK) CEO Stephen Elop proclaimed a major upcoming launch of Lumia in the U.S during this quarter. Elop predicted the launch on Thursday after the release of Nokia's financial results for this quarter. He said to "expect another hero move". The next hero move in the U.S. kicks off a season of new product introductions. Elop added "We have a lot of juice ahead as it relates to the Lumia product line".  The buzz is that the hero phone would be Verizon Lumia 928.
According to Financial Times this Lumia phone would have a bigger screen just as its rival Samsung Galaxy Note II. Besides that, a Lumia phone with high quality camera of the Symbian-toting purview, and a new aluminum Lumia is also expected to make a debut by the end of this year. Microsoft is updating its Window Phone 8 to support 1080 px displays which would be a huge advantage to its kin Nokia.
Though Nokia's financial results are encouraging, it is still an underdog in the U.S markets. The low end Smartphone line i.e. full touch Asha range is also failing, so this announcement is more than a coincidence from the Finnish Smartphone maker.
Is Launching a Phablet a conscious move?
Nokia may have decided that a Phablet rather than a Tablet is what it needs right now in its basket. Back in 2007 Nokia had unboxed its N800 internet tablet ( Which looks more like a phablet by today's standard ) and that's why the company does have a fair share of experience in this market. Today  users are embracing the mantra of "bigger the better". It's not surprising that Nokia wants to enter this market; Today Phablet (5 inch or more) market is flourishing and is expected to hit 60.4 million units in 2013, up by 136% Y/Y. Samsung and Huawei are already dominating the phablet market, and have already developed their marketing strategies, pricing etc, this may act as both an advantage and a disadvantage to Nokia.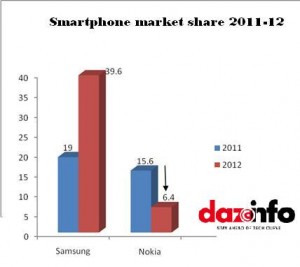 Will It Be Prolific?
If this line of Nokia's products is strong  enough to compete with the products of Samsung and other leading brands than it's a win-win situation for both Nokia and Microsoft in terms of market share, profit etc.
Nokia is hoping to rule the market again with these products and gain its lost shine. If Nokia brain storms well enough, and acts smartly and swiftly with this product line, it may bounce back with amazing sales number, and if they are not strong enough to compete with the rivals  it  will hit the doom's day.