Apple Inc (AAPL) has been aggressively chasing Samsung in Indian market since November. After detaching iPhone range from network provider, the company flooded the market with bunch of offers to make the phone much more affordable, resulting in 400% surge in sale in Q1 2013. While iPhone 5 is available only at Rs 16,500 upfront payment and balance in EMIs, its predecessor iPhone 4S and iPhone 4 are available on drastic discount price starting from Rs 26,500 onwards.
To counter Apple's strategy, Samsung has discounted the whole Galaxy range by anything between 10% – 20%. On top of that 15% cash back with EMI offers are making the Galaxy range more affordable for people. Now to fuel the fire, Apple has come up with a strategy where an existing Smartphone user could grab iPhone 4 at the cost of mere Rs 16,500/- under the exchange scheme. Apple is promising to offer minimum Rs 7,000 of discount on its iPhone 4 in exchange of any Smartphone in working condition. However, if you already have little modest Smartphone you could also expect Rs.10,000/- exchange bonus to grab iPhone 4 at 16,500.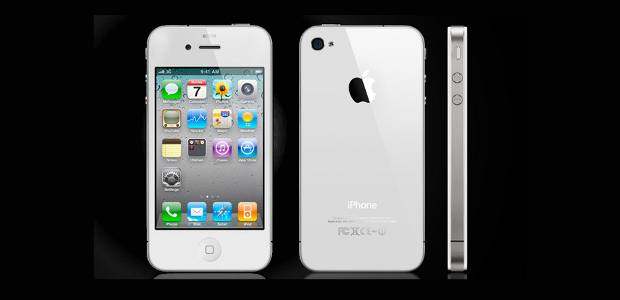 While many low-end Smartphone users have started rushing towards the showroom to grab the offer, we also decided to do a reality check of Apple's much exciting iPhone 4 exchange offer. We knew there would be few fine-prints to avail the offer and definitely it's not against any working Smartphone, so we decided to offer pretty decent deal by handing over our iPhone 3G – in an absolute working condition – with expectation to be benefited for at least Rs. 7,000. An iPhone 3G is undoubtedly quite a decent Smartphone in exchange. Unfortunately the showroom executive dint feel so. After checking all the functionality – including camera, storage, charger and ear phone – he reverted back to us only with a discount offer of Rs 3,000/-. With all our surprise, we guided the showroom executive to the banner with a message "Any Smartphone with minimum exchange bonus of Rs 7,000". Interestingly, his reply stunned us further;
"It's an out-dated phone and people are not looking to buy back it even as a second-hand. Therefore maximum we could offer is Rs 3,200".
We immediately jumped out of showroom with all my grievances and anger only with a question in mind "Is Apple expecting us to surrender a smartphone costs Rs 20,000 to enjoy the discount of Rs. 7,000?" And, if iPhone 3G fetches only Rs 3,200 rupees resale value then how come Apple is known as the most valuable company ?……. our questions left unanswered and unattended by ourselves only.
Update: Based upon huge number of emails and complaints we have received in last last few hours, we have launched a massive campaign by forming a team of 11 people to check the reality of iPhone 4 exchange offer. Each member of the team is approaching to various showrooms across major cities and get back to us with his experience. We shall keep updating you with experience of each one of them.
Update 2: We tried to reach out multiple showrooms and agencies selling iPhone 4 on exchange offer. However, we found many showrooms  have 'tweaked' the offer according to their wish and will. So, we decided to dig further more and we got the OFFICIAL offer document which list down all Smartphones coming under the offer with MINIMUM exchange bonus of Rs 7,000/-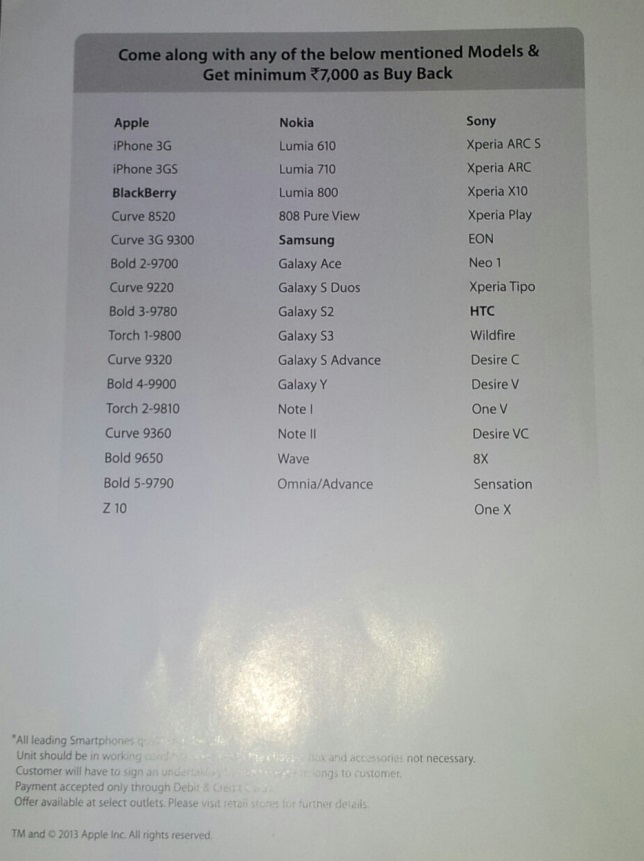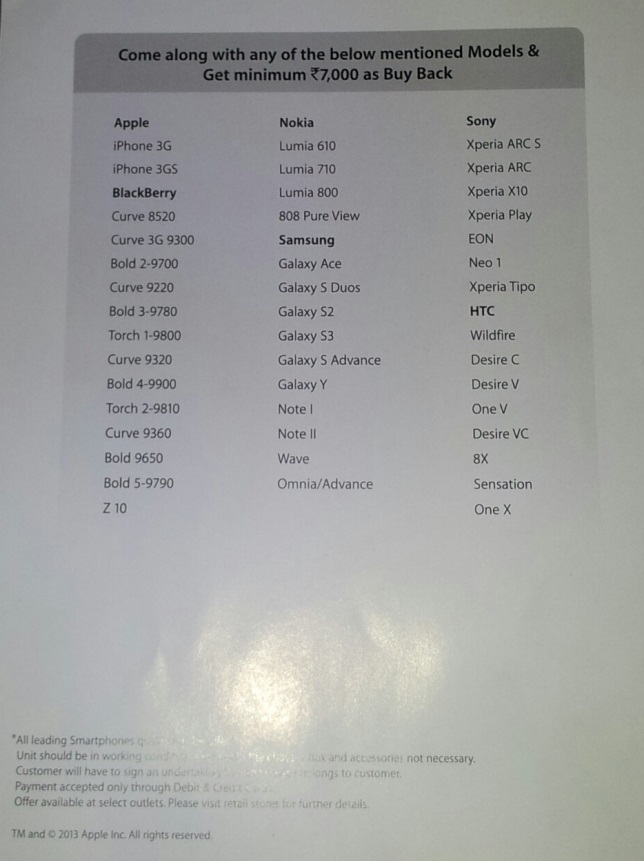 Under exchange offer, Apple iPhone 4 is available only till 14 April 2013. However, you could also expect higher offer price for high end smartphones like Galaxy Grand, Nokia 800 or Galaxy S III. In exchange of Galaxy Grand, you can grab Apple iPhone 4 for anything between Rs 10,000 – Rs 13,000. However, Galaxy S III and Nokia 800 could also get you lucrative discounts.
Besides, all above, the balance amount could also be paid on 12 months EMI. And if you have Standard Chartered Credit Card, don't forget to demand additional 5% cash back. Seems its raining iPhone 4 in India.