Undoubtedly, Android is the most popular mobile platform, but while there's discussion about mobile ad traffic, the platform always comes behind to iOS. For mobile advertisers, iOS is still the most preferred mobile platform for advertising. But have you ever contemplated why advertisers prefer more to iOS than Android?
A mobile ad firm Velti has recently found out that iOS is quite ahead of Android in terms of mobile ad traffics. The firm, tracked the mobile ads traffic of Android and iOS devices from January 1 to February 28, 2012, has seen that 8 out of 10 devices on its global ad exchange were running on iOS platform, including iPhone 4 and iPhone 4S.
Among both the platforms, iOS was unilaterally dominating over Android during two months period ending February 28, 2013. Here is the stat depicting how iOS platform is more lucrative compare to Android.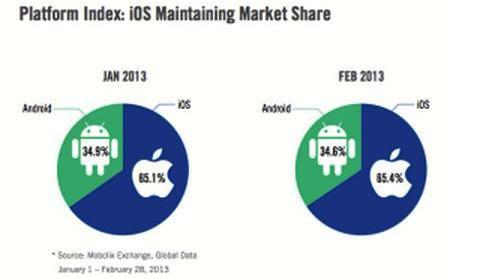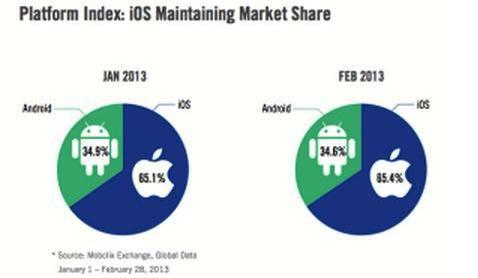 Apple's iPads Topped In Tablet Ad Traffics
Considering Tablets, Apple iPad alone accounted for 92.3% of all tablet ads traffic during February this year, followed by iPad Mini with 5.2% share. On the other side, Android's Kindle Fire and Samsung Galaxy Tab were struggling with just 1.9% and 0.7% shares respectively during the same period. Like February 2013, the scenario was almost the same during January this year; Apple's iPad dominated over other tablets with 93.0% ad traffic.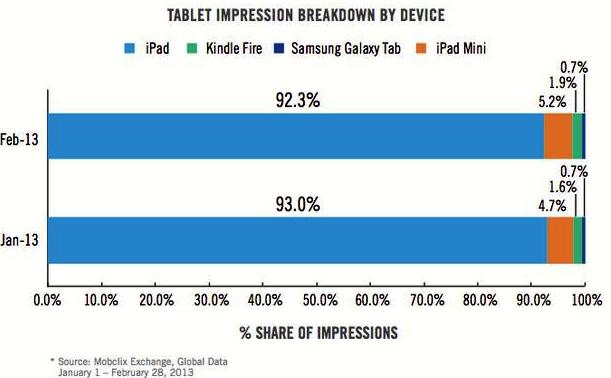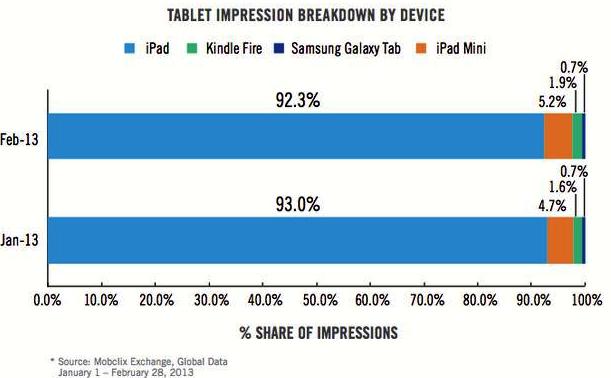 iPhone 4 Is Still Winner In Mobile Ad Traffics
It's well-known that Samsung is currently the world's leading smartphone vendor, despite none its smartphones and tablets succeeded to make their position among top five devices in terms of mobile ads traffic during January-February period. Samsung's two devices–Galaxy S II and Galaxy S III–only managed to take 7 and 10 spots in terms of mobile ads traffic.
More importantly, along with iPhones, Apple's iPod (Touch) also ruled over 7.5% of ads traffics. In simple words, even iPod is ahead of Samsung's smartphones and tablets in terms of mobile ads traffic. In comparison, Samsung's all Galaxy device together accounted for less than 5% of all ad traffic in February this year.
In addition, Apple's iOS also outperformed Android in terms of effective cost per thousands (eCPM) during February, generating  20% more than Android counterparts. Despite Android's robust growth, it's pretty much clear that iOS platform is still more attracting to advertisers. However, Android-powered Samsung Galaxy S4 is expected to do more in favor of the platform to generate more mobile ad traffic.