Last year, smartphone sales reached to a distinct level; the most important role was played by China in overall smartphone shipments among all emerging countries. According to an independent analyst firm--Canalys–Samsung topped in terms of smartphone shipments in Q4 2012. Interestingly, three Chinese vendors–Huawei, ZTE and Lenovo–succeeded to climb into the list of top five global smartphones vendors—thanks to strong shipments of their smartphones in domestic and overseas markets.
A few weeks before, an IDC's report demonstrated only two Chinese smartphone vendors–Huawei and ZTE–in the list of top five global smartphone vendors. As per the report, Huawei took the third place in Q4 2012, shipped 10.8 million smartphones. While with 9.5 million units shipment, ZTE succeeded to grab fifth position.
But Canalys has added one more Chinese smartphone vendor (Lenovo) along with ZTE and Huawei, excluding Sony from the list of top five global smartphone vendors. More importantly, Lenovo was the fastest growing smartphone vendors during Q4 2012, recorded a whopping 216% Y/Y growth during quarter. With the shipments of 9.5 million units, Lenovo managed to hold fifth position, but it's still struggling to make its stronghold in the overseas markets. The Chinese vendor made up 98% of its total shipments in its domestic market.
Breaking to some facts, total 438.1 million mobile handsets were shipped during the last quarter. However, overall shipments in Q4 2012 remained flat compare to the same quarter of the last year. In the  contrary, worldwide smartphone market showed off 37% Y/Y growth in Q4 2012; almost half of the all phones shipped were smartphones. Android smartphones accounted for 34% of overall mobile handset shipments in Q4 2012, while iPhones had just 11% of share.
Android Smartphone Market Share Dropped By 5%
216 million smartphones were shipped during the last qurter, out of these, 69% were running on Android mobile OS, down from 74% in the prior quarter. On the other side, Apple's market share rose from 15% to 22%–thanks to strong sales of iPhone 5 during the last quarter.
Sales of Samsung's smartphones grew 78% Y/Y in Q4 2012, while ZTE, Huawei and Lenovo recorded triple digit percentage growth, a more than 100%. Meanwhile, BlackBerry and Microsoft were struggling with 4% and 2% market share. However, Nokia was at the third position in terms of overall smartphone shipments considering to entire 2012. The company shipped 35 million smartphones in 2012. In comparison, Apple sold 101 million more smartphones than Nokia during 2012, while  Samsung sold 74 million more smartphones what Apple sold during entire last year.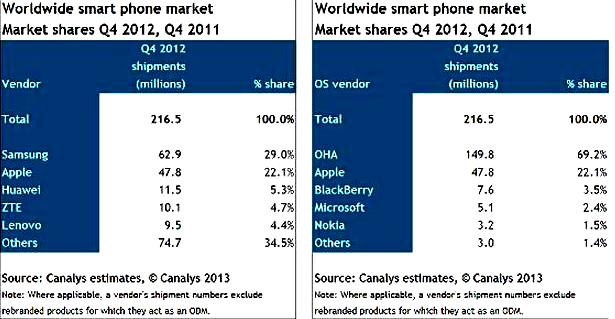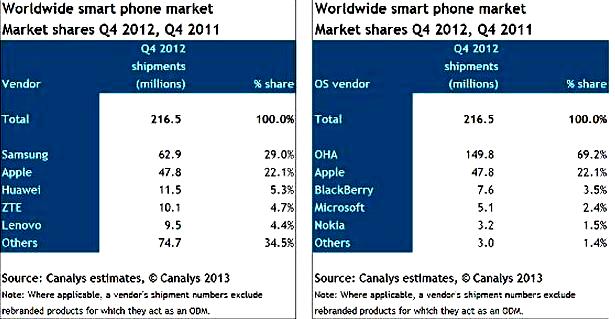 The most eye-catching point of the Canalys report is smartphone shipments in China; 73% of mobile handsets shipped last year in the world's largest phone market were smartphones, up from 40% in the last year. In terms of smartphone volume, the market showed off 113% growth to 64.7 million units in 2012. Last year, Samsung was top smartphone vendor in the country, followed by Lenovo and Yulong.