As of December end last year, global internet penetration was just 32%, demonstrating an 8% Y/Y growth. Till the end of 2011, there were  663 million internet users worldwide, and top 10 countries (in terms of internet subscriber base) alone accounted for 444 million user base. During 2008-11, the U.S. added 15 million new internet subscribers, taking its base line to 245 million at the end of 2011. The country reported an internet penetration of 79% as of December end last year, which was even more than double of global penetration.
According to a recent report from Forrester Research, conducted survey on nearly 60,000 consumers in the U.S. and Canada, the overall internet penetration rate in the U.S. has stabilized at 79%. However, percentage of internet users, those who access internet at least monthly, has surged from 78% in 2011 to 84% in 2012.
At the time, about half of the U.S. online adults are having smartphone, and two-third of them even own multiple connected devices. In addition to these, tablet adoption in the country has also double since 2011, and now the penetration of the device has  reached to 19%. The report has revealed that 43% of consumers are now accessing internet through their TVs. Majority of users (42%) access internet on their TV through video game consoles and 14% of users use internet connected set-top boxes like Apple TV or Roku.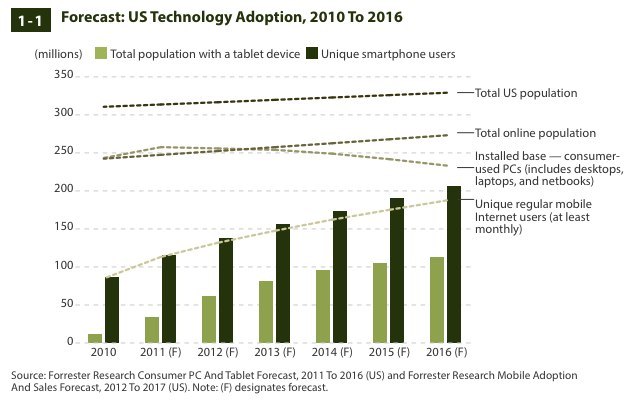 Of course, we could expect distinct usage patterns (on internet) among different generations. 18-23 years-old users (Gen Z) are more active on social networks than other generation people. Out of these, about 70% visit "social networking sites daily" and 85% of them access Facebook at least once in a month. On the other side, Gen Y (24-32 years old crowd) are more likely to own smartphones and tablets; about 25% are willing to get their hand on Tablet, while 72% prefer smartphone.
In the context, Gen X (33-46 years old people) are more interested to spend their money on online shopping; they spent an average of $561 over past three months, compared to an average of $449 for all U.S. shoppers. In other words, marketers and online retailers should focus more on these age group people (Gen X) in order to create a hoard of cash.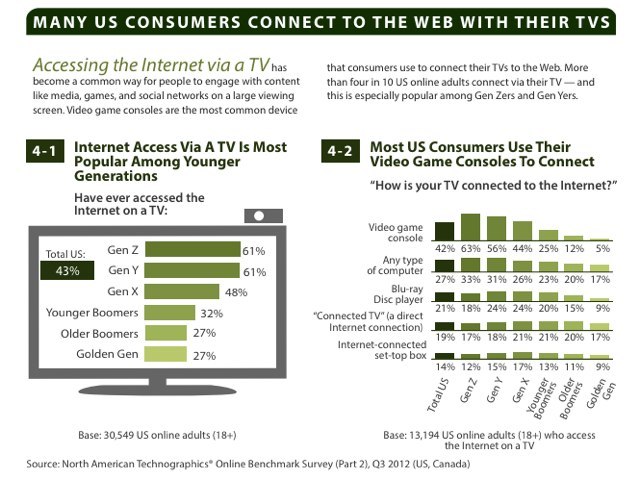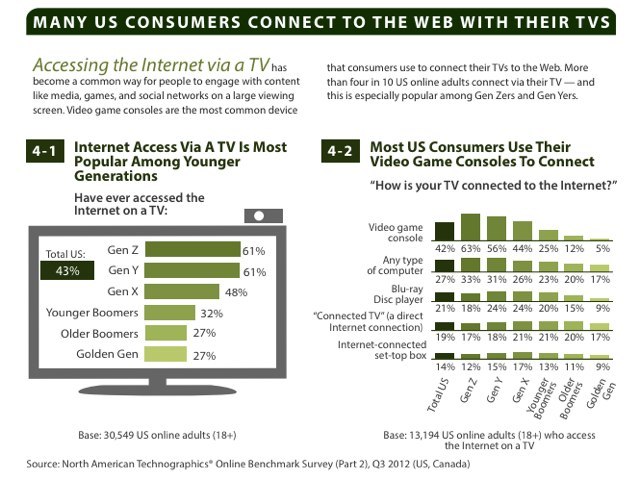 Furthermore,  Boomers (age group 47-67 years) and "Golden Generation" (age 68+ year) are little less interested in technology adoption. Older adults (especially Golden Generation) are more likely to use desktops computers at their home for internet access. Besides, they are also less willing to get their hand on tablets and smartphones. Despite of these, the tablet adoption among these group people is incredible; the adoption of the device has doubled to 14% since 2011.
At last, internet penetration in the U.S. has reached to a saturation level. Gen X people in the country are more like to do online shopping, while Gen Z are more eager to access social networking sites. More importantly, number of tablet and smartphone has significantly mounted up over the last year, which has fueled online shopping especially in this holiday season.