Online shopping in this holiday season is going to set a new record this year. The growth of online spending has been consistent over past few years, as eCommerce conceals shares from physical retail stores. ComScore has just released its holiday e-Commerce figure for this year, which has reached to a record level. For the first 44 days of the November-December 2012 holiday season (from November 3 to December 16), the online spending figure reached to $33.8 billion, up 13% compared to the same period of the last year.
Interestingly, the past week made a record level, with four individual days eclipsing $1 billion in spending. Green Monday led online spending with $1.275 billion figure. However, the last week of this holiday season is specifically expected to be important for online spending because a significant number of users will spend at online retailers to get gifts for Christmas.
This holiday season, some retailers have offered free shipping to customers. In addition to these, considerable number of online retailers are offering their mobile apps to shoppers for comparative products reviews and better user experience (for online shopping). More importantly, 10 individual days in this holiday season have surpassed $1 billion figure in online retail sales. In other words, the number of individual days (surpassed 1 billion figure) is on the way to beat last year's record of 10 shopping days.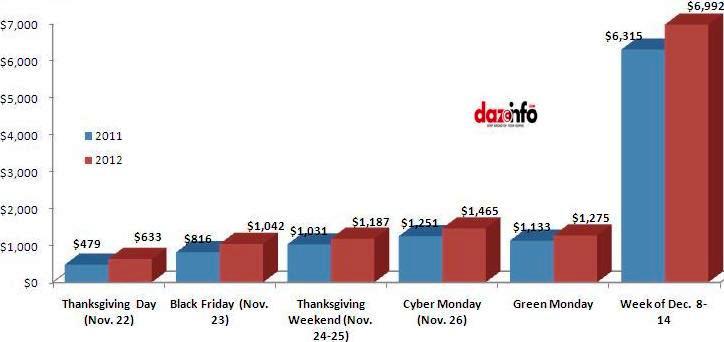 At the time, Cyber Monday (Nov. 26, 2012) ranks top, the heaviest online spending day for this holiday season, recorded $1.465 billion. On the other hand, Tuesday (Dec.4, 2012) comes second with $1.362 billion, followed by Monday Dec.10, 2012 (Green Monday ) with $1.275 billion.
This time, number of days are yet to over for this holiday season, and by the end of the season, online spending will exceed 13% year-over-growth (as per comScore).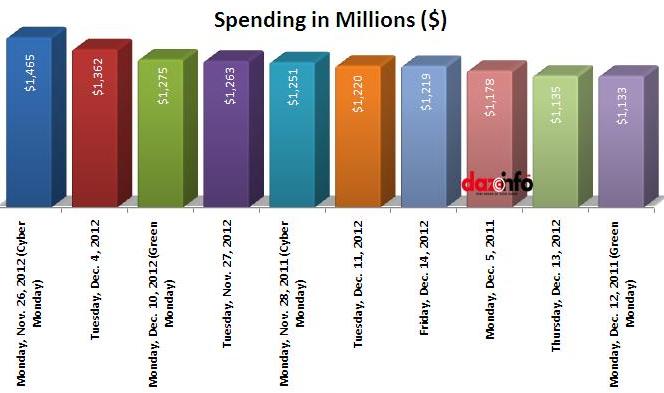 However, on thanksgiving day and Black Friday, the participation of social networking sites was lackluster. But thanks to Twitter, which is now taking center position in retailers' strategies for this holiday season. Online shopping sites like 'Best Buy' and others, bought number of ads for Twitter users that encouraged people to do shopping especially on Black Friday. Best Buy's twitter marketing spending has exceeded about 50% this holiday season, compared with 2011.
As per a recent report, 3.08 million mobile users visited retail sites in the U.S. on the 'Thanksgiving day' this year. Ironically, just 28,880 visitors ordered for the products—which were predominated by iOS users.  However, the figure was little more on Black Friday, more than 3.5 million people did online shopping through their mobile devices, and out of them, 50,905 users actually ordered for the products.