Yesterday, Microsoft announced that 64 GB and 128 GB versions of Surface with Windows 8 Pro will be available in early next year at the price tag starting from $899. It will not be a gaffe to compare Windows 8 Pro-powered Surface tablet—able to run Windows applications—with Windows 8 running Ultrabooks in terms of pricing. However, the company announced that the device (Surface Pro) will come with Surface Pen, but users will have to pay additional $120 and $130 for Surface Touch Cover or Type Cover respectively.
The Surface Pro is typically similar to Windows 8 laptop and could run Windows app unlike Surface RT. However, the price of Surface Pro is almost twice as much as Surface RT, which starts at $500 (or $600 for the Touch cover model). More importantly, the Surface Pro will have around half of the Surface RT's battery life. At present, a slew of high-end Tablets such as Kindle Fire HD, iPad 4, Nexus 10 and more is available in the market. But question is here: Will Microsoft's Surface Pro will compete with other high-end Tablets?
Here, we have targeted to four high-end tablets those are currently available in the market, along with Surface Pro. We have demonstrated the comparison on six major points including Processor, screen resolution, Battery Life, Camera, connectivity and  price.
Processor:
As processor is concern, Google Nexus 10 and iPad 4 are quite impressive and no way vulnerable than Microsoft's Surface Pro tablet in any aspect. In other word, processor speed of Google Nexus 10 is even better than Microsoft's Windows 8 Pro Tablet. In terms of processor performance, Google Nexus is ruling over other four Tablets–iPad 4, Surface Pro, Surface RT and Kindle Fire HD.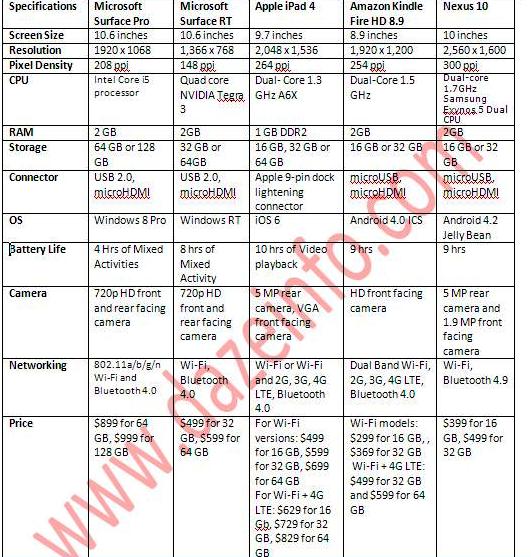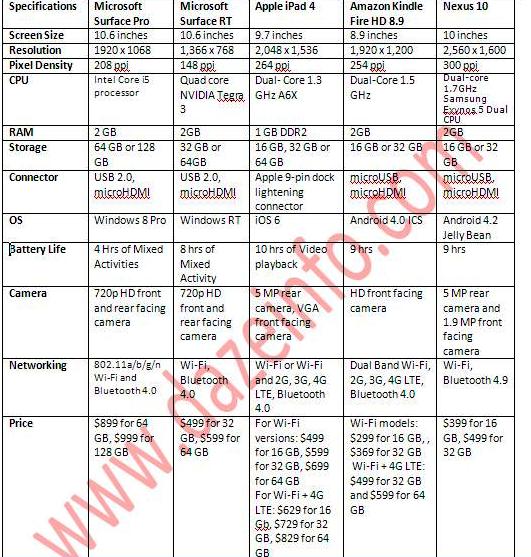 Screen Resolution:
It's pretty much clear that Google Nexus 10 has highest screen display resolution as well pixel density, followed by Apple's fourth generation iPad. Apparently, screen resolution of Kindle Fire HD is even higher than Surface RT and Surface Pro. In simple words, Google Nexus 10 is again winning in terms of screen display resolution.
Battery Life:
There has always been a deliberation about the battery life of Tablets, especially when users access internet or plying game on the device. Microsoft's Surface Pro Tablet is offering just 4 hrs of battery backup in mixed activities, while other competitive devices have more than 9 hrs of battery backup. In terms of Battery life, Apple's fourth generation Tablet is comparatively dominating over all other listed tablets. More importantly, those who are quite enthusiastic about playing game and accessing internet on tablets will not prefer Microsoft's Surface Pro.
Camera:
Both iPad 4 and Nexus 10 offer 5 MP rear facing camera, besides Nexus 10 also offers 1.9 MP front facing camera for video conferencing and chatting. On the other hand, Windows 8 pro-powered Surface Tablet features just 720p HD rear and front facing cameras. Of course, if anyone will have to opt any Tablet from this selected list, then he/she will definitely select Google Nexus 10.
Connectivity:
Apple's iPad 4 and Amazon's Kindle Fire HD support both Wi-Fi as well as cellular connectivity. But, cellular connectivity is absent in both Microsoft as well as Google's Tablets. In context of connectivity, both Kindle Fire and iPad 4 have upper hand over Surface Pro and Nexus 10 tablets.
Price:
You can't deny with the price factor that plays significant role in the purchase of any device. Microsoft's Surface Pro is quite expensive compare to Google Nexus 10 and Kindle Fire HD. The prices of Windows 8 Pro running surface tablets are even greater than Apple's 4G LTE supported iPad 4. In terms of price, Nexus 10 is clearly winning over other Tablets (in the above list).
Bottom Line:
It's true that Microsoft is still unilaterally dominating in the PC operating system arena. But as the scenario is changing and demand of PC is declining, it's tough for Microsoft to sustain its market capitalization. Despite of having server, database and gaming products, more than half of the company's revenue comes from its Windows and Business divisions. Besides Windows and Business divisions, Office is another major contributor to its overall revenue this time.
Surface Pro represents a huge bet for Microsoft, and the device will have to compete with Windows 8 Pro powered devices, offered by some branded hardware partner including Dell, HP, Acer, Lenovo and Samsung. We will not decide whether Surface Pro will squash the iPad or not until when the product will finally come in the market. Overall, it's clear that Google Nexus 10 is potent player this time in the market and it's really tough for any other Tablet vendors to compete with it.