The Startup ecosystem is flourishing; mobile industry is witnessing explosive growth; internet and infrastructure industries are going through immense improvisation; Unfortunately, on the parallel track at the same time, Digital Marketing industry in Asia-Pacific is lagging much behind in compound growth due to lack of talent and conservative approach towards budget allocation.
A recent report, released by Adobe and CMO Council, exposes the findings which are quite disappointing for the whole and all industries functioning in APAC region. Titled as "Digital Marketing performance Dashboard 2012", report is based upon a survey conducted over 295 senior executives from renowned companies like Nokia, Yahoo, Citi Group, Toyota, 20TH Century Fox, and Tupperware etc.
Budget And Talent Crunch: Major Challenges
The positive direction spending power always attracts right returns in Digital Marketing. According to the study, more than 53% marketers admit that budget is the major constraint, straining digital marketing initiatives. Consequently, 37% of marketers currently invest only 10% or lesser out of their total marketing budget on Digital marketing which includes email promotion, social media marketing, digital ads, internet marketing and SEO etc. Disappointingly, it's less than 20% respondents whose companies are spending anything between 25% – 49% on digital marketing and relative industry initiatives.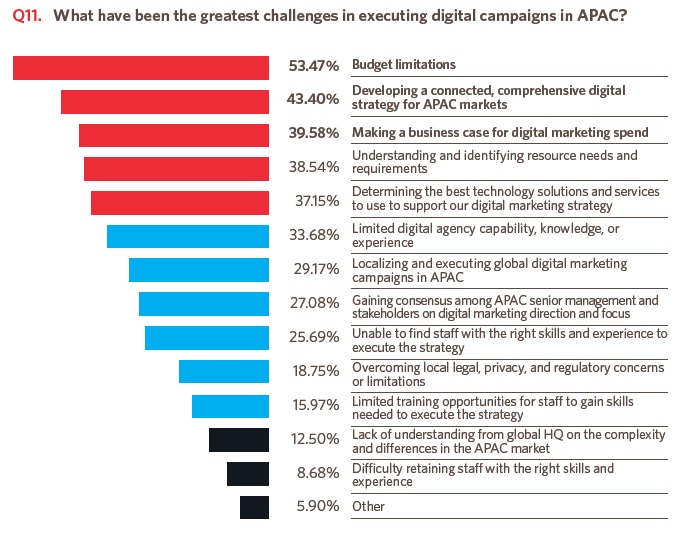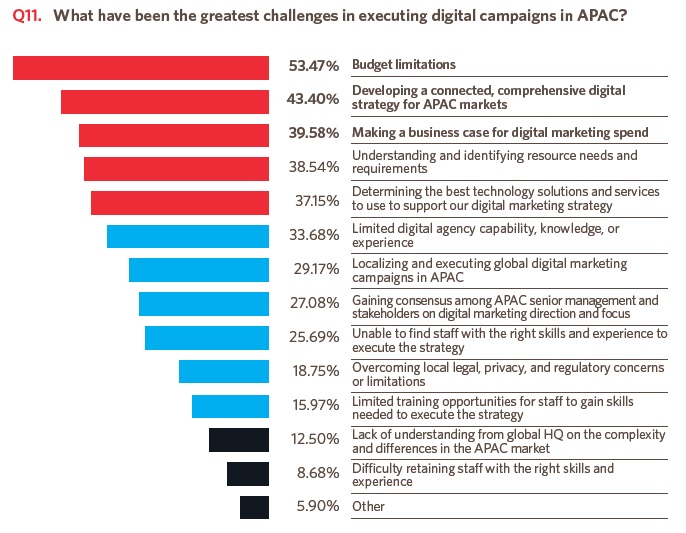 While 63% marketers favor the notion to increase spending and senior support to initiative campaigns, 21% marketers found themselves on firing line as they failed to convince their bosses who still prefer to stick with traditional line of marketing acts. In spite of that, 47% of the marketers (respondent) are anticipating improved 10% – 25% spend on digital marketing in next fiscal year.
Australia is much ahead than any other ASIAN country in terms of spending over digital initiatives. 41% of Australian companies are spending 25% or more of total marketing budget on digital marketing. While Hong Kong stands at second position with 28% companies compare to China and India with 25% and 20% companies respectively are willing to burn similar budget on digital marketing initiatives.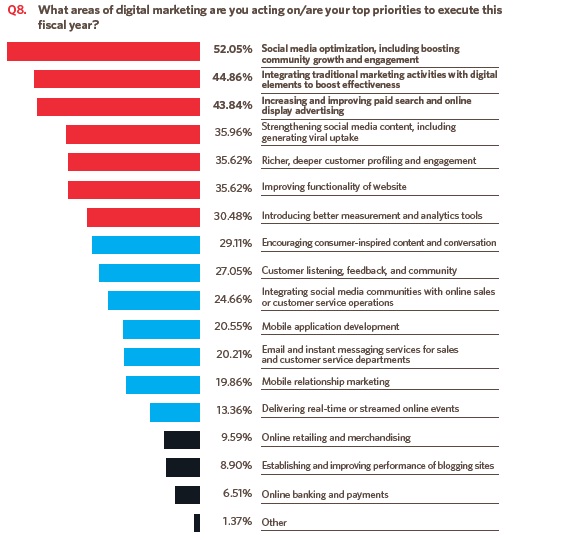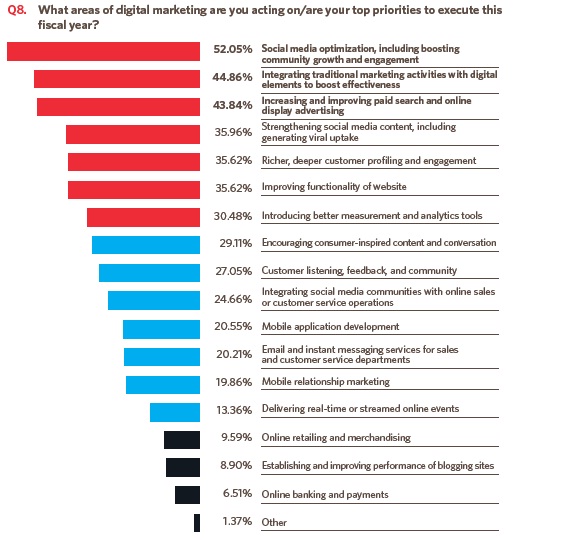 The Talent crunch is another crucial area cited by marketers behind APAC's digital disappointment. According to the report, most of the companies are struggling to get the right talent to drive digital marketing initiatives. Whopping, 49% of respondent said that don't have right proficiency to drive their digital initiatives while 38% stated that lack of hiring budget is also one major concern that prevents valuable man power from digital space away from companies.
Social Media And Better ROI: Main Attraction
Though, 46% marketers believe they are at the early stages of aligning and integrating all digital marketing solution, 52% of marketers are willing to bet upon social media. More than 64% of marketers stated the better ROI and Cost effectiveness as main reasons behind digital marketing strategy adoption in their country and markets. And, due to the very same reason, 63% leaders voted towards Customer Preference and on-demand interaction as their prime interest in digital migration.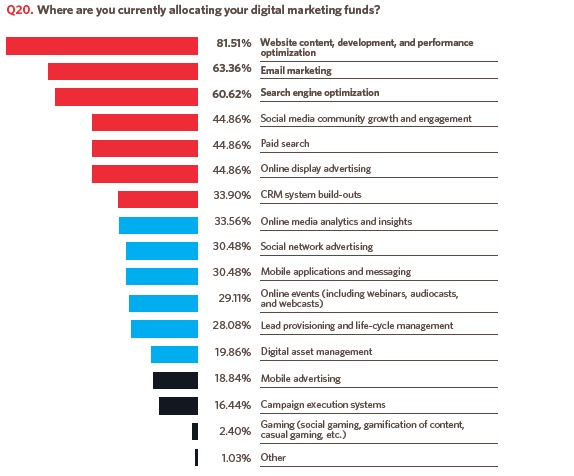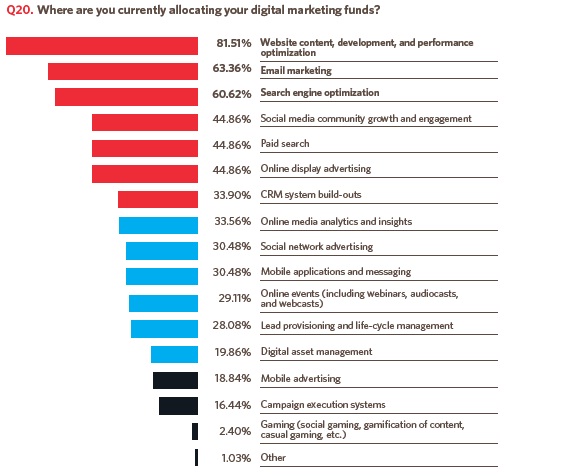 However, most of the ASIAN companies have failed to articulate the real measurement and ROI standards of digital marketing. Though, 63% of respondent positively on measuring results of digital campaigns and 70% stated on using digital analytics and reporting, 72% respondents scanning only website traffic, sources and CTR (Click Through Rate) as digital campaign measurement.  This clearly depicts that most of the companies in APAC are either not aware or intentionally distancing due to involved complexity from business crucial measurements, like revenue per customer, return on ad spend, channel ROI etc, of digital campaigns. While only 42% marketers are measuring their campaigns' performance on ROI basis, just 23% marketers are paying attention towards Revenue per customer and 20% on Returns on ad spend.
In this space, Australia and Korea are the top countries which are attentive towards real analytics area. Compare to 84.5% Australian marketers, 84% Korean, 68% Singapore, 63% India and 61.5% Hong Kong marketers are measuring their the returns on digital ad dollars. Surprisingly, China lags much behind where only 33% marketers admitted to measure the returns.
Digital Marketing Outsourcing: A Blooming Business
APAC is known as outsourcing hub and countries like India and China minting millions of dollars every month by leveraging upon their cheap man power and cost-effectiveness compare to westerns and European countries. But, this is also flourishing domestic as most of the companies believe in outsourcing their Digital marketing initiatives to specialized marketing agencies. Around 59% of marketers admitted that they are working with one or multiple digital agencies. However, in order to generate the highest returns on each marketing dollar spend, companies have also segregated the digital marketing activities into sub section to work with specialized agencies in their own niche. 39% companies have admitted that they are working with multiple digital marketing agencies differentiated on the basis of social media, web campaigns and online advertising as these agencies are strong in some areas and weak in some, found by 73% companies.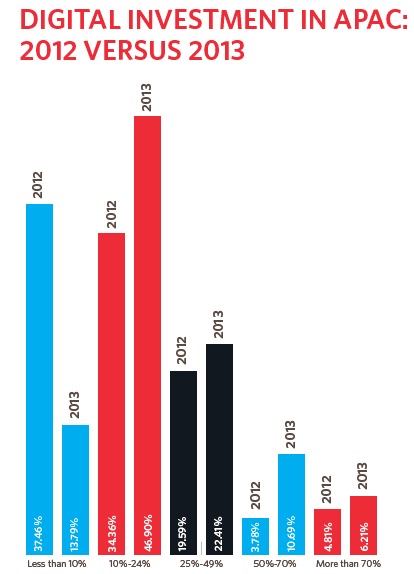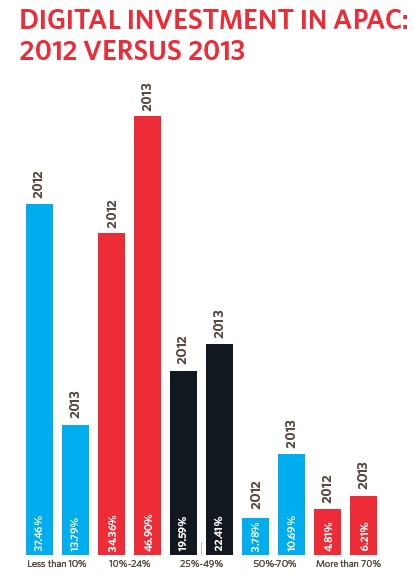 The survey was conducted in multiple ASIAN countries including India, China, Australia, Singapore, Hong Kong, Korea and few other countries. While the majority of respondents were from I.T. and Financial Industries, there were 22 major industries and few others covered in the survey. Majority of respondents hold Director, VP, Head of Marketing or CFO position from 60% companies' larges than $751 million – ICICI Bank, Nokia, Toyota, Honda, Yahoo, Taj Group, Akamai and many more.