It seems that a 'hide and seek' game between Google and Apple isn't going to be over in forthcoming years. However, we can't ignore the fact that Google is a greatest rival of Apple at present in technology's arena. The iPhone manufacturer has first ditched Google's map from its next generation OSs and now, trying to create a stiff resistance for Samsung to sell Galaxy Nexus Smartphone (first Phone having Android latest Jelly Bean OS).
What Are The Features Of Google Nexus  7-Inch Tablet?
Yes, a significant number of people around the world are waiting to get their hand on the Google's Tablet. Earlier this year, Google announced to launch a low-price media Tablet which will have maximum number of features. It's quite clear, the search engine giant has tried to contend Apple's iPad.
At present, the Google's Nexus Tablet is considered as one of the best Tablets ever in 7-inch categories. There's also a strong possibility that the new Tablet could out-class the popularity of Amazon's Kindle Fire. Undoubtedly, the device is better than Barns & Noble's Nook Color, the Samsung Galaxy Tab 2 7.0 and more in terms of performance.
The device has been manufactured by Asus but it would be served as a full-fledged Android flagship device. Most important paraphernalia is here that the device is being powered by an unadulterated version of Google's latest mobile operating system "Android 4.1 Jelly Bean". The device has been designed by Asus and Google together and you can clearly see (below in the fig) how it looks like.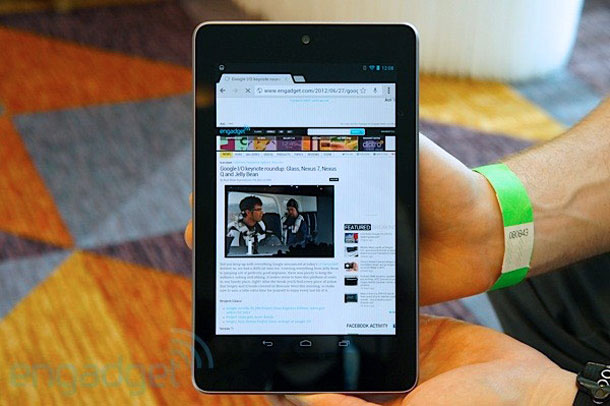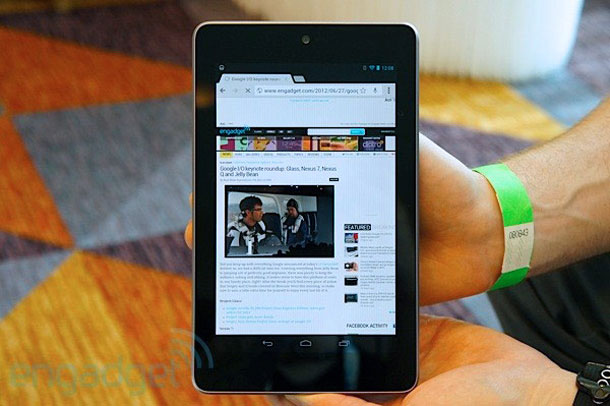 At present, Google Nexus is only the 7-inch Tablet having Tegra 3 quad-core processor. In addition to these, the device has 12-core Nvidia GPU, 1 GB of RAM and the Tablet can easily switch between stream HD videos, apps, play songs and a lunch magazines. Indeed, watching movies, viewing magazine and playing game on 1280 X 800 pixels touch screen of the Tablet  is impeccable. The speed of processor is awesome, besides, Google is also offering lots of stuffs at the free of cost with the Tablet including movies, songs, a copy of Bourne Dominion Novel, a few magazine trails—Esquire, popular Science and Family Circle— and also a $25 credit to spend in Google Play.
In nutshell, the Google's Tablet has numbers of features which is really not possible to explain here. The main  home screen of the Tablet having a Widget (My Library), which facilitates books, magazine, music, TV shows, movies and more to users. The home screen of the widget is providing so much of contents you can't expect even from Amazon's Kindle Fire.
Hurdle For Android's Hardware Partners: 
I have already mentioned how Google's 7-inch Tablet could jeopardize to the business of their hardware partners. At present, none of Android hardware partners' device have latest Jelly Bean version OS and Quad core processor. In qualitative aspects, Android's Kindle Fire and Nook Tablets are no where to compete with Google's Nexus Tablet , while Samsung will have to face hurdles of  low Price and integrated services. However, it's well known that selling of hardware is not an Amazon's core business, but vending because it's the doorway into its storefront.
What's Apple Doing? 
What we expect from Apple; it has always been taking legal advantages in the U.S. to stalemate the sales of any high-end devices. Recently, Apple has filled a legal injunction in the U.S. district court in San Jose against Samsung Galaxy Nexus Smartphone.  According to the injunction, Samsung will have to pay $96 million for selling of its device in the U.S.. This week, Apple won another case to ban Samsung's Galaxy Tab 10.1 across the country. I think, $96 million will not be a big hurdle for Samsung and the company will definitely sell its Smartphone soon.
I'm little bit skeptic, Apple will try to provide a hurdle to Google so it could not sale its device in the U.S. However, Apple is also currently working on its 7-inch Tablet project and obviously, Google's 7-inch Tablet could provide a fierce competition.