Two major events–Worldwide developers conference and Google I/O– are going to be happened later this month, which will be hosted by Apple and Google respectively. Indeed, the heart-beats of every tech-savvies might be beating with full swift. Mobile industry has become one of the important sectors, determining the worldwide economy. we are waiting to see what Apple and Google are going to unveil at their annual developers event this year.
A research analysis firm "Flurry" has recently released its survey report which compares developers support for iOS and Android. The firm tracked over 1.2 billion anonymous end user sessions across 100 million unique devices every day for the survey. It conducted survey over more than 70,000 companies across 185,000+ mobile apps. Surprisingly, the firm tracked 36 billion end user sessions every month across more than 500 million devices–also included more than 60% of Facebook's monthly active users.
Previously, I have already discussed that developers are more likely to work on iOS platform compare to Android–due to fragmentation of the OS. Flurry has also reported that almost 7 out of 10 developers are more willing to work on iOS platform. Here, I am agree with the firm report because the firm has conducted the survey over a significant number of apps and end users.
However, the figure of iOS 'willing developers' decreased in Q1 of the fiscal 2012 compare to the Q4 of the last year, on the contrary, the number increased on Android platform.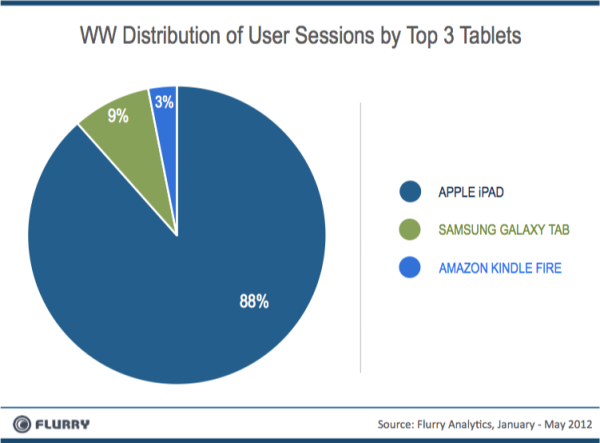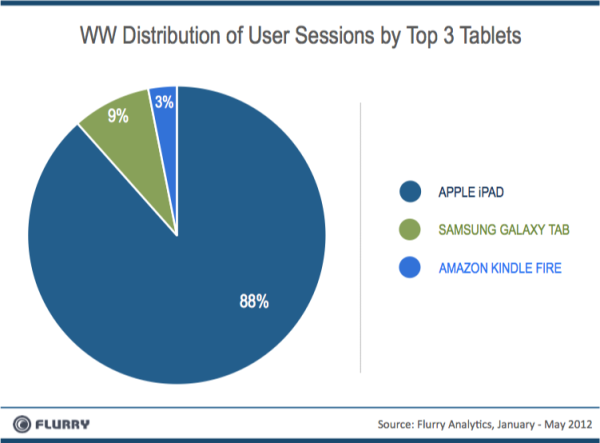 It's pretty clear from the above pie chart, iPad is dominating in terms of user sessions on the Tablet. Thanks to Apple's homogeneous Smartphone and Tablet environment—-it has positive point that when developers build an app for Smartphone, it also runs on iPad. That's more likely to getting two platform on single price and reduce the time spending for apps development and upgrading.
Samsung Galaxy Tab comes after Apple's iPad in terms of consumers sessions, followed by Amazon's Kindle Fire.  One side Apple is providing homogeneity to developers, while other side, Android fragmentation has compelled developers to move out from the platform. The fragmentation of Android becomes more severe with Smartphone devices.
In terms of revenue, iOS platform is again more lucrative than Android for app developers.  Flurry has reported that developers are generating almost four times more revenue on iOS platform than Android. If developers are making $1 on iOS platform, then he could expect just $0.24 from Android platform.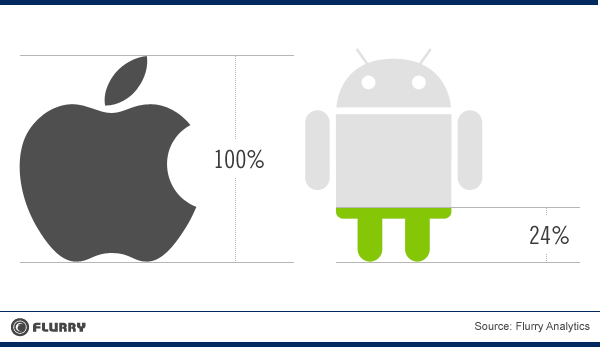 In May of this year, four major Android devices such as Samsung, HTC, Amazon and Motorola were among the top 20 devices in terms of consumers applications access. Apparently, only three out of 10 devices could surpass 6% figure in terms of consumers application session, while rest (17 devices) could not even cross 6% application session.
Undoubtedly, Gingerbread with 70% of total Android market share is dominating over other versions of the OS. Now, Ice cram Sandwich  has reached to 7% of total Android market share worldwide. Honeycomb, especially designed for Tablet, has just 2% of user session.
Anyway, the report is trustworthy and we are waiting for Apple and Google's announcement at their developers conference event, happening later this month. One side, homogeneity of iOS platform is a strength for Apple, while other side, Android's fragmentation has become a challenge for Google. However, Motorola Mobility's acquisition could fueled Google to create a mobile ecosystem around. Users really don't want the same device from five different manufacturers.
Image credit: Flurry