Newer social networking sites are emerging often and they are indeed getting boring by the minute, people are desperately in need of new innovative platform to engage with the world and add people to their buddy list. Face to Face interaction has a deep and complete impact in one to one communication. There are things which can not be said via chat.
So the cool Napster founders Sean Parker and Shawn Fanning have joined forces to evolve the free video chatting service called  Airtime, which was first launched in New York City with a couple of  celebrities. It provides you with a live high quality platform to interact with. The best comedian Jim Carry praised the service.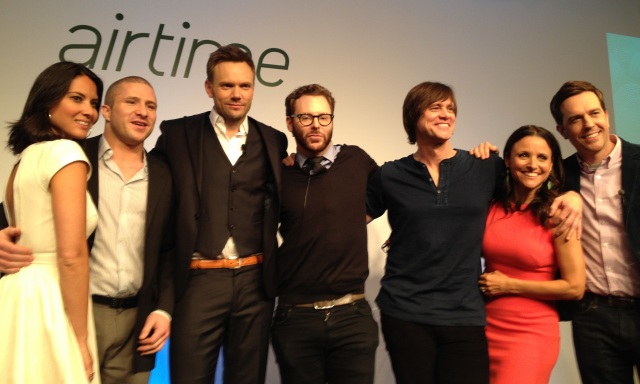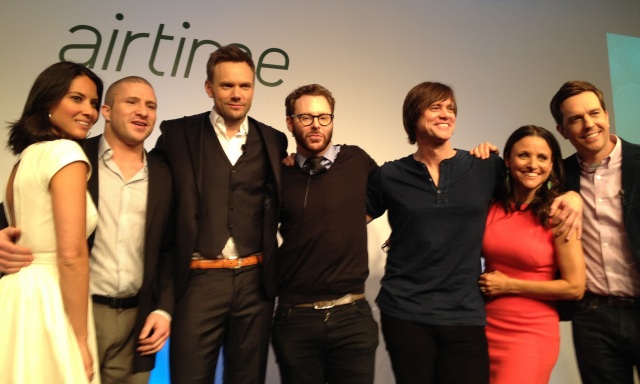 Working of Airtime:
Unlike Google+, Airtime is face to face chatting application where one can talk to a stranger or unknown person based on mutual interests and geological locations. Users can access Airtime with Facebook account and can just chat or video chat like the regular Facebook.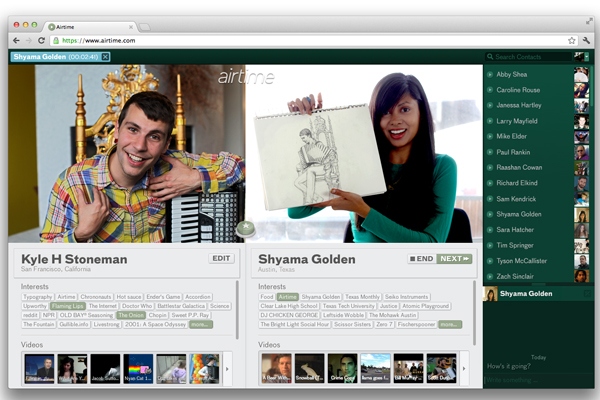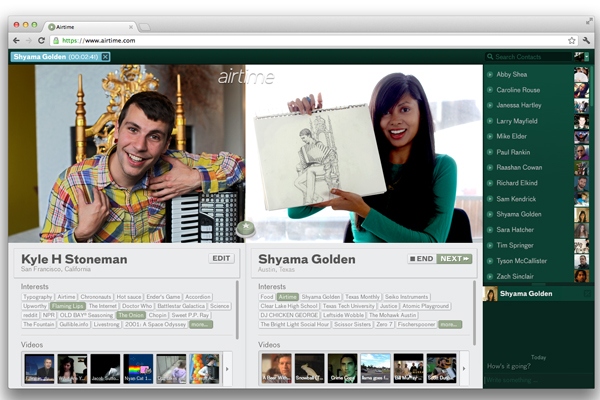 How is Airtime unique:
Initially you can create a list of your favorite interests and the places where you have studied, worked or lived etc. Based on this info, when you click the "talk to someone" button, you will be provided with a random person who is live, based on your common interests or the common places where one has lived. Followed by which either can build a strong rapport and do what ever they want online.
The list of common interests can be viewed by clicks on the "Airtime" button provided on top of the page. All you need is a Facebook account, a web cam. The users can even share a video on Airtime and watch the same video and have a discussion over it.
Gossip about Airtime:
Most people think it to be similar to Skype, but the fact is Skype is used by a majority of professions either for business or to exchange knowledge or ideas. According to the report of techcrunch, the company raised $25 million.
Fear of naked and other inappropriate content:
Going back to 2010 a similar service called Chatroulette was famous letting strangers connect with each other, but eventually led to its downfall due to illicit or naked content in it. And many people questioned about the "naked content" over Airtime, for which Airtime  said to VentureBeat that it uses a combination of automated facial recognition technology and user and moderator review. Airtime is constantly monitoring for such things and if the face is not found to be seen on the Airtime screen, a warning light goes up. Even users can spam the strangers with such activity, for which even their accounts can be penalized.
According to the terms by Airtime, it strictly doesn't allow: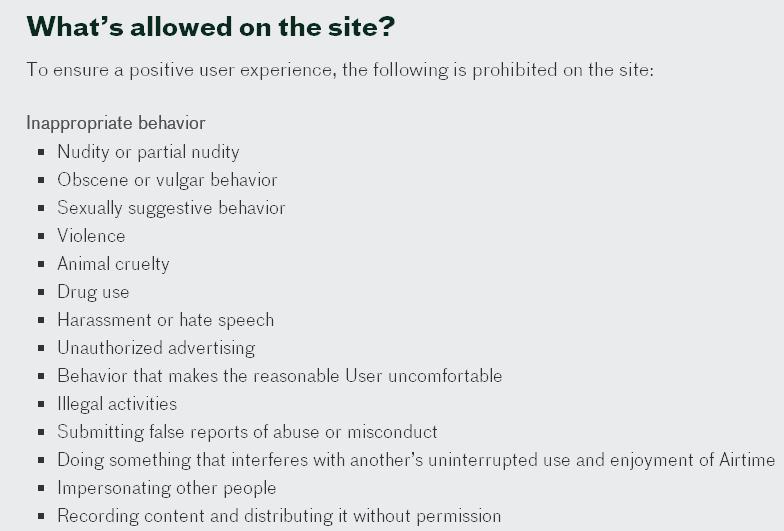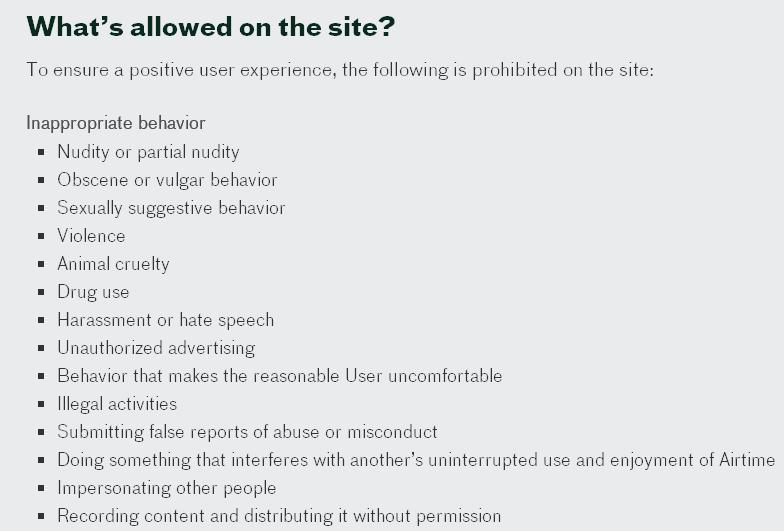 But according to a post in buzzfeed , there is no "dick algorithm" to actually find out some smart lusty users, who can misuse Airtime. Sean Parker and Shawn Fanning have to go a long way to prohibit such misuse.
Pros:
Check box options that can allow or disallow people with similar interest or people not nearer to them.
High Quality interface.
Options that can allow to interact with friends of friends, using Facebook info.  Especially for those who feel uncomfortable with strangers.
Options to find out the common interests between users.
Cons:
Probability of naked content over Airtime.
System requirement of 1.5 Mbps bandwidth, which might be a problem for some geological locations with low bandwidth.
What about Airtime on mobile?
What about people who doesn't have a Facebook account and don't want to create one?
Prediction:
Airtime can be expected to grow bigger. And the company can even circulate to various sectors and grow exponentially, if there is a strong algorithm built to terminate fake and naked users online, which is a very heavy challenge for the founders. Airtime can become a trend for sectors like education, health, entertainment, news etc in the future.