It's well known that the demand of Apple's iPad is being tremendously increasing since the device hit the market in early April. Presently, it's estimated that the shipment of the device might reach 18 million units in Q4. Though, everything is moving towards positive note for the company but the satisfaction among the users has plummeted in last couple of quarters. A new survey from the Software Usability Research Laboratory (SURL) has revealed that the majority of iPad owners (84%) are satisfied with their device which is 7% lower compare to another survey done by by  ChangeWave in April 2011.
The new study was entitled among 52 iPad (original iPad or iPad 2) respondents (26 male, 26 female) owners ranging in age 23-80 over selected 75 items. After rigorous investigation from the firm, 83.65% respondents were found quite satisfied with the iPad. Among them, 62% polled that the iPad is excellent and said that they are quite comfort with it. While 10% rated "best imaginable" and 20% said it's just good.
The survey firm also asked the question about the location of device usage. The survey has noted that the most common place to use the device by the user is their Living room followed by Bedroom. Kitchen and dining room came after living and bed rooms, the users prevented themselves to use the tablet while they were commuting. Surprisingly, more than 20% were accepted that they were used the device even in their bathroom.
It's really matter of concern that how many apps, generally, users install on their device. The question is important because of Apple's dominations in number of apps downloads, followed by Android Apps downloads. Majority of users (33%) used to have 21-40 apps installed while only 17% users were interested to install more than 80 apps.
The survey also focused on the way participants' use the device. 21% of users preferred to carry their iPad every time, while 52% of participants accepted that they use to carry the device when travelling, but only 17% said that they carry out in their work.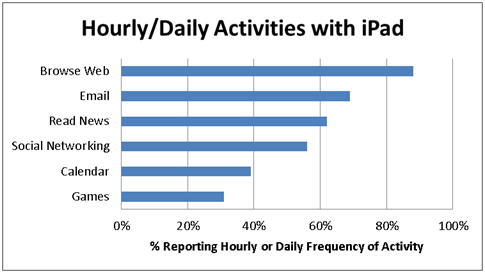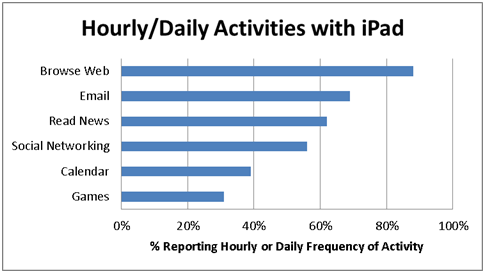 The survey also reveals that more than 80% of hourly or daily frequency of activity by the participants on web browsing while approx 70% of their effort goes to email and 60% on news reading.
Astoundingly, more than 80% accepted that they never created any Music and documents for the school, while 70% accepted that they never took picture or videos, or chatted on their iPad.
Obviously, it's very interesting to know the behavior of the participants with their iPad usage. Overall, Apple always remains conscious about their customers' interest and the trends. The study might be helpful for the company to design its upcoming iPad to fulfill the customers' expectations.