The domination of Android in global Smartphone industry is no news now. However, it's interesting to analyses the position of Android in U.S. market where people are more fascinated towards the Apple brand and have great respect for iPhone. But, with the time, the trend seems to be changing as Android has surpassed Apple's iPhone market share in U.S. in almost all forms of smartphone industry of U.S.
According to a latest research from Neilson, Apple's iPhone no more enjoying the lead position in Smartphone market share in U.S. Google's Android has either taken it head-to-head in various segments or frog lapped it.
Following the July 2011 data, 40 percent of mobile users in U.S. own Smartphone. Interestingly, 40 percent of smartphone users have committed towards Android against 28% for Apple's iPhone users.
The trend is not going to die anytime soon as the research also shows that people in U.S. are slowly leaning more towards Android than iPhone. Among those who are expecting a new smartphone in the next year, approximately one-third desire to join the iPhone camp and similar number of people are promising for Android.
However, most number of "innovators" or rather known as earliest of early adopters – who are usually the first to embrace new technologies – are responding with the word "Android".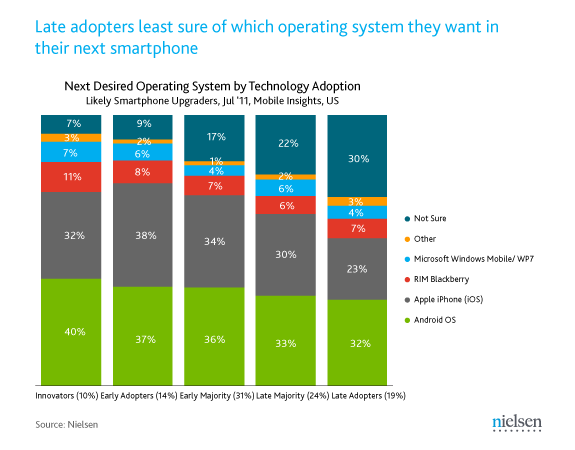 With all such numbers, propositions, there are also a significant number of late adopters who are still hanging around with traditional non-smartphone handsets. Such users are the ones who are still not sure about their next move for smartphone era and probably these are the prime target for Google and Apple to create influence and entice people.